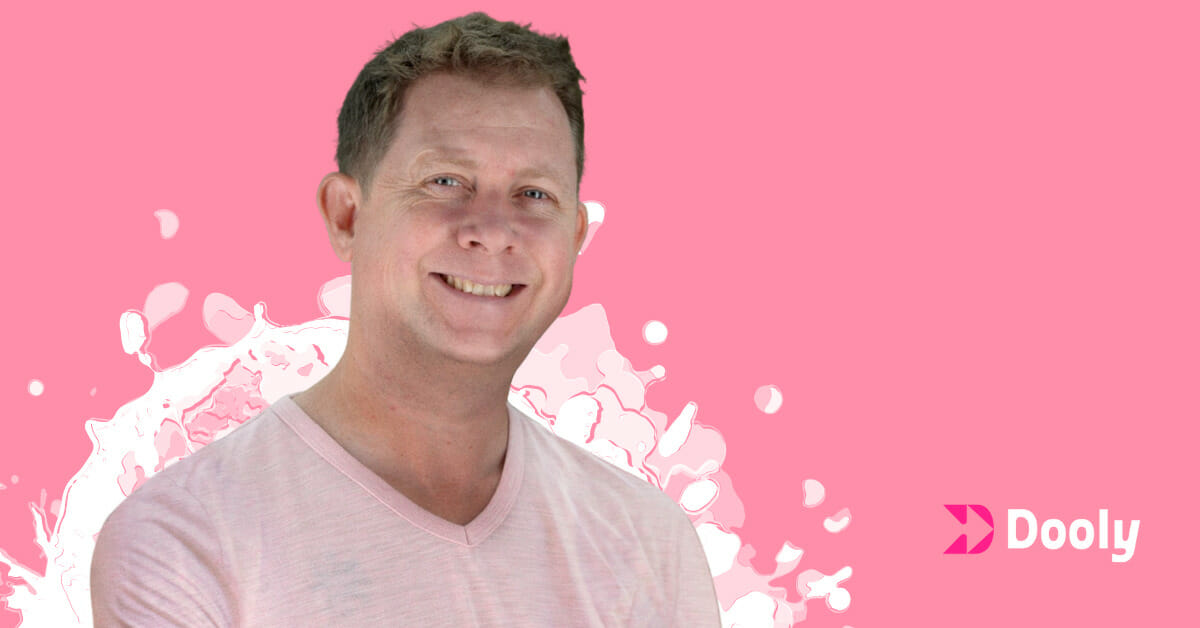 There's always been a high turnover in sales—roughly twice that of any other industry.
But now attrition is growing like crazy. A recent Harvard Business Review study claimed 56% of sales reps were on the lookout for a new job. The feeling is mutual—68% of the reps we surveyed said they'd been recruited by another company this year. Companies are having a hard time filling seats and keeping reps there when they get them.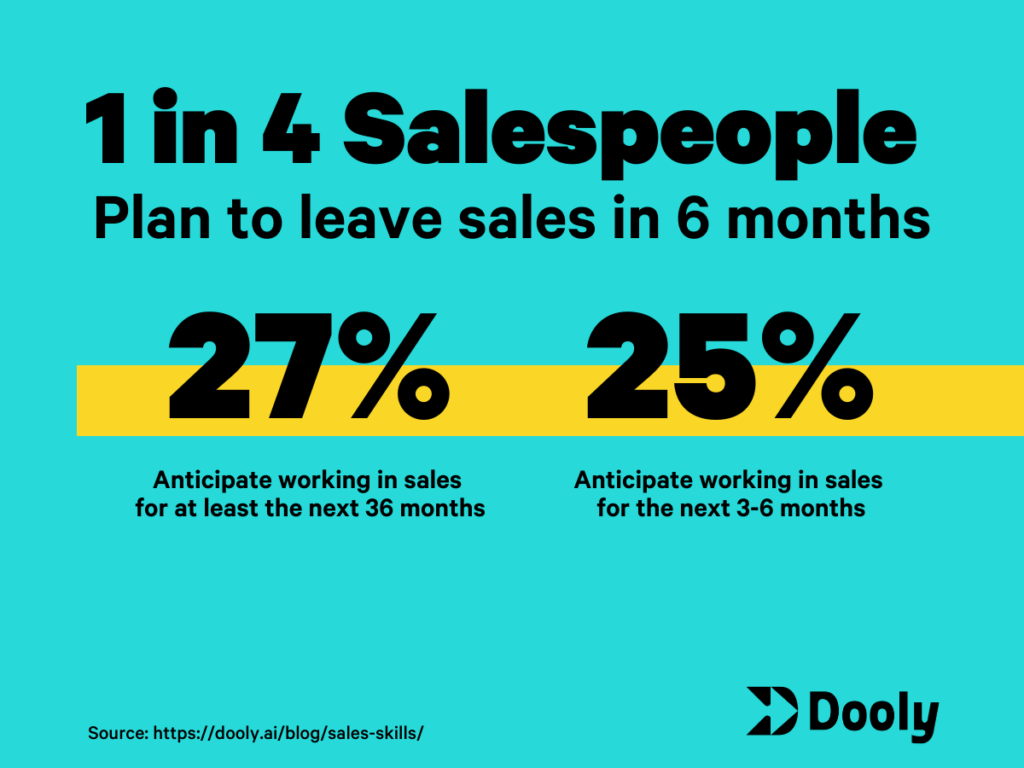 Unfortunately, this often includes top performers: a rep who blasts past quota, aligns with the company culture, and lifts up the rest of the sales team.
When rockstar reps leave, companies miss everything they bring to the table:
The ability to be proactive
The innate ability to network
The ability to bring in the right decision-makers
The communication skills and efficiency to get the deal done when going head-to-head with a competitor
With a top performer, I want to do everything in my power to get the heck out of their way and let them do what they do best.
So—how do we do that at Dooly? Keep reading to find out.
The True Cost of Losing a Top Rep
But first, let's dig into the real-dollar cost of losing a top rep.
RepVue did the math on how rep attrition can kill your revenue goals. Here are a couple of key figures:
Every month a rep is not hired to fill an open seat = $160,000 in lost revenue. That breaks down to $5,260 a day.
It takes three months (on average) to hire a new rep.
The annual revenue impact of one rep attrition, in terms of productivity alone? $2.4 million.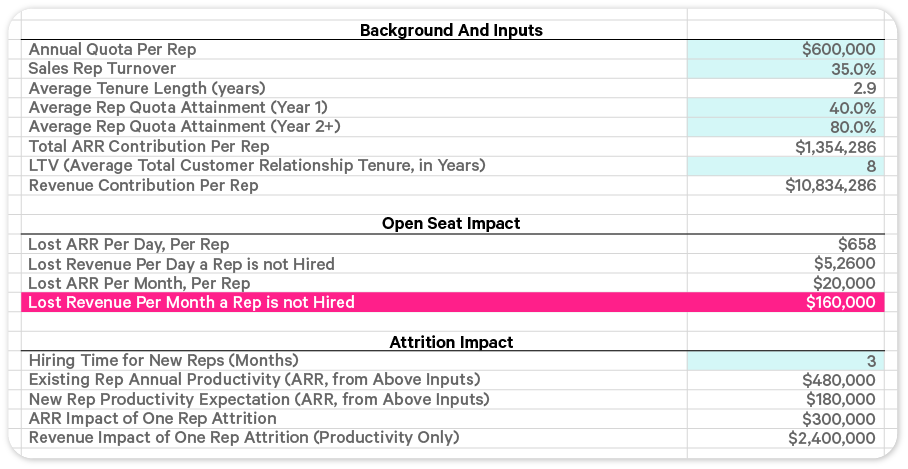 The possibility of one of your top performers leaving isn't exactly remote: 1 in 4 reps plan on quitting in the next 3-6 months.
And it's not just about individual reps, either. Remember—when your reps aren't winning deals, neither is your company. That impacts the entire business: hiring plans, product growth, and more. Then, you start losing more reps, and the problem compounds. It's rep attrition all the way down.
Why Are Reps Leaving?
'Sales representative' is the second-most in-demand job in the world. For reps that make quota, sales is a field bursting with opportunity—and often competitive total comp. So why do so many sales reps jump from position to position?
The short answer: Their paycheck is based on their performance, and they can't perform to the best of their ability if they're not well-equipped by their leadership or face obstacles to actual selling time.
In 2022, 77% of sales reps report working more hours than before the pandemic. For sales reps, working more hours isn't always a bad thing. More time on the phone means more potential closes means higher compensation, right?
Unfortunately, the answer isn't that simple. The fact that 69% of reps claim to have suffered job-related burnout proves that being "on" all the time doesn't come without consequences to reps' physical and mental health.
To make matters worse, too much of this extra time plugged-in is being wasted on non-revenue generating activities.
In our 2022 Sales Happiness Index report, 74% of reps said much of their time at work is spent on activities that don't contribute to selling.
Internal calls or meetings. Responding to internal messages via email or Slack. Updating Salesforce fields. Most reps agree that they're wasting time—time they could be selling. Even the solutions to the problems seem to be generating more problems: most sales tech means reps spend more time on data entry, remote work creates tons of meetings, and on and on.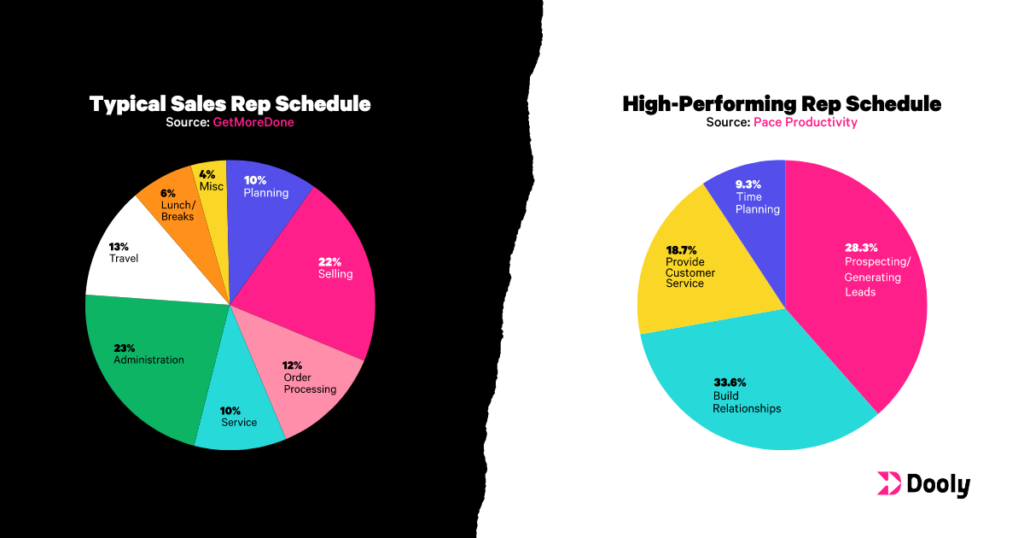 It's Time to Remove the Roadblocks
Sales teams think they're in danger of losing their reps to competitors, but it's bigger than that: you're in danger of the cumulative burnout forcing reps into other industries altogether.
This leads to disillusioned reps, frustrated by a lack of clarity in the narrative of what they're selling and who they're doing it for. That's why, as a manager, the solution to turnover is to focus on what will make your reps better equipped in their craft, better oriented in their career, and better prepared for success in their sales conversations.
So how do you set reps up for success? By optimizing their day-to-day.
A seller is always happiest when they're selling, because that's what impacts their take-home pay. That's why your job should be to give reps as much productive selling time as possible.
Of course, top performers will be glad to spend some time in the batting cages. But they won't be happy if you're putting roadblock after roadblock in their way.
As a sales leader hoping to retain top talent, you've got to focus on removing the things taking up your top-performing reps' time. It's maybe the most important thing you can control.
What High Performers Really Want
So what do high performers really want? It's simple, the freedom to sell, and the opportunity to:
Learn more
Work less
Make more money
What gets in the way? Non-revenue generating activities.
Reps have taken notice: 81% of them said they could generate more revenue for the company—and take home a higher paycheck—if they cut back on non-selling work. The ability to cut the "fat" out of their day to focus on high-ROI work is a key trait of high performers.
What Sales Leaders Can Do to Retain Top Performers
When it comes to retaining top reps, you want to do everything you can to keep non-essential activities off their plates. If you're going to force your reps to spend time on something that isn't selling, you'd better be able to justify it.
At the company level, the goal is ROI.
At the sales team level, the goal is ROT: Return on Time.
The best way to achieve an ideal ROT? Minimize the menial; maximize the impactful.
Why is ROT so important? Just ask a top-performing rep. They'll know what it looks like to spend too much time on the menial.
According to our Sales Happiness Index:
41% of reps' time is spent NOT selling.
80% of salespeople said their management doesn't understand how time-consuming non-generating tasks are.
Additionally, 78% said that this lack of understanding from management leads to misalignment between expectations and what sellers can reasonably achieve.
So how do sales leaders turn things around?
"If you're a sales manager, you must have an open line of communication with your teams to understand the pain points they face on a daily basis. Take the time to learn about your sales reps' day-to-day activities and make sure you're respectful of their bandwidth and the time it takes to complete assigned tasks."

Dooly's Sales Happiness Index
Part of it is knowing who the A, B, and C-level contributors are on your team.
Your A contributors are rock stars and will likely keep it up. Your Cs might struggle, but there's still a chance they develop into something more. B-level contributors are likely to stay at that level, unless they're real up-and-comers with a rapid trajectory.
Your most significant opportunity as a sales leader, then, centers on your Cs and your As. The Cs you'll either want to manage up or manage out—as soon as possible. As for the As? Amplify them and let influence spread for the rest of the team. Your job is to listen to the feedback they give you on the market and use it to inform the product road map.
Ultimately, the best sales managers are the ones who can remove or diminish your team's barriers to success. The best way to do that is to manage the things you can control, like:
Equipping the reps with a great product. Great products will often sell themselves. Your top performers can help get you over the line for everything else.
Creating an excellent enablement structure to get what the reps need in their hands to handle objections and difficult conversations.
Providing a clear path to money. Ultimately, the things that will make your reps money will drive revenue for the company, too. Empower your reps by putting them in the driver's seats of their own compensation.
Giving them the best tech possible to do their jobs. You don't have to give your reps a s****y tech stack.
Showing them recognition. Ask your reps directly: "What's driving you?"
Why It All Matters
I started Dooly to make it easier for more reps to succeed in sales and enjoy their jobs again without sacrificing the things in life that really matter.
Unconvinced? Just give a high performer Dooly. They'll not only beat their own impressive records—but more importantly, their stress level will go down after they log off for the day earlier and with less grunt work.
They'll no longer hate their jobs. Also, sales leaders appreciate the increased sales productivity and cleaner Salesforce data—which is why companies buy Dooly.
After all, the happiness it brings both the reps and RevOps is why our NRR is so high. It's not about the time savings—it's what you do with that time.

---
Join the thousands of top-performing AEs who use Dooly every day to stay more organized, instantly update their pipeline, and spend more time selling instead of mindless admin work. Try Dooly free, no credit card required. Or, Request a demo to speak with a Dooly product expert right now.
Close deals on repeat with a guided sales process you'll actually use.
Get fresh sales tips in your inbox
Download the 2022 Sales Happiness Index