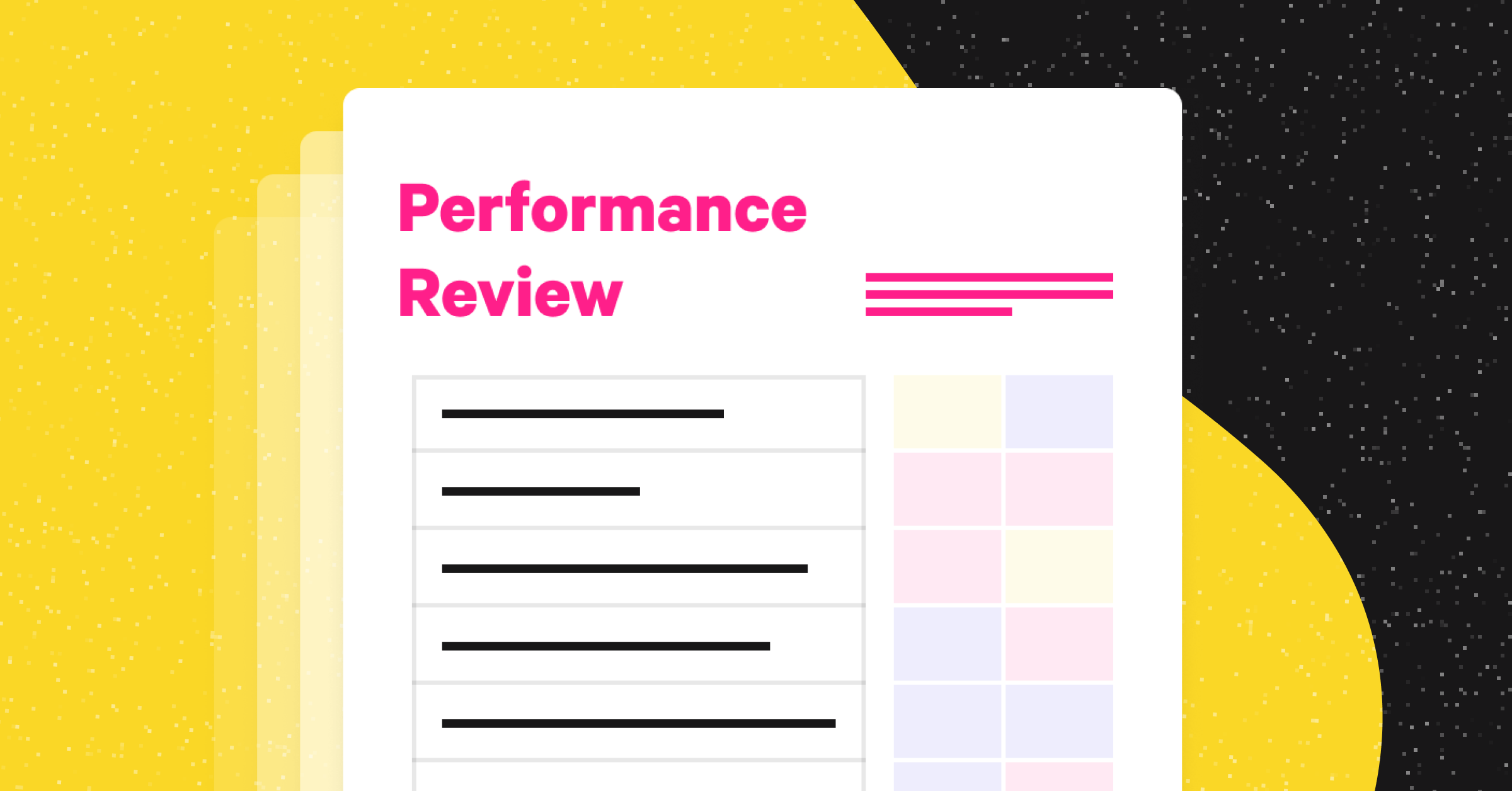 A sales performance review template gives you a structure to analyze progress on goals and areas for improvement and identify new opportunities in the sales department.
Let's learn more about performance reviews and use some great templates to get started.
Why Have a Sales Performance Review?
A sales performance review could be a monthly, quarterly, or annual meeting between the sales manager, the sales team, and individual sales reps. Sales leaders will guide the team through a specific time frame and evaluate the progress they've made with the goals set at the beginning of the period.
For the sales reps, it's an opportunity to bring forth any particular wins or challenges and understand the goals that need to be set for the next period.
It's the perfect time to reassess essential areas such as sales processes, team-wide productivity, and personal development, and to start doing what the highest performing sales teams do.
4 ways to measure the performance of sales staff
An efficient way to measure the performance of sales staff is to look at the right metrics. However, a sales manager's problem isn't lack of data; it's the abundance of it.
With all the latest sales software and tools, there are tons of available data points such as cohort retention rate, sales velocity, average hiring time, and more.
Narrowing your focus to what's important can ensure you look at the right numbers that align with your goals. Here are four of the most critical sales performance review metrics that your team should be measuring.
1. Percentage of sales team meeting the quota
Knowing whether your sales team is efficiently meeting the sales quota or struggling with it can tell you whether your goals are too high or low.
For example, if less than 60% of your team is meeting the quota, then it's likely that your goals are unrealistic. And if 100% of your team met their sales quota, you either have a brilliant team or your goals aren't challenging enough.
2. Average deal size
You can calculate this by dividing your total number of deals by the total dollar value of those deals.
Checking these goals regularly will tell you whether your contracts are getting smaller, larger, or staying the same. It'll also help you gauge the performance of your salespeople.
3. Overall win rate
This measures what percentage of your leads turn into paying customers.
For example, if you get 500 leads every month and, on average, 5 of those convert into business, then your conversion rate is 1%. This metric will help you identify the number of leads you'll need to meet your revenue targets.
4. Average Deal Size & Revenue
At the end of the day, it all comes down to revenue. You'll have to consider multiple factors here, such as percentage of new business, the average deal size of that business, upsell, cross-sell, expansion, renewal percentage. Your business goals will determine which of these numbers needs the most attention.
Why Are Performance Evaluations Important in Sales?
Sales performance evaluation is a review based on a salesperson's performance in a given time frame.
In a competitive market, even the best products barely sell themselves. However, a great product paired with a qualified team can virtually sell anything.
Performance evaluations help managers understand and gauge the performance of their team.
It gives them a structure to identify members who're exceeding expectations and those who're failing to meet the desired results.
Here are some reasons why performance evaluations are important in sales:
It helps you identify your strong and weak performers.
It forces you to reassess your sales goals and strategy.
It compels you to look at areas where sales performance can be improved.
It confirms whether the salespeople are being given the proper training or not.
It sheds light on the overall sales process and helps you identify any loopholes.
How do you write a sales performance review?
Sales reviews are usually laced with a bit of stress for both the manager and their team. However, reviews are a valuable business process that can improve sales productivity in the long run.
Hit on the following factors to write a good sales performance review:
Look at more than just the sales numbers. Consider variables such as market conditions and internal sales processes when reviewing performance.
Keep the feedback loop open year-round. Your review shouldn't come as a surprise to the salesperson. Regular one-on-one meetings can ensure all parties are aware of the progress and performance.
Ask for a self-evaluation. Allow the salesperson to measure their performance against the goals and quotas they were required to reach.
Do an honest review on goals vs. results. For example, if your sales representative has been consistently raising an issue with the product that's causing a decline in sales, it's a discussion point with the product team.
Don't skimp on positive feedback. While it's crucial to pinpoint weaknesses and areas for improvement, it's equally important to highlight strengths so they know what they should double down on.
What Is a Performance Review Template?
A performance review template is a tool that allows sales managers and their team to objectively evaluate a rep's performance.
It allows managers to view the goals, results, and process from a bird's eye view. It provides a framework to determine an rep's areas of weakness and strengths.
Performance review templates help guide the process of sales performance evaluation by highlighting the right items to discuss.
Sales Performance Review Templates
Without consistently reviewing the quality of sales activities, time management, and progress, there's no concrete way to monitor and improve sales success.
Listed below are four engaging performance review templates that you can use as a starting point for your review process.
These useful scorecards will help you set success criteria for reps and evaluate each call according to that criteria.
The spreadsheet includes:
A tab for evaluating discovery calls.
A tab for evaluating demos.
You can add your own questions or criteria to expand this template.
This quarterly sales rep review and coaching template help sales managers manage and coach their team to improve performance consistently.
The template includes:
A section for self-review and manager review.
The key skills and activities of top sales reps.
A section to identify areas of focus for the next review.
A self-assessment template gives each sales representative an outline to reflect on their performance and identify wins, challenges, and opportunities for personal success.
This template includes:
Questions to reflect on past performance and outline actions for the future.
Section to highlight wins
Section to highlight challenges
Feedback from others
This is one of the most comprehensive sales performance review templates based on the principle that one's own insight empowers development.
This template includes 24 sales practices where the sales representative must score themselves based on how they approach their sales role on a day-to-day basis.
This sales performance review template offers a stringent framework to review self and peers across different tactical and qualitative traits.
This template includes:
Performance rating definitions to ensure consistency in overall ratings.
Different performance factors to evaluate using performance rating metrics.
Section to give subjective feedback (both positive and negative).
How to Make the Most of Your Sales Performance Reviews
While performance review has been a standard practice for decades, most sales teams miss the fine line between a valuable review and an unhelpful one.
When done well, performance reviews can drive incredible team growth and success. Here are some tips to make the most of your sales performance reviews:
Prepare ahead of time. Both the sales manager and sales representative should have notes and questions prepared in advance before meeting for the review.
Be mindful of your words. The choice of words can make a big difference. Try to add a positive spin or include a potential solution when discussing negative comments.
Ask the right questions. For example, what goals do you want to set for your personal development, what kind of training would help them achieve their sales goals, and what hurdles can be solved together?
Back your claims with examples. Vague or generic criticism isn't helpful. Examples provide teachable moments, and they show that you and the management team are paying attention.
Listen as much as you speak. Your team members may be uncomfortable sharing their thoughts out of fear of saying something wrong. Make the review a safe space for them to share genuine insights.
Define the next steps. Review notes, define steps and follow up with shared comments and feedback.
Key Takeaways
Your team is your greatest asset. However, ongoing employee management can be a major challenge, and that's where reviews come into play. To recap:
Define the sales performance review metrics that your team should be measuring.
Do regular performance evaluations.
Know how to write a useful sales performance review.
Use sales performance review templates as a starting point.
Prepare ahead of time for all review meetings.
How Dooly Can Help
With Dooly, you get access to the full deal narrative with a history of all the notes taken, deal vitals, deal highlights, upcoming meetings, and key fields all in one place. And you can view your team's pipeline in one place. With all that information at hand, conducting sales performance reviews is easy. See Dooly in action.
---
Join the thousands of top-performing AEs who use Dooly every day to stay more organized, instantly update their pipeline, and spend more time selling instead of mindless admin work. Try Dooly free, no credit card required. Or, Request a demo to speak with a Dooly product expert right now.
Close deals on repeat with a guided sales process you'll actually use.
Get fresh sales tips in your inbox