CrowdRiff is an AI-powered content marketing platform purpose-built for the travel and tourism industry. Their customer-facing teams required a tool that took no time to get set up and helped drive revenue by removing the burdens associated with administrative tasks. To date, CrowdRiff has processed over 500 million images, and the company currently works with over 600 leading travel and tourism brands worldwide.
Seamless onboarding to get teams using immediately
It took no time for Director of Sales, Courtney Malinas, to recognize how effortless it was to get her team up and running with Dooly. "Our sales reps immediately started saving time that would've been spent completing tedious administrative tasks the second they started taking notes in Dooly," claims Courtney. Dooly covers several key steps for her team in one—they no longer have to copy and paste notes over into Salesforce, log the activity, connect the required people, or go back into opportunities to update the fields. "My team uses Dooly every single day and I'm in there with various team members throughout the week mainly through Pipeline, to get a high-level understanding of where deals sit in their pipeline," mentions Courtney."
"Dooly was a lot simpler to implement for our team because it's all housed under one solution. We could find three separate tools for all of these problems or we just use Dooly!"
We have a pretty lean stack because we remove tools we don't reguarly use or aren't serving our purpose. We use Salesforce that connects to Outreach, and Dooly to automate the tasks we always did manually," notes Reza Saeedi, Market Development Lead.Courtney and Reza were most impressed with the tool when they realized it was way faster than using Salesforce Lightning. Prior to using Dooly, their teams would set up a view in Salesforce, so ideally the rep would just go in there and update all the fields across multiple opportunities at the same time instead of going one opportunity at a time. Now, the team uses Dooly to make pipeline updates in just a single click. "The difference is, in Salesforce for some reason, they lock specific fields, but even fields that are locked in the Salesforce view, we're still able to access through Pipeline in Dooly which is super helpful!" says Courtney.For the team's workflow, Courtney loves that information which is already in Salesforce auto-fills, because her team can immediately check-in and say it's correct. They no longer need to talk about it as they already have the information, which has been super helpful for her team.For Reza, the need for automation and time savings was apparent for his team. "We felt the pain where the AE wasn't involved and they were in back-to-back meetings and left scrambling before calls. The BDR wasn't in the office, they were on vacation. Handoff was really challenging and that's what Dooly helps solves," says Reza.
Valuable data collection drives visibility
"One greater high-level initiative we've been thinking about is greater transparency throughout the organization. As an example, another purchase we made along the same lines was adopting Notion all across the company. We use Notion to track our product roadmap and development, I see Dooly serving that same need for transparency. Essentially, Salesforce is the source of record but we need to know that the information in Salesforce is accurate. Dooly holds our team accountable 100% of the time. As we continue to grow, it becomes more and more important to form that habit of accountability," says Courtney.For Courtney and her team, Salesforce feels like a time suck because of all the administrative work associated with it. "Dooly is more approachable because you know the information you're gathering is going to help you succeed," says Courtney. Since implementing Dooly, CrowdRiff's team has added a lot of additional fields to Salesforce. Prior to using Dooly, they would've never thought to. They're adding things they know will help them as they're actually getting valuable information back to the CRM, which in turn, is helping them win more deals. A testament to the impact Dooly was able to make in a short period of time can be seen by CrowdRiff now rolling out the tool to their customer success division as well.For Reza, Dooly gives him visibility into what's going on day-to-day. As a manager, it impacts how he carries out 1-on-1s with his team, as he's able to understand how many calls have been logged—and that's powerful. Updating stages is a breeze for his team now!
"Ultimately, Dooly helps us drive more revenue."
Customer-first mindset moves the needle forward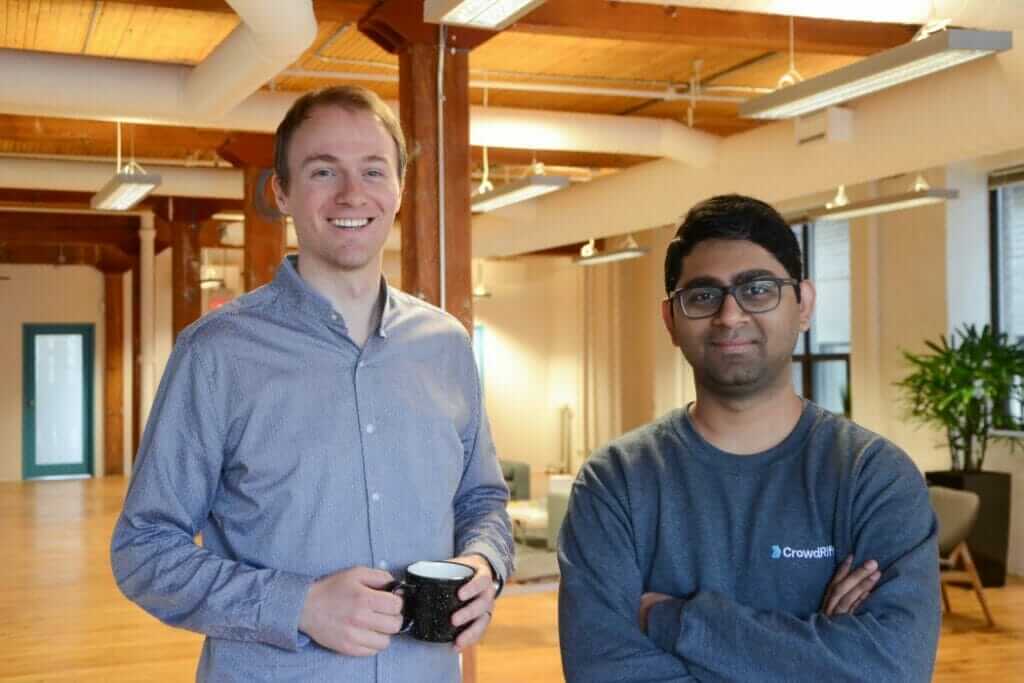 Because of Dooly, Courtney's team now has a mindset of writing that follow-up email after a call as opposed to worrying about their CRM hygiene. "Because Dooly's capturing more data, it helps our teams remember and respond more quickly to prospects. They're now spending time on what actually helps them win more deals," says Courtney.Her team has even set up a template in Dooly that allows them to close/win opportunities, so they don't have to log into Salesforce to do that anymore. It includes all the fields that need to be filled out, so when her team sends their notes to CS, the only task they need to go into Salesforce for is to upload the contract!
"CrowdRiff and Dooly are aligned in their culture, values, and mission. Your team is super friendly, open, and fast-moving which aligns with our organization. Your team even met with us while they were in Toronto—that was a great start to our partnership!"