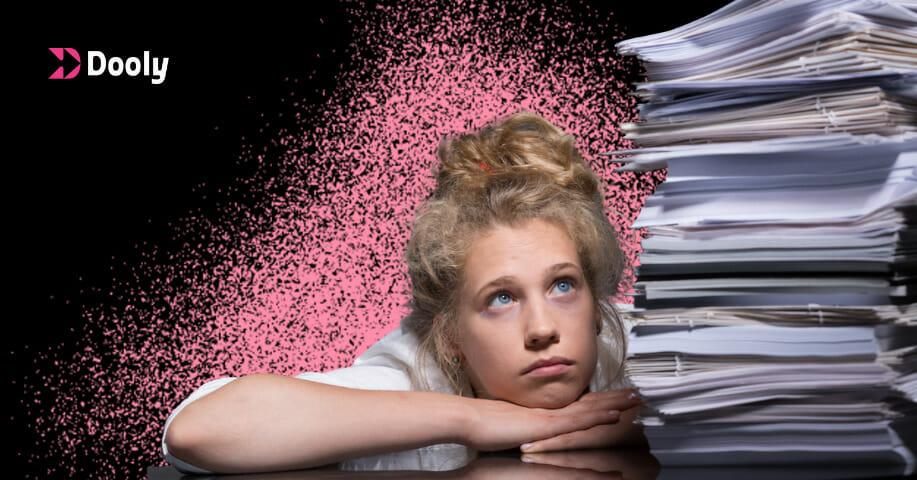 Despite being advocated as one of the best solutions for salespeople, Salesforce lacks the one thing integral to every sales process — effective notetaking.
From composing notes in a separate Google doc to even handwriting sales notes — Salesforce users are frustrated by the effort that goes into performing this basic task.
"Our salespeople compose notes inside their emails and use their inboxes as search and storage tools," Salesforce's community page reads.
Wait, what?
This defeats the very purpose of using software to track sales. And the alternatives aren't much better — Apple Notes, Evernote, Google Docs — none of these are attached to the deal.
So how can you boost sales note-taking while also remaining present during a sales call?
In this blog, we'll look at the capabilities of Salesforce's new feature — Enhanced Notes. We'll review different note-taking options and how to combine them to document a call. Finally, we'll look at Dooly's integration with Salesforce to eliminate limitations and give sales reps time back to sell more. Let's get started.
Maximizing Productivity with Salesforce Notes
In winter 2018, Salesforce introduced 'Enhanced Notes' for Lightning Console, a function that claims to make note-taking more effective. Here are the enhanced capabilities:
Autosave text: You don't have to repeatedly press 'save', as you did in the previous version, 'Notes and Attachments'(which hosts Classic Notes tool)
Rich Text: (Bold, Italic, and Underline) You can highlight points of emphasis and add nuance.
Bulleted and numbered lists: You can create a hierarchy within the document and enhance it's readability.
Picture embeds: You can add photos and images to improve skimmability of the document.
Relate Note to multiple records: You can enhance searchability and interlinking.
Group-sharing: For better collaboration.
Earlier versions of notes: You can save or revert to an earlier version if you've accidentally deleted information or want to track changes.
A 'private notes' feature: You can use this to keep notes to yourself or to share with a limited set of people.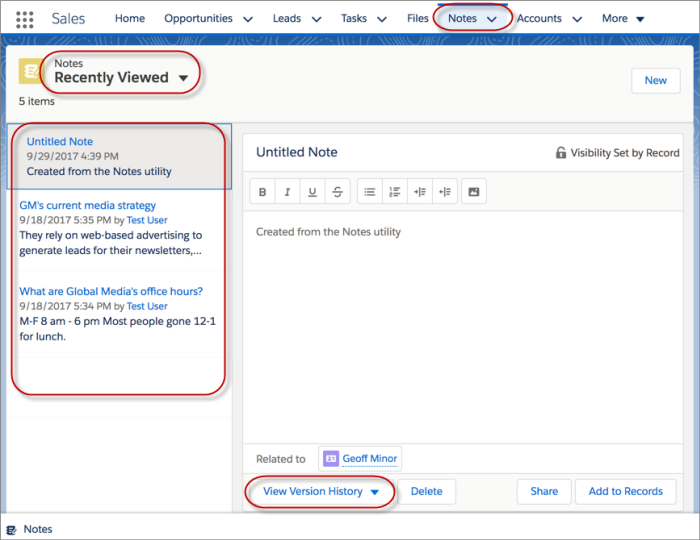 Since many of these features overlap with 'Activities' in Salesforce, you might wonder which to use when. So let's take a look.
When to Use Enhanced Notes vs. Activities to Track Interactions
Salesforce presents a variety of options to track sales calls.
Activities
Enhances Notes
Notes and Attachments (now retired)
Avoid using 'Notes and Attachments' since they are not searchable and need to be migrated to newer formats for better integration (more on this later).
Enhanced Notes and Activities can be associated with Account, Contact, and Opportunies.
While Activities can be connected to multiple contacts, Enhanced Notes can be connected to multiple records.
Here's how Activities and Enhanced Notes facilitate interlinking, search visibility and UI visibility:
Interlinking
Activities is best suited to reporting because they allow you to interlink to related records. Even though 'Enhanced Notes' also supports reporting, it doesn't allow you to report on related objects such as the Account. You're only allowed to include the subject of the Note but not its contents while interlinking.
Search visibility
Since Activities are associated with the parent account, they always show up in searches. In Enhanced Notes, you must manually add the Account to the Related Records field.
UI visibility
Activities are listed as a primary tab, so it's directly visible in Salesforce's UI. To find Enhanced Notes, a user has to go to Related Lists.
Pro Tip
Combine Activities and Enhanced Notes for the best results. Create an Activity with high-level agendas and attach Enhanced Notes for formatted granular details. Doing this will ensure your notes appear in the search and that the finer details are structured.
The Fastest Way to Take Smarter Sales Notes in Salesforce
While Salesforce offers notes, they are scattered across different features such as 'Activities', 'Classic notes', and 'Enhanced notes' — each with its own limitations.
Documenting a meeting — rife with customer concerns, hesitations, and next steps — with such a scattered process can seem like a bigger task than making the sale itself. Thankfully, Dooly makes it easier. Here are some of the sticky problems Dooly solves:
Keeps all information in one place: Logging a note + an activity + logging tasks + updating fields and contacts are all separate action items in Salesforce but one action in Dooly.
Allows you to prepare your meeting in advance: Sales reps take notes to prepare for their calls, but Salesforce doesn't have 'draft' notes. So those research/prep notes would live elsewhere, causing double admin work when sellers have to log their meeting notes in Salesforce afterward. But Dooly allows live syncing for notes.
Provides real-time coaching: Dooly playbooks give you talking points and battlecards that pop live in your notes from what is getting said. So you can know what to say in the face of challenging customer questions right when they come up.
How to take real-time, searchable notes with Dooly:
Quickly create a new note by choosing the pink '+' icon from the top right of the navigation bar.
Click on 'Note' and under 'Record' click on 'Link to Salesforce'
Link it with a Salesforce and start taking down your notes.
When you're done, click the green 'Sync' button with the Salesforce logo.
How to Use Enhanced Notes in Salesforce
First, turn on the enhanced version of notes.
Go to 'Setup' and search for 'Notes' in the Quick Find tool.
Select Notes Settings.
Check 'Enable Notes' and click on 'Save'.

Second, add the related list for Enhanced Notes to page layouts. This allows users to create and organize notes related to their records.
To do this:
From Setup, click the Object Manager tab.
Pick an object. Let's start with account pages.
Click Page Layouts.
Edit each desired page layout.
Select Related Lists in the page layout editor's palette.
Drag Notes to the Related Lists section, then save your changes.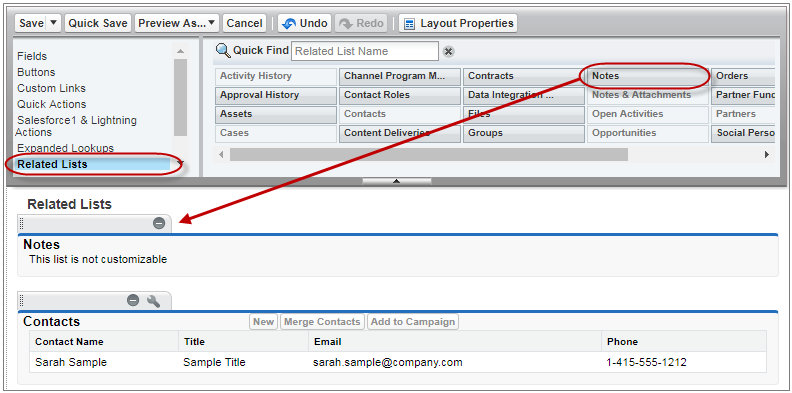 Now that we've understood how to start, what are some rules to keep in mind while working with Enhanced Notes?
Salesforce Notes Best Practices
To work efficiently in Salesforce, keep these things in mind:
Before starting with Enhanced Notes, convert all Classic Notes to Enhanced Notes. This will save you the back and forth in the long run since Enhanced Notes are searchable. Also, Classic Notes and Enhanced Notes do not sync, so you'll keep seeing both in the same location until you completely get rid of the former.
Keep all information on your prospects in one place. Prepare a separate document with questions and sample answers to refer to during the call. Keep this document handy.
Save the record you're working on before accessing Notes from the utility bar. Deleting or saving a note refreshes the entire console page, and any unsaved changes are lost.
Remember, a note(Enhanced or Classic) isn't saved until you enter a title or content.
If you're working with confidential information, click 'Prevent others from sharing and unsharing' under the Who Can Access tab for Enhanced Notes.
Even though Salesforce has retired Notes and Attachments (which houses its Classic Notes tool), a lot of salespeople continue to use it for note-taking. But it often creates more problems than it solves.
Limitations of Notes and Attachments Feature (or Classic Notes) in Salesforce
A note or attachment can only be connected to a single record or attachment, even if it caters to multiple records and serves multiple accounts.
Since 'Notes and Attachments' was officially retired by Salesforce, the company will not make improvements to the feature or fix sticky issues.
The search capacity for 'Notes and Attachments' is limited.
Say you linked a Notes document to a 'Primary Contact' and don't need it immediately. Instead, you need it months later, but if you can't remember where you linked it, you'll have to manually look under 'Account', 'Opportunities', 'Contacts' etc., to find it.
Enhanced Notes and Classic Notes do not sync. Enhanced Notes are located in the Notes related list. Any previously-created notes with the classic notes tool is in the Notes and Attachments related list.
File size limitations. 2GB for Lightning, 25 MB for Classic. This can be problematic if you're trying to store a deal-critical recording or a video clip as an attachment.
The attachment interface is relatively basic and not designed for optimized workflows.
The entire point of note-taking is organizing information. If you have to look in 20 places to find your data, is there even a point?
Should You Use Salesforce Notes?
The entire objective behind note-taking is an efficient organization of data.
Unfortunately, even with Enhanced Notes, Salesforce lacks the features to eliminate the grunt work that goes into documenting a sales call. It's not built to help seller run better meetings, it's built to store business information.
Copy-pasting questions, manually adding all related fields, and continuously referring to a sales playbook can drain even the best SDRs. From a seller's perspective, Salesforce Notes are still a glorified form field. Enter Dooly Notes.
Dooly allows you to automate note-taking with templates, live syncs, and easy sharing options. To try it out for your team. Try Dooly for free.
---
Join the thousands of top-performing AEs who use Dooly every day to stay more organized, instantly update their pipeline, and spend more time selling instead of mindless admin work. Try Dooly free, no credit card required. Or, Request a demo to speak with a Dooly product expert right now.
Close deals on repeat with a guided sales process you'll actually use.
Get fresh sales tips in your inbox