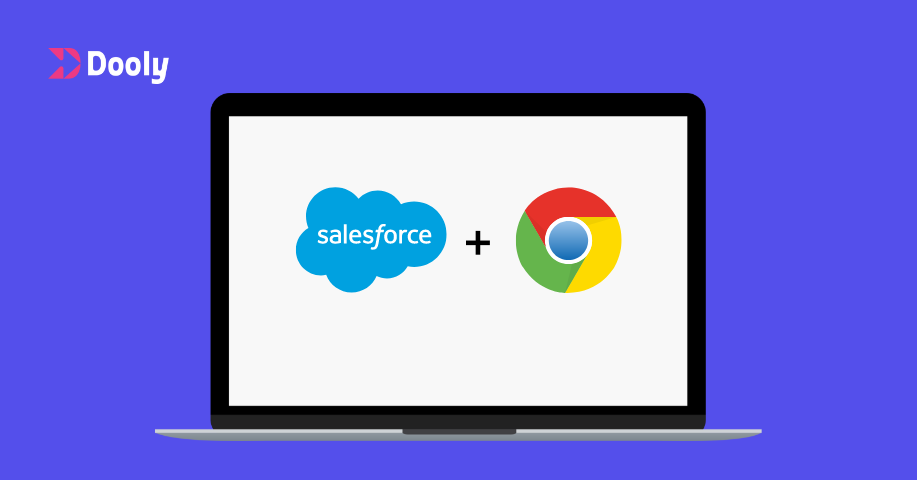 A quick sales cycle depends on smooth backend operations — which is why you need to increase productivity while using Salesforce.
These Salesforce Chrome extensions help you sort, organize, view, and navigate data across different platforms.
These extensions are available on the Chrome Web Store and are easy to install. In the web store, they are sorted by user category and labeled as either "Developer Tools" or "Productivity."
We've organized this list by the number of users for each extension + ratings. You'll find the rating next to each list point. We've also incorporated user reviews in recommendations.
Whether you're a Salesforce developer that uses Salesforce devtools, a Salesforce administrator, or simply a Salesforce user, there's a Salesforce Chrome extension for you.
If there's a Google Chrome extension that works well in one aspect but creates friction in another, we've added a note to the list.
Meet your personal Salesforce assistant.
Sales is hard enough. Dooly gives you the freedom to sell by simplifying deal management and removing Salesforce stress.
Add to Chrome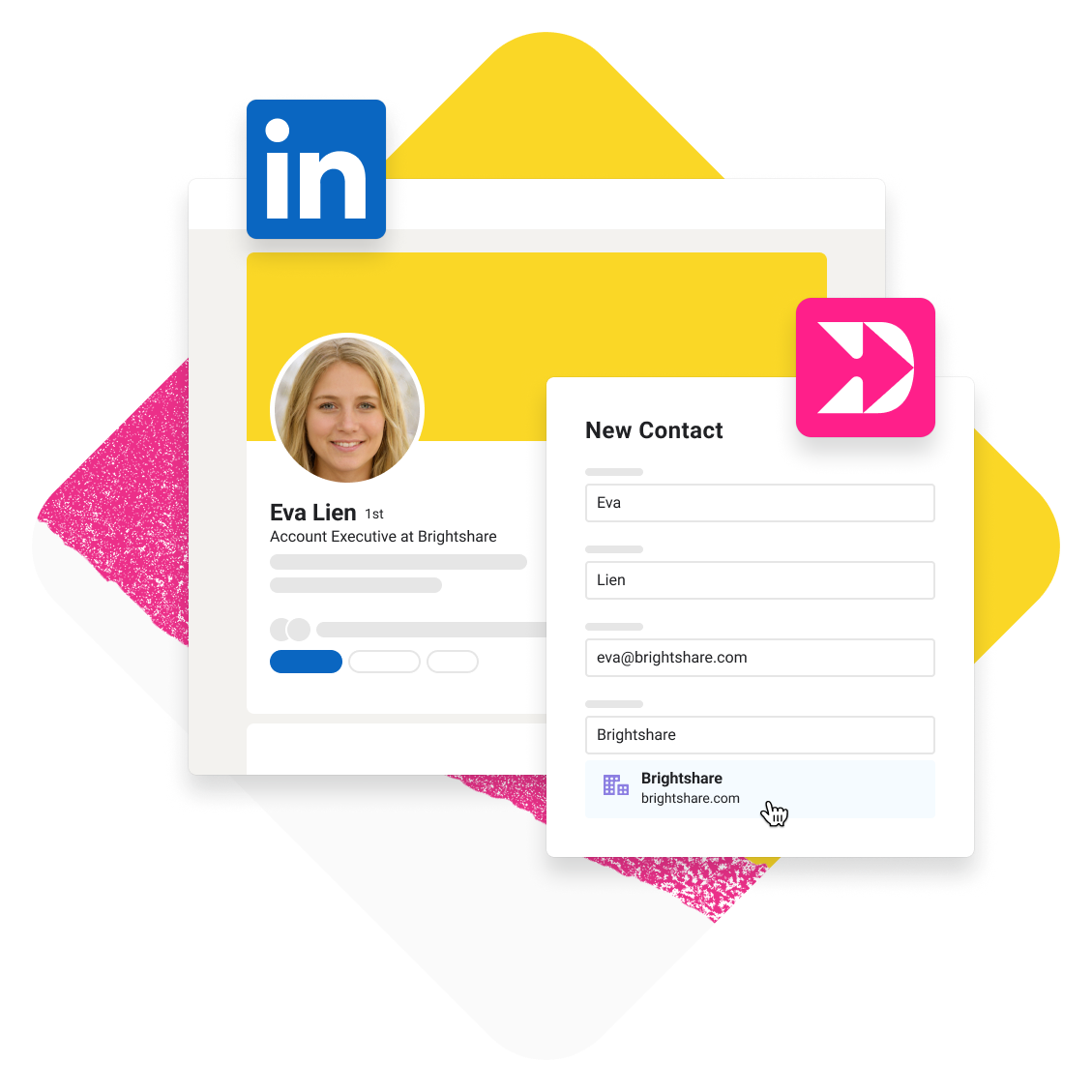 Let's look at what these are:
Salesforce Chrome Extensions for Sales Productivity
1. Dooly – 5/5
Update Salesforce, access customer data, and take better sales notes without switching from tab to tab. Dooly for Chrome keeps you focused with automated workflows, instant Salesforce updates, and less context switching, returning 5+ hours of selling time each week.
Use cases: add contacts to Salesforce from anywhere and update fields automatically.
2. ZaapIt for Salesforce – 5/5
ZaapIt automatically eliminates all duplicate data at once. Users say it works efficiently without lag, and the clean-up makes their computers run faster.
Use cases: It provides a full suite of CRM functions like creating custom CRM apps, enhanced CRM data management, and removing inadequate layouts.
3. DESelect Search in Salesforce Marketing Cloud – 5/5
DEselect is an advanced search feature allowing you to look up files and folders even when you don't remember their exact names. You can search files with partial names and external file keys.
Use cases: segment without SQL, search easily on the marketing cloud, and integrate data into the marketing cloud.
4. Email Tracking for Gmail and Mass Emailing – 5/5
You can use Email Tracking for Gmail to perform all Salesforce actions within Gmail. This Salesforce extension lets you handle mass emails without a backlog and Salesforce integration.
Use cases: tracking email engagement, connecting with multiple leads in one go, email templates to save time, setting up meetings quickly, etc.
5. Boostr for Salesforce – 5/5
Boostr is said to have 'all the features salesforce should have by default. These include a search tool for adding items to a change set and filtering by type when adding to a change set.
Use cases: update sales pipelines, optimize ads and track orders in real time.
6. Maven Tools for Salesforce – 5/5
Maven Tools works as an intelligent query editor, REST console, and event hub to get changes done quicker. It offers multiple session support, and users appreciate its responsive UI.
Use cases: record events, debug logs, monitor real-time requests, and delete and export multiple logs.
7. Revenue Grid for Salesforce and Gmail – 5/5
Revenue Grid is an analytics tool that offers insights into revenue through data capture features. It uses AI to analyze data so your sales dashboard can flag important details and tell you how to follow through on them.
Use cases: work on your Salesforce data all at once— inspect timelines, create better sales sequences for better sales and create more revenue.
8. Astrea Listview Export for Salesforce – 5/5
Astrea Listview Export exports listview data into excel. One restriction is that this only works for Salesforce classic.
Use cases: select sObjects from the picklist and export data directly into listview in Salesforce.
9. Salesforce Classic View (Lightning – Classic) – 5/5
Salesforce Classic View redirects the current Salesforce Lightning view to the Classic version. You can choose between automatic or manual redirection.
Use cases: compare old interfaces with the new ones.
10. Better Lists for Salesforce – 5/5
Better Lists allows you to set conditional formatting on your Salesforce lists.
Use cases: define your lists by condition or color.
11. Salesforce Dashboards on TV – 5/5
Salesforce Dashboards on TV displays and refreshes your Salesforce dashboards in a fullscreen scrolling window. It helps overview large sets of data.
Use cases: scroll down on Lightning dashboards and access live-view.
12. Cliently for Salesforce – 5/5
Cliently allows you to send your leads personalized videos, email, and even physical postcards from within Salesforce. It makes lead gen more efficient and streamlined.
Use cases: send emails, postcards, video messages, and handwritten notes.
13. Salesforce LinkedIn Integration by Salesbolt – 5/5
You can use this extension to see relevant Salesforce data while browsing through LinkedIn. Since you don't have to manually look up details for prospects, you can save a lot of time.
Use cases: get relevant salesforce data through this extension when scrolling through LinkedIn.
14. Salesforce Grid Refresher – 4.9/5
Salesforce Grid Refresher automatically refreshes the Salesforce grid for any object after 60 seconds.
Use cases: when you have to create cases frequently.
15. Apollo.io: Email Finder and Open Tracker – 4.8/5
Apollo Email Finder and Open Tracker allows you to find contact details like email addresses and mobile numbers from LinkedIn and Company websites with a single click and integrate it with Salesforce.
Use cases: search for people and companies, find LinkedIn emails, build lists, and open tracking in Gmail, and can also use 40+ smart filters from the Apollo dashboard.
16. Salesforce Colored Favicon – 4.8/5
Salesforce Colored Favicons updates the standard favicon on Salesforce tabs with a colored version so you can better organize your salesforce tasks. It's especially useful for sandboxes, trailhead activities, and consulting work.
Use cases: differentiate between Salesforce environments and change the color of the logo on your tab.
17. Lusha – Easily find B2B contact information – 4.7/5
Lusha allows you to instantly find emails and phone numbers from within Salesforce. Lusha's auto pop-ups for every new page can get annoying. But, you can turn them off by the following action: ( More > Extension preference > Auto Open > Toggle Off.)
Use cases: one-click integrations, prospect leads, and company data for creating enriched campaigns.
18. Groove for G-Suite and Microsoft 365 – 4.7/5
Groove lets you automate non-sales activities like administration and cross-team collaboration. Its most prominent users are Salesforce, G-suite, and Microsoft 365 users.
Use cases: Groove automates non-sales activities giving reps time to build relationships and generate revenue.
19. Salesforce.com Id Clipper – 4.5/5
Salesforce.com Id Clipper helps you get Salesforce Ids from records and links to your clipboard.
Note: The extension sometimes deactivates itself but the team is working on fixing this bug.
20. OneTab – 4.5/5
OneTab closes all your current tabs and opens a new tab with links to important and interconnected pages. This process speeds up your computer by removing background activity.
Onetab sometimes flags extensions and you may need to review those.
Use cases: If you often work with multiple tabs, you can use OneTab to convert them all into one list for easy access.
21. Click to Call CTI 4.5/5
Click to Call CTI allows you to directly integrate with any softphone and call numbers from web pages by just clicking on the number on the page.
Use cases: easily add call notes to the CRM.
22. PersistIQ – 4.5/5
PersistIQ allows you to access Salesforce from any website.
Use cases: say you're on a prospect's website and you want to know if the account already exists in Salesforce. You can search Salesforce from the site you are on without switching tabs.
23. Sync Salesforce Contacts to Google by cloudHQ – 4.5/5
Sync imports your contacts from Google Contacts—making your dashboard versatile, and accessible. You can access your clients' information conveniently with this helpful extension.
Use cases: stay up to date with all contacts without following an extensive process.
24. Ebsta For Salesforce – 4.1/5
Ebsta integrates Gmail, Google Calendar, and Salesforce so you can sync messages and important events on your calendars.
Use cases: salespeople can use it to sync calendars, and emails, create custom cadences, track emails, schedule meetings, integrate 50+ websites, and be a part of the community with 50,000+ members.
25. Salesforce Mass Editor – 4.1/5
Salesforce Mass Editor allows you to mass create, update, clone, and delete on any list view. It can integrate with Excel to automatically upload and update data in real time.
Use cases: mass copy and paste for multiple rows, and export list view from CSV file for both Classic and Lightning Salesforce interface.
26. Gmail email templates & newsletters – 4.1/5
Gmail email templates and newsletters integrate with Salesforce to create send and track responsive HTML email templates from your Gmail inbox. Remember, you cannot access their templates during the trial period.
Use cases: create engagement with GIFs, emojis, and memes. Track your emails. Create, edit, and save local templates, and personalize the experience for each of your customers.
27. Yesware for Chrome – 4.1/5
Yesware creates, views, and edits Salesforce records from your inbox. It automatically syncs all daily activity to the appropriate Lead, Contact, Account, and Opportunity record.
Use cases: It's great for tracking cold emails while keeping the information integrated with Salesforce.
28. Force.com LOGINS – 4.1/5
Force.com LOGINS helps you manage Salesforce login credentials and lets you log in with one click. You don't have to keep signing in, and you can focus on deep work.
Use cases: helps you quickly log in to your Salesforce dashboard in an incognito window, sync login information, and create a backup for extensive data.
29. Salesforce Change Set Turbo – 4.1/5
Salesforce Change Set Turbo allows you to create change sets in chrome. It helps you focus on core activities and be more productive.
Use cases: make deployments faster than ever, and you can use it to do a real-time search for displayed columns.
30. Avaya Communicator for Web – 4.1/5
Avaya Communicator integrates with Salesforce to let you connect inside the application with other people using the application.
Use cases: This extension gives you access to voice, video, presence instant messaging, and conferencing services for Salesforce.
31. Chatter Monitor – 4.1/5
Chatter Monitor loads your Salesforce Chatter into your Chrome browser. It lets you view your news feed, post comments, like comments and posts, and submit status updates.
Use cases: push leads and contacts directly from Salesforce into your PersistIQ campaigns without exporting and importing data.
32. Iris: Salesforce Color Changer – 4.1/5
Iris: Salesforce Color Changer allows you to change the color of your Salesforce environments so you can organize your activities as per priority. It works for both Salesforce Lightning and Classic.
Use cases: change the color of the background. Save colors of the environment based on URLs, and revert to the original environment easily.
33. Salesforce Admin Check All – 4/5
Salesforce Admin Check All adds "check all" options to Salesforce's various checklists. You can enhance your Salesforce setup pages and add checkboxes for multiple checklists.
Use cases: add checkboxes to object permissions and field permission lists.
34. Auto Tab Discard – 4/5
Auto Tab Discard reduces the memory load from open but inactive tabs by discarding them. It offers settings where users can choose to discard tabs based on media elements, pop-up notifications, and auto-startups.
Use cases: It helps reduce digital clutter and speeds up your browser. You can discard tabs manually and automatically.
35. Salesforce Navigator Lightning – 4/5
Salesforce Navigator for Lightning helps you get to any Salesforce page quickly. Just type in what you need to do.
Use cases: list and search records, make new ones, create a task or log in as another user.
36. Cirrus Insight – 4/5
Cirrus Insight offers Salesforce intelligence inside your email—no matter which email service provider you use. You can relate them to custom objects and save email attachments into the feed.
Use cases: email attachments and tracking, creating email templates, setting up reminders, sending emails in different time slots, planning drip campaigns, and setting up reminders.
37. Engage for Gmail – 4/5
Engage for Gmail allows users with a Salesforce Engage license to connect Pardot directly to their Gmail so they can easily track emails sent through Gmail in Pardot and pull Pardot email templates into their existing Gmail account.
Use cases: send, and track emails, merge fields, etc. Users say it's a must-have for the use of Pardot.
38. Salesforce Security – 3.1/5
Salesforce Security disables all other extensions while you're on Salesforce so you can prioritize tasks and speed up your computer.
Use cases: allows you to bar extensions from stealing your personal information, restrict harmful cookies, bar access to passwords and bank account information.
39. Download Salesforce Change Set package – 3/5
Download Salesforce Change Set package will add a Download button on the Inbound/Outbound Change Set page.
Use cases: use it to download package.xml of Change Set page components.

Salesforce Chrome Extensions for Developers
40. SOQL Extractor and Analyzer for SalesForce – 5/5
SOQL Extractor and Analyzer helps you extract and analyze the SOQL queries from the debug logs of Salesforce. Helps you analyze the 'Too Many SOQLs' error.
Use cases: troubleshoot 101 SOQL errors.
41. ORGanizer for Salesforce – 5/5
ORGanizer for Salesforce helps you recognize and organize Salesforce tabs in your browser with color codes. It also has a developer console, SObjects, and query builders.
Use cases: store your frequently visited accounts in one place, use Built In quick links to access Salesforce data, create your personal ORG's quick link library.
42. Salesforce Data/Metadata Utility – 5/5
Salesforce Data/Metadata Utility works with Record Data and Metadata to extract picklist values. You can use it with both Salesforce record data and Metadata.
Use cases: This tool is the fastest way to extract picklist values.
43. Salesforce Show API name – 5/5
Salesforce Show API name shows the field and object API names on the record detail page. It works in Lightning mode.
44. Salesforce Simplified – 5/5
Salesforce Simplified allows developers and admins to access and share useful data points. You can use to make your codes shorter and less error-prone.
Use cases: view debug logs and components history.
45. Salesforce Assistant – 5/5
Salesforce Assistant is a multifunctional developer extension that lets you Quick find, log in, Query, Backup, View LWC Code, Cron Expression, Record Edit-View, and Exports.
Use cases: You can use it to download data in a CSV format.
Note: If you install it for the first time, refresh the page before using it.
46. Salesforce Advanced Code Searcher – 5/5
Use this extension to search any string of code. By using the advanced quick find you can get your code with a few clicks.
Use cases: search for an apex class, apex triggers, a visualforce page, a visualforce component, Lighting Component. Jump to classes, pages, triggers from the advanced quick find section.
47. Salesforce Inspector – 5/5
With Salesforce Inspector, you can add a metadata layout on top of the standard Salesforce UI to improve the productivity and joy of Salesforce configuration, development, and integration work.
Use cases: Productivity tools for Salesforce administrators and developers to inspect data and metadata directly from the Salesforce UI.
48 . Apex Debugger – 4.1/5
Apex Debugger debugs Salesforce's apex code.
Use cases: It's a useful tool for reviewing, searching, and deleting logs with a single click. It also offers an improved view with personalized themes.
49. Salesforce.com Enhanced Formula Editor – 4.1/5
This developer extension enhances Salesforce formulas with syntax highlighting, autocomplete, formatting, field analysis, and syntax checking.
50. Gmail to Salesforce – 3.5/5
Gmail to Salesforce integrates your email inbox with Salesforce.
Use cases: The extension creates a button on your Gmail page which allows you to send and receive objects to and from Salesforce.
Note: emails are displayed differently in Salesforce. It's best used with organized Gmail inboxes.
Chrome Extensions That Simplify Salesforce Navigation
Salesforce is great by itself — but combined with some of these extensions, it's a powerful business transformation tool.
​Dooly was built to make it easy for salespeople to focus on selling so they can hit quota. We do that by helping reps take better notes that sync to Salesforce, keep their pipeline clean with just a click, and stay on top of their most important deals.
With Dooly's Chrome extension (a.k.a. DoolyBar), you can conjure customer data and create records from anywhere. DoolyBar helps turn your online activities into actionable sales steps in real time. And it's free!
Add the Dooly Chrome Extension for free.
Stay focused on your deals without switching from tab to tab.
---
Join the thousands of top-performing AEs who use Dooly every day to stay more organized, instantly update their pipeline, and spend more time selling instead of mindless admin work. Try Dooly free, no credit card required. Or, Request a demo to speak with a Dooly product expert right now.
Close deals on repeat with a guided sales process you'll actually use.
Get fresh sales tips in your inbox