Unless you've completely tuned out the news (not a bad idea these days), you've probably heard of the so-called Great Resignation.
Millions of employees are quitting their jobs, or opting out of the workforce altogether. The mass exodus has left managers scrambling to fill empty roles.
The sales profession has long experienced high turnover. As sales reps burn out, leave for greener pastures, or drop out of the profession altogether, but the Great Resignation has accelerated those trends.
The Sales Happiness Index shows that 1 in 4 reps plan to quit sales in the next 3-6 months, while 6 in 10 would consider leaving their current employer for better benefits.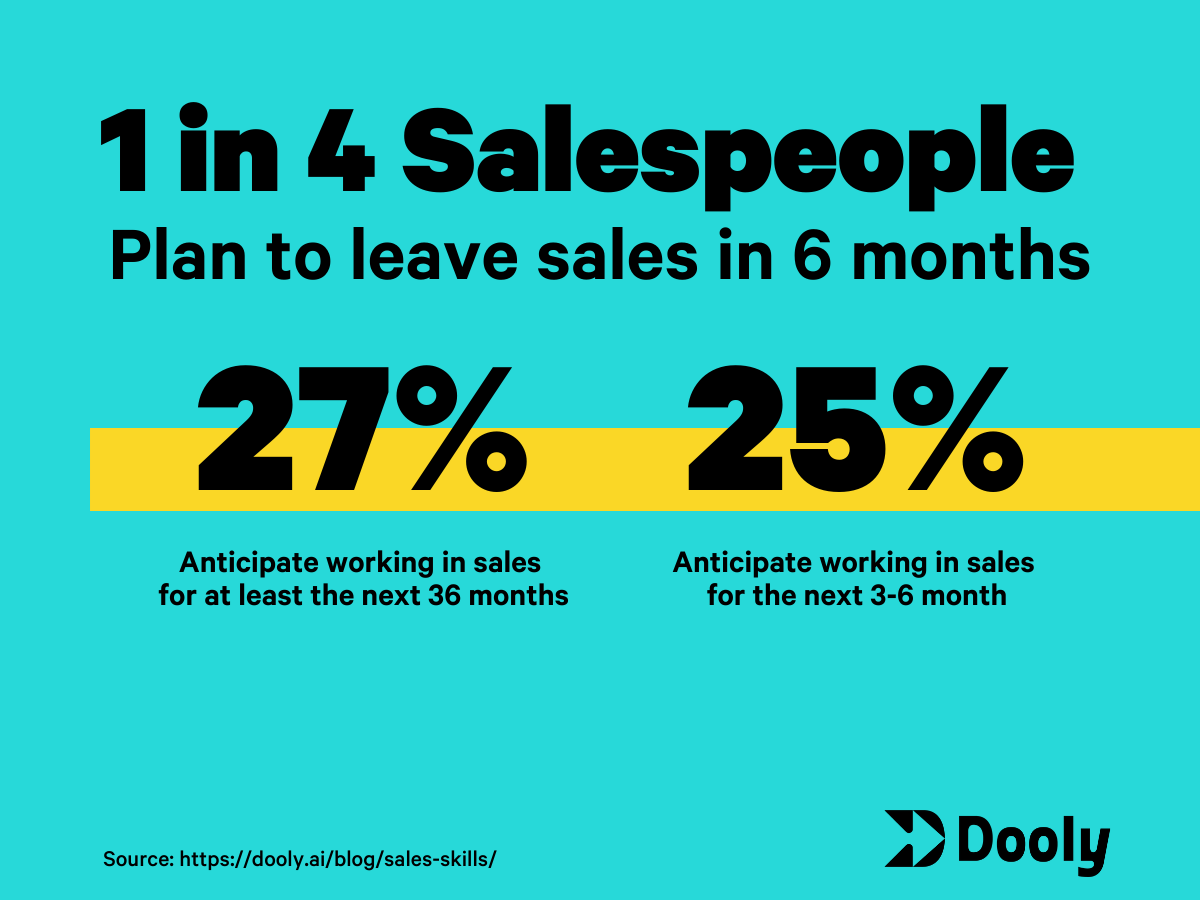 To help sales leaders come up with a general framework for retaining top sales talent, we dug deeper into the data, and came up with some ways that organizations can hold onto some of their most valued staff.
While these tips won't guarantee that your top sales reps won't go searching for a different role, they're bound to make the decision more difficult, and will make most reps think twice before they write out that two-week notice.
Here are five underrated tips to help you avoid sales rep turnover and retain top talent:
1. Provide balance and support to avoid burnout
77% of salespeople said they're working more hours now than before the pandemic.
This had led to historically high burnout rates, with a whopping 69% saying they have experienced burnout due to their job. Of those 69%, half said that they feel burnt out often, which is not conducive to a happy and functional workplace, let alone to high retention.
Employers need to ensure their sales teams are given support, understanding, and the resources to avoid burnout. Companies can no longer "churn and burn" salespeople, as there are many companies out there who would gladly hire talented sales reps who are sick of being worked to the bone.
2. Offer robust benefits
These days, companies need to think about why sales reps would want to work for them, not vice versa.
One of the best ways to retain employees is by offering robust benefits, which can range from great health insurance and 401K matching to generous time off policies and paid lunch.
EDITOR'S NOTE: At Dooly we have "no-meeting, free lunch Wednesdays" along with a PB&J fund, $500 every year for personal development of anykind. Highly recommend.
Six in ten respondents said they would be motivated to leave their company for better benefits, and of those who want to leave their current role, 43% cited a lack of benefits as the biggest reason.
If you're a sales leader, you need to work with your management team to ensure that your company is offering generous and competitive benefits, otherwise you risk losing some of your top reps, who are undoubtedly being recruited as we speak (68% of respondents have been recruited by another company this year).
3. Offer more flexibility
Sales reps value flexibility, especially after the remote-work changes that have taken place since the pandemic.
Companies that offer more flexibility are more likely to hire and retain great salespeople than those who don't. And the companies stuck in the past will be unable to attract new talent.
Why?
Expectations around flexibility have shifted from the "old-school" mentality about work-life balance. Salespeople no longer need to work 40+ hours to thrive. At least, not at progressive companies.
In fact, according to the Happiness Index, half of all happy salespeople said they would be motivated to leave for more flexibility. And those under management level were 22% more likely to say this than average.
4. Pay them well
Last but certainly not least, and perhaps most obviously, companies that want to retain top sales talent need to pay their reps well.
It's an incredibly stressful job, and it takes a whole lot of effort, so if a company isn't paying their sales reps commensurate with market value, then they certainly can't expect to hire (or retain) the best of the best. Of those reps who want to leave, 31% cited a lack of bonuses as the main reason, and you can be absolutely certain that the other 69% are keeping a close eye on the comp plan as well.
Salespeople tend to be motivated by money, so make sure you don't skimp in this department, because there are plenty of other companies eyeing your sales reps who won't.
5. Give them the proper tools and tech
Another great way that companies can retain top sales talent is through technology.
36% of sales reps said they would be motivated to leave their current role for one that offered better technology or resources.
It's the benefits that good tech provides that makes the difference, with 21% saying they would leave for a role where they could spend less time on non-revenue generating activities, like updating Salesforce, and other administrative busy-work.
By investing in the top tech, companies can not only save thousands of hours of productivity, they can also retain their best sales reps — a win-win.
Sales reps and mangers who use Dooly tell us they would quit or pay for Dooly themselves if it was ever taken away. Why? Not having Dooly keeps them from earning bigger commission checks and spending more time with friends and family. Learn how Dooly saves revenue teams time, money and preventable churn. Request a Dooly demo.
---
Join the thousands of top-performing salespeople who use Dooly every day to stay more organized, instantly update their pipeline, and spend more time selling instead of mindless admin work. Try Dooly free, no credit card required. Or, Request a demo to speak with a Dooly product expert right now.
Close deals on repeat with a guided sales process you'll actually use.
Get fresh sales tips in your inbox