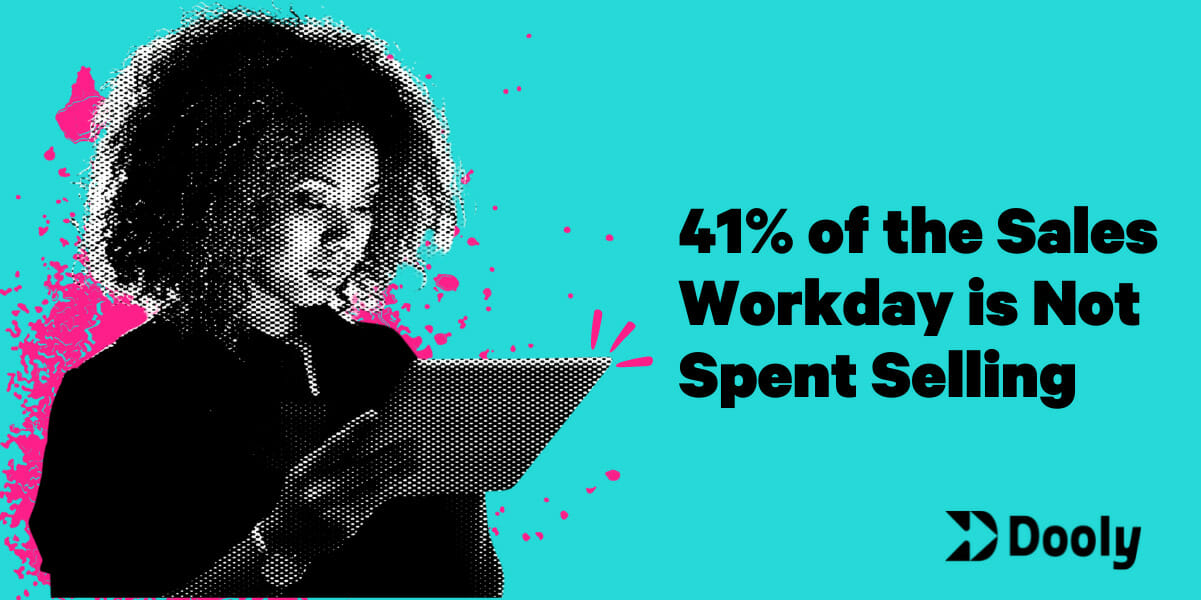 Spoiler alert: wasted sales time is not the reps' fault.

Earlier this year, we set out to understand the state of sales productivity. Not the revenue generated by sales teams, but the deeper opportunity costs associated with poor sales productivity.
How much do reps work?

What do they work on?

How do all sales roles feel about their team's productivity?
Of the 600 US sales professionals who responded, 77% reported working more hours now than before the pandemic, yet nearly half of that time isn't spent selling.
So, we did what any good salesperson would do. We asked strategic follow-up questions:
How do reps spend 41% of their time if not selling?

Are those non-sales activities really necessary?

What's the opportunity cost of salespeople doing admin work?
According to 88% of reps, time spent on non-revenue-generating activities is time lost.
Here's what's robbing your revenue team's time and keeping them from closing 38% more revenue, according to new 2021 research: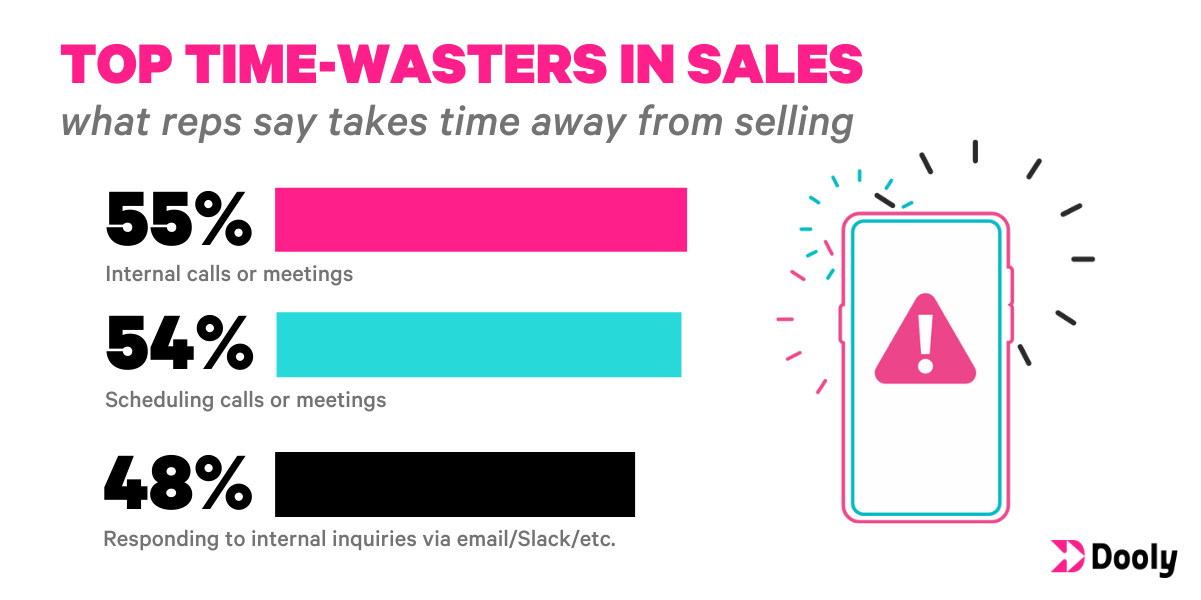 1. Internal meetings
Half of internal sales meetings could have (and should have) been Slack posts.
The most common time-waster, internal calls and meetings devour their sales time, according to 55% of sales respondents.
While some meetings are helpful, salespeople believe many could be async.
67% of sales professionals, representing all major sales roles from account executive to sales manager, agreed that at least half of the meetings they sit through each day are either unnecessary or could be more efficient via methods like email or Slack.
Unfortunately, most salespeople do not see the light at the end of the tunnel. Three-fourths expected meetings to increase throughout 2021.
2. Disconnected sales tech
Salespeople use just 62% of their tech stack.
While 75% of respondents said their company's tech stack makes a "big difference" in their productivity, 57% said it's harmful to theirs.
So, at some point, there's a breaking point. Too much siloed tech causes more headaches than it solves.
Question is, what's the magic number?
The average number of tools in a company's sales tech stack is unlucky number 13.
On average, respondents only use 8 of these tools regularly.
Why do sales reps use just two-thirds of their tech stack?
55% of respondents said they don't use certain tools because they are

extraneous

50% cited a

lack of useful integration

between tools

36% said they don't use certain tools because they have found a

workaround

that is easier (For example, using

Dooly to update Salesforce

or loop in team members using the

Slack integration

)



3. Scheduling meetings
Scheduling is not the same as selling.
Just 1% behind internal meetings on the list of common sales time wasters, 54% of salespeople cited scheduling calls or meetings as a non-sales task that takes them away from selling.
While many reps use calendar links, data suggests many are still stuck playing the "when's good for you?" game. Or, ironically, internal meetings and reporting aimed at bringing in more revenue take time slots away from interested prospects, causing unnecessary back and forth.
4. Updating the CRM
Reps spend 5+ hours a week in their CRM.
Before conducting the 2021 Sales Happiness Index survey, Dooly found salespeople spend five or more hours in their CRMs per week. That data comes from years of sales conversations, customer feedback, and polls.
In the 2021 Dooly Sales Happiness Index, 25% of salespeople said their CRM "frequently" takes them away from selling. Unsurprisingly, reps feel this pain more than managers. 32% of salespeople below the management level were likely to say this compared to the average.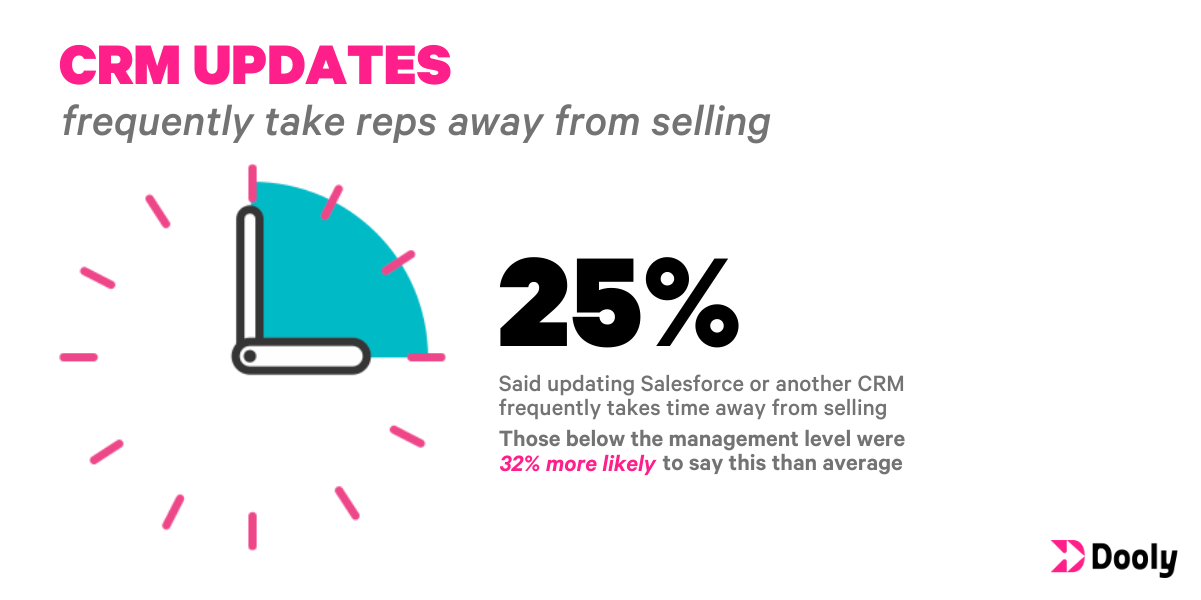 The true cost of lost sales time
By removing sales time wasters, the once ambitious quotas 97% of revenue teams miss start to look attainable.

95% of salespeople agreed that even reducing time on non-revenue generating tasks would help them hit quota and 86% believed it would help them increase their paychecks. 81% felt confident that if they could reduce admin work they could earn their company more money.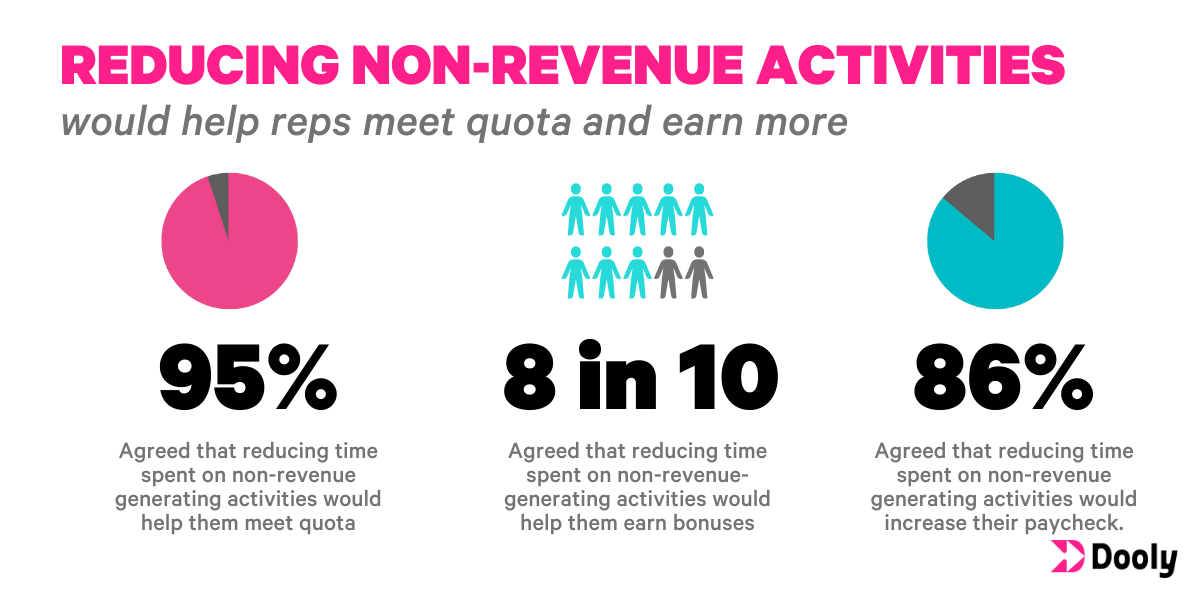 What could a revenue team do with 41% more sales time?
66% would use the time to

connect new prospects with existing customers

64% would

meet with new customers

42% would

create sales presentations or demos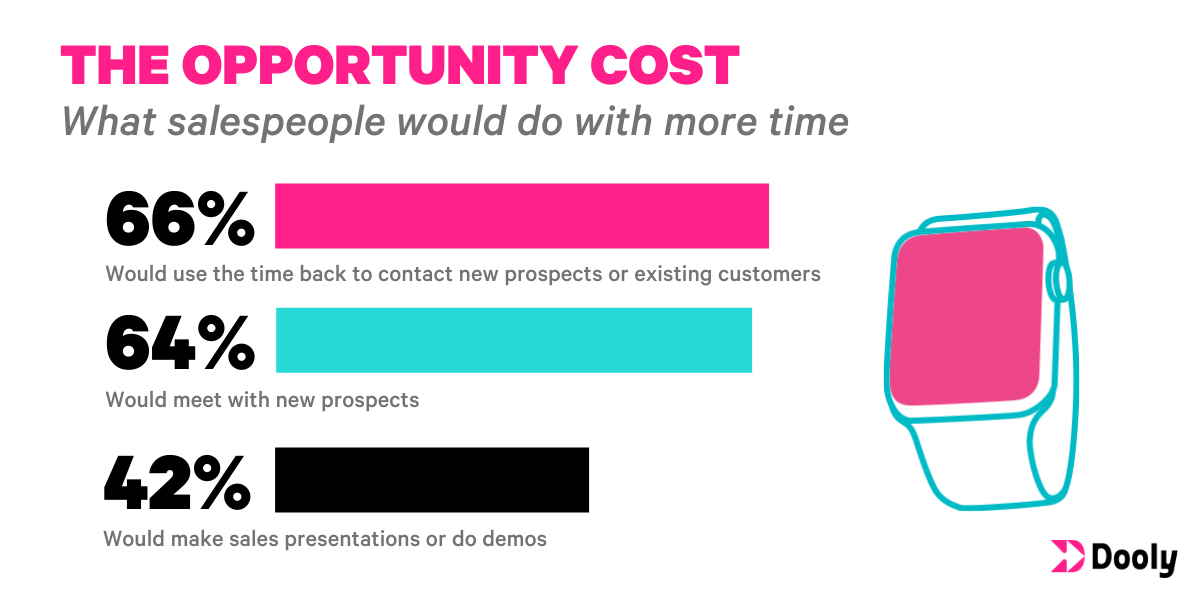 What's more, salespeople believe those activities would do more than improve manager moods.
Salespeople estimated they could drive 38% more revenue per quarter if no time was spent on non-revenue generating activities. And they'd be highly incentivized to do so as they believe that extra work would boost their own paychecks by 66%.
"Five hours a week. It's a potential of 10 demos… even at 20% close rate, two new deals per week, eight per month, times 40 reps… holy sh*t, that's 320 new opportunities."
-Byron Sierra-Mattos, Team Lead & Senior Account Manager at Apollo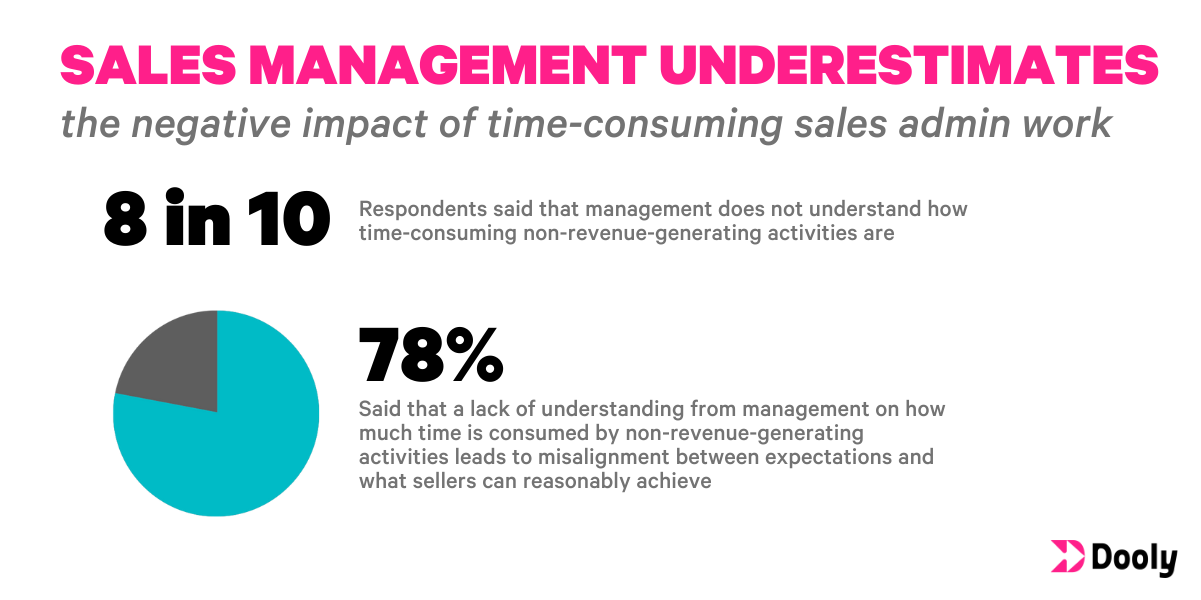 The disconnect between sales reps and management
How do we fix this?
Before revenue teams can break down barriers to efficient selling, they need to know where they exist and audit their impact.
According to the Dooly 2021 Sales Happiness Index, 80% of salespeople said their management doesn't understand how time-consuming non-generating tasks are. Nearly that same number (78%) said that lack of understanding from management causes misalignment and unrealistic expectations.
The purpose of this report is to expose common blockers and better equip revenue teams to take the next step to improve sales efficiency and work satisfaction for revenue team members.
Dooly was born from the strain sales admin work put on our co-founder, Kris Hartvigsen, and his past colleagues when working as a high-performing rep and revenue leader at SaaS companies. Dooly's revenue workspace boosts revenue team performance and work satisfaction by eliminating unnecessary sales admin work and guiding reps through calls with real-time enablement. Book a Dooly demo.

---
Join the thousands of top-performing salespeople who use Dooly every day to stay more organized, instantly update their pipeline, and spend more time selling instead of mindless admin work. Try Dooly free, no credit card required. Or, Request a demo to speak with a Dooly product expert right now.
Close deals on repeat with a guided sales process you'll actually use.
Get fresh sales tips in your inbox