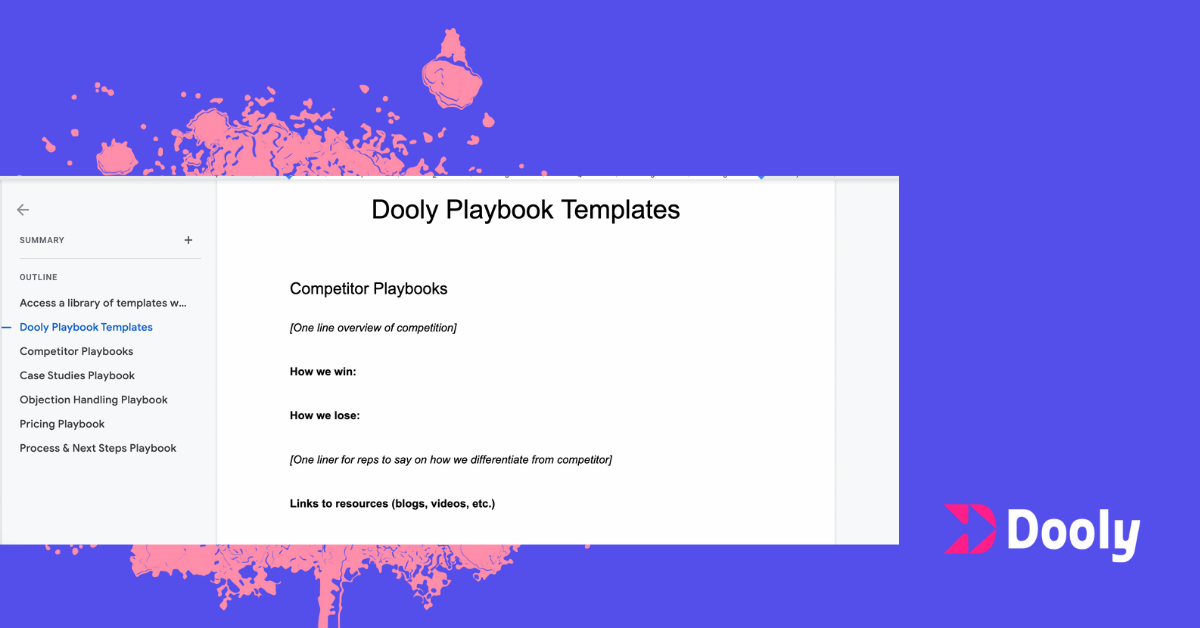 The goal of any sales team is to generate revenue; that's it. While you may have star players on your team, that does not guarantee success. Every company goes about the sales process a little differently from other companies.
In the same way, the biggest teams rely on sales playbooks to secure wins and gain an edge over their competition. The Harvard Business Review found that 50% of high-performing sales organizations use a closely monitored and implemented sales process.
Most sales reps spend most of their time unnecessarily repeating tasks that shouldn't be repeated. In fact, a staggering 74% of salespeople admit that they spend most of their time on activities unrelated to selling. This is where the sales playbook comes in: to help you build a repeatable sales play that will work for your industry and product–and most importantly, something your sales reps are comfortable executing. This article covers what a sales playbook is, its benefits, and how to build it for your sales team.
Meet your personal Salesforce assistant.
Sales is hard enough. Dooly gives you the freedom to sell by simplifying deal management and removing Salesforce stress.
Try Dooly for free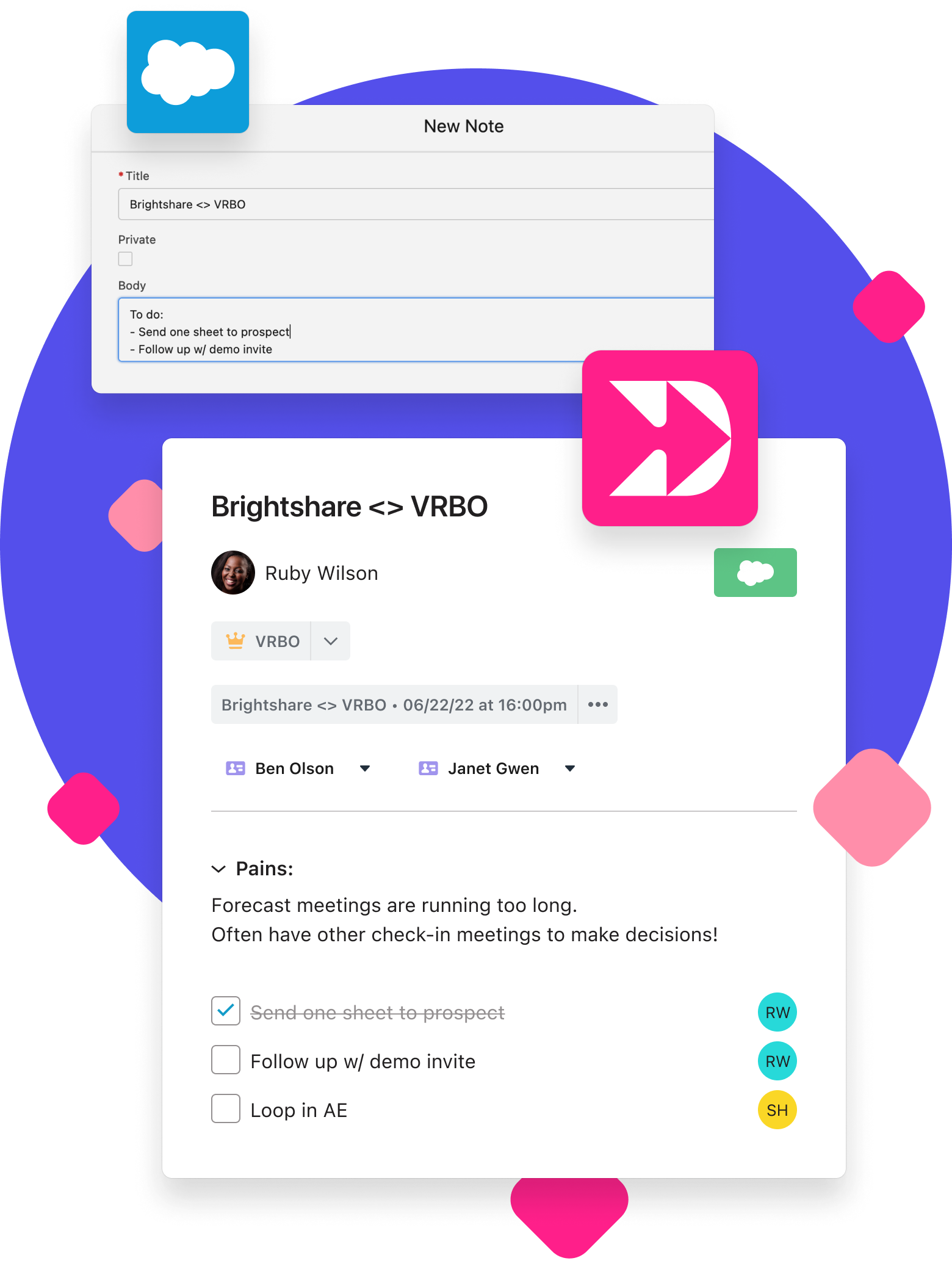 What Is a Sales Playbook?
A sales playbook is a guide or model that contains a company's best practices, strategies, sales tactics, and conversational techniques based on the company's previous successes. It helps B2B sales reps and others boost their productivity in a fraction of the time because it is based on proven effective methods.
Ideally, your sales playbook should guide your reps through different parts of the sales process, highlighting possible scenarios and how to handle any obstacles that could arise. It's a centralized resource that equips your sales reps with everything they need to succeed.
When coming up with the sales playbook, you need to involve the right people. Your team should include A-level sales reps, sales leaders, marketing representatives, and subject matter experts. A sales manager can then oversee the entire sales process and execution.
What Should a Sales Playbook Include?
Before creating your sales playbook, you must determine its components and prepare the resources before putting it all together. There are ten key components of a successful playbook:
1. Company Overview
You should open your playbook with a brief description of your company, its history, values, and mission. This section should also cover the company's organization and how each department functions.
Your sales team should understand how their roles are interconnected with those of other teams so they can collaborate and leverage company expertise for greater success. A company overview shows your sales reps who is responsible for what, so they won't waste time trying to track down the right person to ask specific questions.
2. Sales Team Structure
Your sales playbook should also include a visual representation of your sales team structure, such that each team member understands the roles and responsibilities they ought to play. Highlighting the sales structure helps your reps understand how their roles contribute to the sales process's overall success and how the prospects move through the sales pipeline management.
3. Products
The playbook should also contain a list of all the products and services your sales reps will be in charge of selling. This is not an in-depth explanation but rather an overview of the product, including basic information such as pricing, value proposition, and features.
When your reps understand how your products and services work, they can communicate more authoritatively and informatively with prospects. They can explain to the customers why they need the product and what they can achieve with it.
4. Buyer Personas
Another key component of a sales playbook is a sketch of buyer personas targeted by your company. Each buyer persona should be specific in size, industry, job title, challenges, etc.
Your sales reps need to know when each decision-maker enters the buying process. This information equips them with the knowledge to identify prospects from multiple leads. Almost 50% of your prospects do not fit into your ideal customer profile, so your reps need to be trained to identify them.
5. Sales Process Overview
Your sales playbook would be incomplete without an overview of your sales process. You should create a section with a step-by-step overview of how your sales process typically works. It should highlight the steps that need to be taken at each stage and the members responsible for particular tasks.
Mapping out each stage of the sales process gives your reps clear objectives and steps to follow for the sales process to be successful. When every team member knows their role in the sales process, your team works like a well-oiled machine, churning out closed deals continuously.
6. Sales Methodology
Within your sales process, there are sales methodologies employed by your team to facilitate sales. If, for instance, your team uses SPIN selling or the Challenger framework, ensure you outline this method. Some of your reps might not be familiar with these names, so include resource persons they could contact to learn more.
With all your sales reps working on the same page, it is easier to deliver a consistent customer experience to ensure customer satisfaction and boost retention.
7. Messaging
In this section, you give your reps a sense of the type of messaging your company uses for communication, such as prospecting emails, positioning statements, phone calls, and demonstrations. Examples of strong messaging should be included so reps can learn how to introduce themselves or handle objections.
8. Case Studies
Nothing proves the effectiveness of a product or service more than a case study. Harness the power of case studies by including them in your sales playbook. This part of the sales strategy shows how your product benefits customers, giving them a wide range of customer examples and metrics to use when interacting with prospects.
Each case study should have key points that your reps can quickly refer to when they need to share evidence with prospects. Organize your case studies so that your reps can easily identify the appropriate examples to use in different scenarios.
9. KPIs
You should also include how your company and top management view Key Performance Indicators. This section should highlight the metrics the sales reps should pay the most attention to. It should also highlight the KPIs most associated with sales success based on previous data.
How does your company measure and track individual KPIs? According to Salesforce, 66% of sales teams use customer satisfaction (CSAT) as their top KPI, followed closely by "team quota met."
10. Compensation Plan
Another key element of your sales playbook is a section outlining how the compensation plan works in your company. This should cover everything from bonuses and how quotas are set to sales contests and how they are structured. This section should also include examples of what compensation looks like at different performance levels, which can act as an incentive for your sales reps.
When and How to Use It
Creating your sales playbook should not be a one-and-done process. It is crucial that you consistently monitor and update the playbook as time passes to maximize its utility for your sales team. If there are any changes to any playbook components, they should be reflected in the playbook as soon as possible.
You also ought to ensure that it is fully incorporated into processes like onboarding, training of new hires, and management. Your playbook can be a great tool for your company, provided you build an actionable framework into it.
The sales playbook will only work if everyone is involved. Everything from its creation to its implementation should be a team effort. After you've documented the playbook, you have to teach it and reinforce it, or there is no point in writing it at all. To get maximum results from your playbook, think of it as a tool you need to test and iterate constantly.
The Benefits of a Sales Playbook
Using a sales playbook is one way to ensure a smoother sales operation. This increases your reps' productivity and efficiency while helping them focus on specific sales goals. Below are the benefits of using a playbook with your team.
1. Make new hire training quicker and easier
It is estimated that companies in the U.S. spend about $70 billion per year on training. When you have a sales playbook, onboarding and initiating new hires into your sales team becomes simpler. You have a step-by-step guide to help them do their job with the proper sales tools. This cuts down on the time spent training.
A sales playbook enables your newly hired sales reps to interact with customers with the confidence of a seasoned employee because the playbook covers multiple scenarios and how the reps should handle customer needs.
2. Frees up valuable time for your most important sales reps
A sales playbook significantly shortens the sales cycle, which helps your reps save time by eliminating mistakes. And if you have the sales playbook in place with new hires, then your most productive reps can focus on what they do best: selling.
Additionally, prospect qualification and elimination of poor leads become easier when you have a sales playbook. Your reps will only focus on qualified leads and avoid wasting time on poor leads. Your reps can service more customers and generate more revenue with shorter sales cycles.
3. Surfaces the most effective sales techniques
A sales playbook is based on techniques, strategies, and tactics that have been proven to be successful in the past. It is a resource that highlights the most effective selling techniques and weeds out outdated or ineffective tactics.
Your sales call scripts are crisp and shared across the team. Your data management has a clean process.
This greatly boosts your team's productivity and efficiency because they are using tried and tested selling methods.
How To Build Your Sales Playbook
Once you know all the components you should include in the playbook, it's time to get to the actual creation. Typically, the first step is to put together a team to create the playbook. This team should include key players from all the relevant departments. Your sales playbook must be a collaborative project, so everyone is in agreement regarding its content.
Next, you need to talk to your sales representatives and collect data about their successes and failures in the sales process. Their expertise is highly crucial to the success of your playbook because you will need their experience to determine the techniques that should be included in the playbook.
The next step is to ensure your buyer's objections are met. These objections should be aligned with your sales process. You can't prevent objections from leads, but you can train your reps to handle the objections.
Lastly, consider current sales trends. Today, the consumer is more informed and tends to evolve with each passing day. You should ensure your playbook reflects current trends and how to personalize them for each client. Once you have everything you need for the playbook, all that's left is to document it officially.
Sales Playbook Examples and Templates You Can Use
If you're ready to get started, consider using the following sales playbook templates and examples to make your work easier.
Get free access to the templates our Enablement team uses to build the playbooks of the Dooly sales team. This Google doc includes templates for competitor playbooks, case studies, objection handling, pricing, process and next steps.
The free sales process template by Hubspot enables you to outline your company's strategy in a simple and coherent plan. The template has multiple sections, including company history and mission, tools and software, action plan, target market, goals, budget, and many more. This template allows you to simplify your goals and strategies and develop an actionable plan to accomplish those goals.
Demand Metric offers a sales playbook template that can be customized and rebranded, so you don't have to start from scratch. It gives your team structure and highlights best processes and practices to help improve your reps' effectiveness and efficiency.
The Spotio sales playbook template is another great option to help you streamline and automate your sales process. It is an editable template that guides you through your sales playbook's creation, implementation, and execution.
How Do You Know If Your Sales Playbook is Working?
Like any other strategy you implement, you need to monitor your sales playbook and measure its success. The best way to do this is by using quantitative and qualitative data.
Are you booking more calls with leads that fit your ideal customer profile? Are you spending more time on key sales activities rather than sales management and operations? Is the feedback you're receiving from prospective clients noteworthy?
Also, ask your sales reps and your customers for feedback. Send out questionnaires, conduct interviews, and use surveys to touch base and find out what's working and what isn't. The success of your playbook will depend on how well you monitor and fine-tune it to suit the needs of all the stakeholders.
The main aim of having a sales playbook in the first place is to boost sales and generate more revenue, so if that is not happening, then something needs to be done. This might be in the form of tweaking certain areas or doing a complete reevaluation of the playbook.
A Smarter Way to Use Playbooks
Now, let's be honest. What is the chance that a sales rep will go find one of your team's playbooks during a sales call? Right, close to zero.
But what if the playbook would pop up automatically when the rep is taking notes and types a certain keyword like 'objection', 'pricing' or even the name of a competitor?
Well, that's exactly what Dooly's technology does. Dooly surfaces the content sellers need in real-time so they can have better conversations and close more deals. No more scouring folders for PDFs or rage clicking through tabs. Dooly surfaces the content reps need in real-time so they can feel confident throughout the call. Curious? See Dooly Playbooks in action.
---
Join the thousands of top-performing AEs who use Dooly every day to stay more organized, instantly update their pipeline, and spend more time selling instead of mindless admin work. Try Dooly free, no credit card required. Or, Request a demo to speak with a Dooly product expert right now.
Close deals on repeat with a guided sales process you'll actually use.
Get fresh sales tips in your inbox