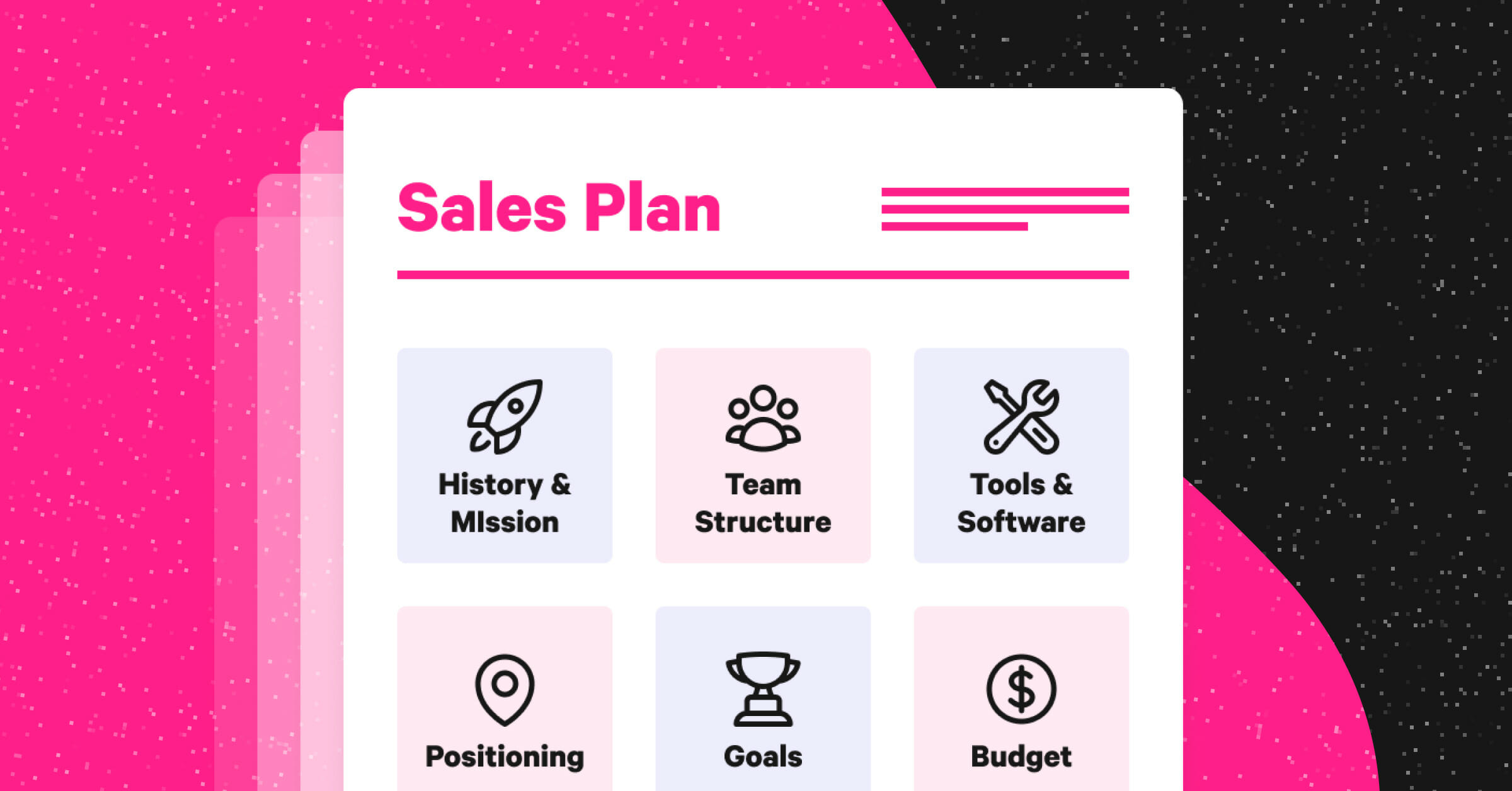 As a business leader, salesperson, or executive in a sales company, it's important to recognize the importance of planning for success. A sales plan is arguably the most crucial tool that will enable you to prepare for the future of your business and how you can hit your business targets and goals.
In this article, you'll learn what a sales plan is, how to write one, and tips for creating an effective sales plan. This post also highlights the best sale plan templates for your company or business.
What are the best sales plan templates?
Creating your sales plan from scratch can be an intensive and time-consuming process, which is why you should consider using sales plan templates. The following are the best sales plan templates to get you started!
1. Sales Plan Template by Hubspot
This free sales plan template by Hubspot is a detailed plan with multiple sections that allow you to outline your sales strategy in a simple, coherent manner. The template includes sections for your team structure, target market, company history, goals, budget, action plan, and many more. This simple template simplifies your sales plan for your team and execs.
2. Sample Sales Plan by BestTemplates
Best Templates provides a 9-page sales plan that you can download and edit to customize to your specific needs. The template is designed to do all the work for you since all sections are already highlighted, and your job is to fill them in.
3. Asana Sales Plan
Asana's sales plan promises to help you build a solid sales foundation and empower your team to achieve company goals. With Asana, you can create various sales plans, including a territory plan, a 30, 60, or 90-day sales plan, or a simple sales action plan. Moreover, you can use Asana and Salesforce together to improve your sales process.

Finally, a sales process that gives you the freedom to sell.
Build a repeatable, winning sales process with Dooly's powerful note templates.
Try Dooly for free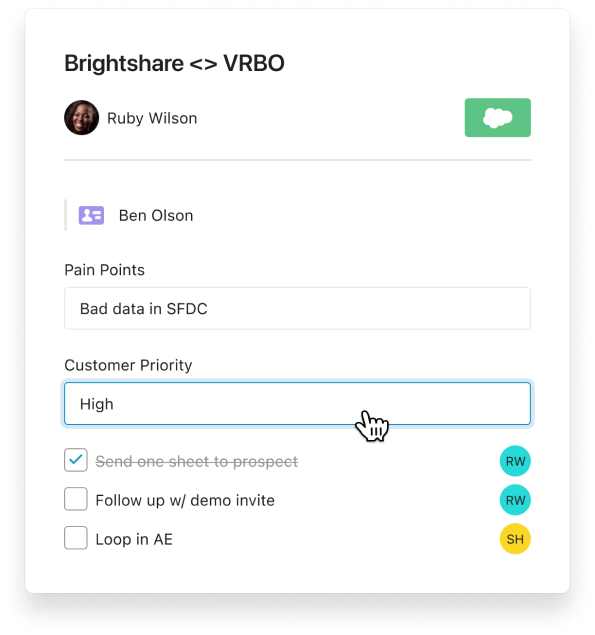 4. 1 Page Sales Plan by BestTemplates
Another sales plan by Best Templates can help you work out effective strategies to boost sales. It's also customizable, so all you need to do is open and edit it using your preferred software app or program, provided it is compatible with MS Word or Pages file formats.
5. Online Sales Plan Marker Map by Venngage
The Sales Plan Maker by Venngage enables you to create and organize your sales plan. To get started, you need to create a Venngage account and pick the sales plan template that suits you best. Venngage allows you to add images, edit text, or develop pictographs and custom charts.
6. Small Business Sales Plan by FitSmallBusiness
This compact and easy-to-use sales plan template contains all the information you'll need to set clear sales goals and objectives and the tactics and strategies to employ. Simply download the template, and customize it for your business.
7. Sales Strategy Diagram from Creately
Creately offers multiple customizable professional templates designed to ensure synchronicity across your entire team. You can create a dashboard to monitor the progress of your strategies. The Creately viewer also allows you to embed multiple diagrams in your blogs or business website.
8. Sales Action Plan by BestTemplates
This affordable action plan template by Best Templates has a minimalistic and professional layout for unmatched structure and organization. It's a fully customizable template that supports MS word and iPages, so editing shouldn't be a hassle. Download the template from their official website, and get started with your action plan.
9. 30-60-90 Day Sales Plan by Template.Net
This is a comprehensive sales plan that can help you boost your company sales within 90 days. It's an effective sales plan template outlining all the strategies and tactics you should employ during the 90 days. The template is fully customizable and can be downloaded using your preferred software.
10. Microsoft Word Sales Plan from TemplateLab
Microsoft Word provides multiple free sales plan template options from TemplateLab. The templates are designed to help organizations plan their sales activities in a structured manner. The plans have sections including an executive summary, goals and objectives, analysis details, organization mission, key performance indicators, marketing strategy, and many more.
11. 90-Day Sales Play by Template.Net
This easily editable template is designed to help you plot the activities that should be done over a 90-day period to enable you to meet your organization's set goals and objectives. The 90-Day Sales Action Plan template is perfect for companies trying to achieve specific goals within a specified timeframe.
What is a Sales Plan?
A sales plan is a document that features your company's sales activities, including tactics and strategies to achieve set objectives within a given time frame. One major challenge stunting the growth of companies is a lack of a formal action plan. The executives come up with goals and objectives and leave it at that. Now you know what you're aiming for, but HOW do you get there?
A sales plan outlines the strategies and tactics that will get you there. It highlights specific step-by-step actions your team will take to achieve business targets. Since it is a dynamic document, it is continually updated to reflect market changes, so you're always one step ahead of the competition.
A good sales plan is exhaustive in that it establishes the goals, priorities, necessary resources, and timetables. The sales plan should set measurable, precise, and motivating goals. There needs to be a logical order to the steps highlighted in the plan. Additionally, an effective sales plan is a formal document. If you don't write down your plan, then it is a dream you simply hope to achieve someday. A formally documented sales plan is a firm commitment to reaching your goals and targets.
What is included in a sales plan?
Sales plans typically differ from company to company. However, specific segments must be included in a sales plan. These are key to your strategic business development, and they include the following:
Executive summary
A good sales plan starts with an executive summary, laying the foundation for the information. This is where you state your company's vision and mission. The executive summary tells the story of how your company got there and what the company hopes to achieve in the coming years.
Business goals
This is arguably the most crucial segment in a sales plan. The set goals should be measurable and time-specific. Include revenue targets, which can either be revenue-based or volume-based and the sales effectiveness metrics that will be used to measure them. It's also vital to ensure the revenue target is achievable by the set time to motivate the sales staff.
Description of strategies and tactics
If you aim to increase your customer base, what specific steps should be taken to achieve it? This segment of the sales plan will include touching base with your marketing team because they're familiar with the marketing strategy that works best. Working with your sales team to develop the strategies and tactics also helps boost employee productivity and engagement.
Customer segments
Your sales team should have a clear picture of who they're selling to. Build an ideal customer profile that will be used for your sales pipeline. A good sales plan includes the target audience and the target industries serviced by your company.
Budgets
Your budget for the year is another key element of the sales plan. How much will be spent on achieving the goals? Clarifying salaries, commissions, bonuses, resource spending, and even miscellaneous costs is important.
How to Write a Sales Plan
The sales plan is not a solitary document. For your sales plan to be effective, it must be an integral part of your sales planning process. You're not just typing up a document and sending it to your team. You want it to be a guide for your sales staff, which is why you need a strategy.
So what steps should you follow when writing your sales plan?
Start by gathering sales data
Your sales planning needs a foundation, and sales data for the previous couple of years can help you get started. What tactic or strategy has worked for you in the past? What wasn't so effective? Do you need to improve your cold outreach? You've probably heard the phrase, "those who don't learn from history are doomed to repeat it." Collect as much data as possible and use the information to identify some of the trends in your industry.
Determine your objectives
The reason you have a sales plan is to help you achieve your business goals. As such, it is one of the top priorities in the sales planning process. Clearly defining your objectives will enable you to develop strategies to reach them. You have to know the what before the how.
Outline your metrics for success
How will you know whether your strategies are working? Success metrics differ based on the industry and the business, but common key performance indicators (KPIs) include ROI, conversion rate, gross profit margins, and more.
Begin sales forecasting
Sales forecasting, loosely speaking, is predicting the future. It is the preparation of an in-depth report that uses historical data, sales activity data, and predictive analysis technology to predict what your sales team will sell over a given period.
Sales forecasting is crucial for the growth of your business. The information from sales forecasting helps answer essential questions that will guide your business approaches.
Develop sales tactics and strategies
Your sales plan also needs to highlight the tactics and strategies you plan to employ to accomplish the set objectives. This section of the plan should be highly detailed, outlining the specific campaigns, such as cold calls and email marketing campaigns, to generate leads for your sales funnel.
The tactics and strategies outlined should be customizable to different customers based on their consumer behavior, interests, and specific needs. You could also implement cross-selling as a way to generate more revenue.
Outline actionable steps
The final step in creating your sales plan is to outline action items. Consider your company's quota numbers and its capacity when building the specific steps to be followed in the sales process. This can include organizing a daily sales schedule for your sales team to maximize efficiency.
What Goes in a Sales Plan Template?
A good sales plan is not too long or too short. It contains detailed information without being unnecessarily lengthy and complicated.
As mentioned earlier, sales plans differ from company to company, but they should generally include the following segments:
Revenue and sales goals
Target customers
Marketing strategy
Market conditions
Resources (sales tools and software)
Action Plan
Timelines
Tips for Creating an Effective Sales Plan
Creating a sales plan is one thing. Getting your sales team to implement it is another. The following tips will help you create an effective sales plan that will engage all the stakeholders and team members.
Utilize data and statistics
Using relevant data from in-depth research, you can identify key problem areas and opportunities in your sales process that you should tap into. Statistics validate the key assumptions you make in the process. This way, your plan is meticulously thought out and not a spray and pray effort.
Verify all your facts
There are several facts and figures in a sales plan, and you should take the time to verify them all. They need to make sense to the stakeholders and all the team members. Misquoting or using an unverified fact could render your entire plan unusable.
Specify tools and resources
Your plan should also highlight the technology you plan to use at different stages of the sales process. This includes CRM or dashboard software that you can use to track success. It is helpful for both your internal team and the stakeholders.
Align your teams
The success of your sales plan will depend on the alignment of your sales and marketing teams. Getting input from marketing dramatically improves the accuracy of your strategies and tactics. Steps in the sales process, including lead generation, prospecting, and nurturing, should work together harmoniously.
Get your team's input
It is essential to work with your team in the process. Talk with all your reps to understand any challenges they might be facing. At the top, it's easy to focus on the numbers and forecasting without considering the rep's day-to-day activities and whether or not the plans you have are feasible. Working with your team enables you to determine problems that need fixing before the sales plan can be affected.
Key Takeaways
Failing to plan is planning to fail is a common saying. It's undeniable that implementing a sales plan will significantly benefit your business, based on the goals you set out to achieve.
The sales plan is not a static document. To improve its effectiveness, it is vital to keep upgrading based on industry shifts and trends or changes within your organization. This will fast-track the growth of your business and set you ahead of your competition.
---
Join the thousands of top-performing AEs who use Dooly every day to stay more organized, instantly update their pipeline, and spend more time selling instead of mindless admin work. Try Dooly free, no credit card required. Or, Request a demo to speak with a Dooly product expert right now.
Close deals on repeat with a guided sales process you'll actually use.
Get fresh sales tips in your inbox