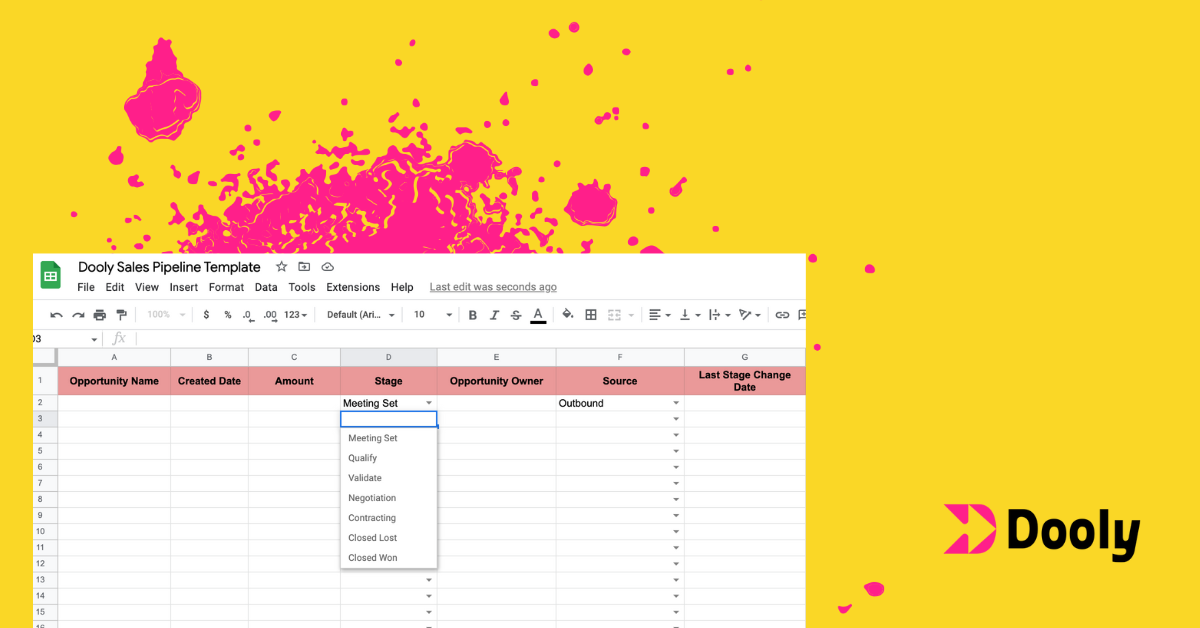 A healthy sales pipeline is the lifeline of your business. Without it, your team won't hit its revenue goals.
So, how do you ensure your team is constantly prospecting and maintaining a strong pipeline? Giving them the right coaching and training, but also the right tools – including a sales pipeline template.
What Are the Benefits of Using a Sales Pipeline Template?
Even with the best sales team, not every deal will close. A top-performing sales team can distinguish between a deal with potential and a time-waster. A high-quality sales pipeline removes the guesswork and helps elevate your average sales teams to top-performing sales teams by shining a light on the difference between their tops and flops.
Once your sales team can distinguish the high-potential deals, they can focus their time and resources on the most productive areas. At the same time, this allows you to provide better sales forecasts.
Here are four ways a clean sales pipeline can help your team identify the most promising opportunities:
It allows your sales team to see the most significant deals in their pipeline and prioritize them.
Your team can easily recognize subpar deals by viewing deals with missing information, next steps, or those with low dollar amounts.
You can identify deals with missing decision-makers attached so that the team can prioritize their time elsewhere.
Your sales team can quickly pull up deals in the signing phase to ensure everything is on track and nothing has been inadvertently glossed over that could ruin a good deal.
By helping your team identify the leads that are most likely to close, they can focus their time and company resources while hitting their quotas and winning more deals for your business.
How To Manage Your Sales Pipeline with the Dooly Pipeline Editor
Dooly helps you manage all your deals at once with one-click updates from a centralized view so you're always ready for your next pipe review.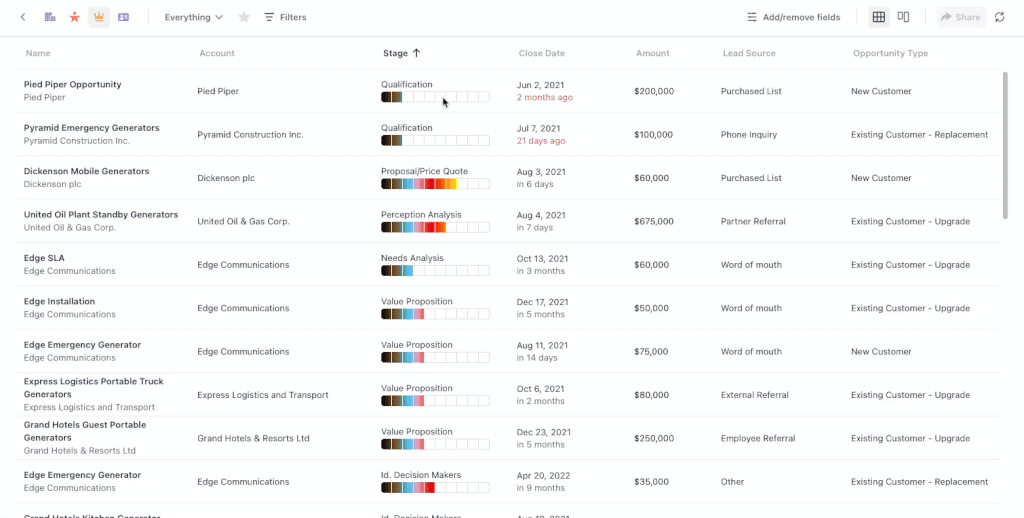 The Best Sales Pipeline Templates (in Excel)
If your company is looking for the best sales pipeline template in Excel format, we've taken out the research legwork. We've found the ten best templates for you, so all you need to do is narrow it down to the one that will work best with your organization. A suitable sales pipeline template for your business can transform your sales teams' results. It can help sales reps focus on more constructive goals and realize their goals faster and more efficiently, freeing up time and valuable company resources.
At Dooly, our RevOps team creates some sleazy Salesforce reports for our sales pipeline. However, we prefer to use the Pipeline feature inside Dooly to view and manage our pipeline.
Nonetheless, we want to share with you a spreadsheet version of our pipeline template that you can use.
Now, here are the 10 best sales pipeline templates in excel format that we've curated for you:
Salesmate's free sales pipeline template is excellent for new businesses getting started with their deals. It allows you to customize the template easily. It lets you adjust your pipeline stages and your win-probability formula to sharpen your forecasts more accurately.
Attributes: Easy customization and clean template design
Requirements: You need to give your email address to access the sales pipeline template downloads
Tipsographic's spreadsheet is great for businesses with a low deal volume. This template separates your deals quarterly while allowing you to customize the win-probability based on its stage. The anticipated close date can be inputted, along with the sales rep and notes. This template is available as an Excel spreadsheet or Google Sheets.
Attributes: Ease customization and usage
Requirements: N/A
Smartsheet's template is ideal for small businesses. It's organized quarterly and has all the essential information a pipeline should need. It shows you the deal status, lead rep, next actions, and forecasted earnings for upcoming quarters.
Attributes: Quarterly sales forecasts, anticipated closing date, and space for follow-up action
Requirements: N/A
Microsoft Office's sales pipeline management template is perfect for sales teams who need a more detailed look at their pipeline. The creators of excel bring you this template, so it fits as nicely into your favorite program as you would expect. It has three sheets, so there's ample space to input your data. This pipeline template gives you a visual forecasting graph to show how far you are from reaching your sales goals.
Attributes: Detailed forecasting abilities with premade calculations and helpful graphics
Requirements: N/A
Close's sales pipeline template is made for businesses that require customization features and convenient visual overviews. It's a straightforward, easy-to-use template with a visual dashboard. It allows you to track your leads and other fundamental data easily. Stages and opportunity statuses are easily customized to fit your company's workflow and sales strategies.
Attributes: Intuitive, visual dashboard highlights open, closed, and won deals and their dollar value.
Requirements: You need to give your email address to download the template
Indzara's template is excellent for small business owners who appreciate clear, visual data and graphs. This template enables easy sales pipeline tracking. It allows you to locate value within your pipeline efficiently. It can also calculate how long it takes to close the average deal. You can use the Tracker to determine which stage loses the most deals. It also calculates the total value versus the expected value based on past wins.
Attributes: Clear, visual graphs displaying critical data
Requirements: N/A
Sales Hacker's pipeline template is great for small companies that want quarterly sales data. It's ideal for a small business to track its pipeline. It offers space to customize important aspects, such as pipeline stage, weighted forecast, probability of winning the deal, and notes. It's available as a Google Document.
Attributes: Allows you to separate data by economics, opportunity information, and pipeline information
Requirements: N/A
Monday.com's template is ideal for teams with multiple representatives or deals in different countries. It features superb visuals to see your data, like time zones for your international clients, color-coded task updates, a progress bar, and anticipated closing dates that go red once you pass them. You can easily create a sales pipeline presentation from the graphics. It also allows you to organize and rank the priority of the deals by star quality and customization labels. You can add up to five representatives before needing to upgrade.
Attributes: Wonderful visual features
Requirements: You must make an account with Monday.com — the Basic Plan starts at $39 per month
Trello's pipeline template is excellent for small businesses that like kanban boards. It allows you to add your sales team members, assign tasks, and organize prospects with tags. The description area allows you to add additional information. You can also create unique checklists for crucial tasks. Trello's collaboration features help you communicate with your team through comments.
Attributes: Kanban board-styled pipeline with custom tags to point out promising deals
Requirements: You need a Trello account — Business Class is best, running $9.99 per user per month
Asana's template is great for small teams with big dollar value goals. This template is intuitive and easy to use. It gives you the ability to forecast, which is unique compared to the other templates featured here. You can see all your active deals and their value, priorities, and custom lead statuses.
Attributes: A productivity app with tasks and sales overviews
Requirements: You need an Asana account, which is free for up to 15 users or $10.99 per user per month.
What Is a Sales Pipeline?
A sales pipeline is visually divided into the various steps of a sale's lifecycle. It converts leads into sales. A good sales pipeline will help the actors involved in the sales process — managers, sales reps, and sales teams — identify which actions they need to take to move a deal through. This is partly because a sales pipeline summarizes the complex processes that often affect deal closings.
A sales pipeline is different from a sales funnel in that a pipeline represents the stages a potential client goes through before becoming an actual client. Whereas a funnel represents the amount of prospective clients who progress to the various stages.
Managing your sales pipeline requires careful monitoring and reviewing of pipeline processes and regular data inputs to compare against key performance indicators.
An effective pipeline will help you manage each sales prospect through every step of the sales process culminating in a successful contract. It should increase sales and improve your forecasting accuracy. It's not just about closing the deal or any step along the way. It's about nurturing relationships consistently throughout the lifecycle to help your sales team achieve its goals.
However, a sales pipeline clarifies which stage the block occurred when a deal becomes mired down. This information can give you a better idea of what to expect and when. It can also provide insight into how you may respond to keep the deal rolling through the pipeline.
Why Do You Need a Sales Pipeline?
The clarity offered by a well-structured sales pipeline can be invaluable to your business by showing you where a sales team may be excelling, or another team may be struggling. This can help businesses allocate resources to additional training when needed or bonuses when deserved.
A thoughtful sales pipeline can boost your company's average growth rate by 15%. Meanwhile, it can potentially boost revenue growth by 28% if your company can grasp three pipeline practices:
Clearly define your sales process
Spend adequate time on the sales process
Train your sales managers on effective sales pipeline strategies
Mastering these three practices will pay off in multiple ways. Some of the advantages that many companies benefit from include:
More reasonable forecasting
Improved resource allocation
More influential sales team management
Increased oversight of deal velocity
Increased overall deal volume and revenue
Keeping your pipeline effective boils down to sharpening your salespeople's skills while continually enhancing your sales processes. A well-managed and effective sales pipeline can help your company become more efficient and profitable.
When to Use a Sales Pipeline Template
A sales pipeline template lets you see where your customers are in the buying cycle and how long it will take them to decide. It lets you quickly see the next step in the client relationship to stay on top of your game.
You'll want to use a sales pipeline template if you have a sales team who would benefit from a concise visual of the future of their company, their sales leads, and how that stacks up to the competition.
Many businesses find the time frame aspect invaluable, as it can help guide sales actions and promote motivation toward achieving sales quotas. A good sales team operates even better with an effective sales pipeline template.
The great thing about a pipeline template is that you can download many for free and customize them to fit your company's needs. This is an excellent option for a smaller company. It also works well for a company interested in testing the idea of a sales pipeline but is not yet committed to purchasing anything.
Take control of your pipeline.
Even better than using sales pipeline templates, is using Dooly.
Dooly helps you manage 50+ opportunities at once with a centralized view of your pipeline so you can keep all of your deals on track. But don't take our word for it, try Dooly for free — upgrade anytime.​​
Finally, a sales process that gives you the freedom to sell.
Use Dooly to keep your deals on track, and your manager off your back.
Try Dooly for free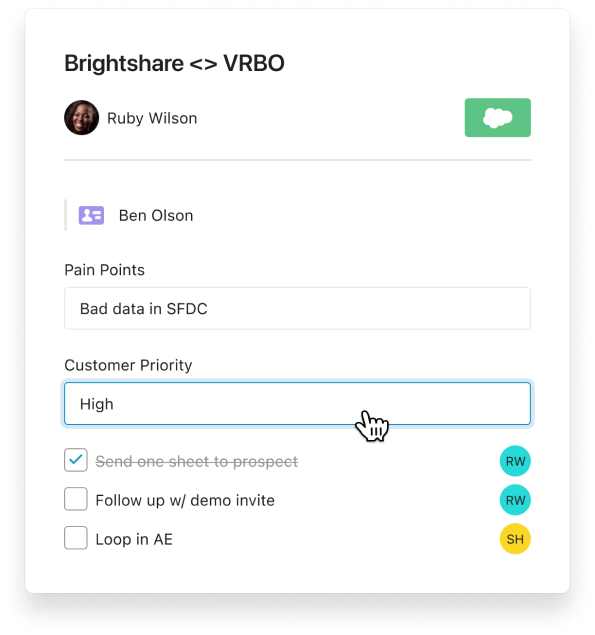 ---
Join the thousands of top-performing AEs who use Dooly every day to stay more organized, instantly update their pipeline, and spend more time selling instead of mindless admin work. Try Dooly free, no credit card required. Or, Request a demo to speak with a Dooly product expert right now.
Close deals on repeat with a guided sales process you'll actually use.
Get fresh sales tips in your inbox