On LinkedIn, sales lessons are everywhere. The guy who learned something about selling while waiting in line at Chipotle. The woman who had a sales breakthrough on her way to the airport. Lessons are everywhere, and they are aplenty.
But there's one very important place where we can all learn some sales lessons — the music we listen to! While it might not seem like our favorite hits can teach us much about the world of selling, there are plenty of great tidbits we can find if we just listen closely.
Here are ten sales lessons we can learn from our favorite songs:
1. You can only hope for a callback
(Call Me Maybe — Carly Rae Jepsen)
2. Sales takes persistence
(Aaliyah — Try Again)
3. The sales manager is always watching
(The Police — Every Breath You Take)
4. You can't always get (the deals) you want
(The Rolling Stones –You Can't Always Get What You Want)
5. Every deal counts
(Depeche Mode — Everything Counts)
6. You've got to know when to say "bye" to a bad lead
(NSYNC — Bye Bye Bye)
7. Sometimes, deals can get complicated
(Avril Lavigne — Complicated)
8. Listening is oftentimes more important than speaking
(No Doubt — Don't Speak)
9. Some prospects want things their way
(Backstreet Boys — I Want It That Way)
10. At the end of the day, salespeople need to close deals!
(Semisonic — Closing Time)
Finally, a sales process that gives you the freedom to sell.
Use Dooly to keep your deals on track, and your manager off your back.
Try Dooly for free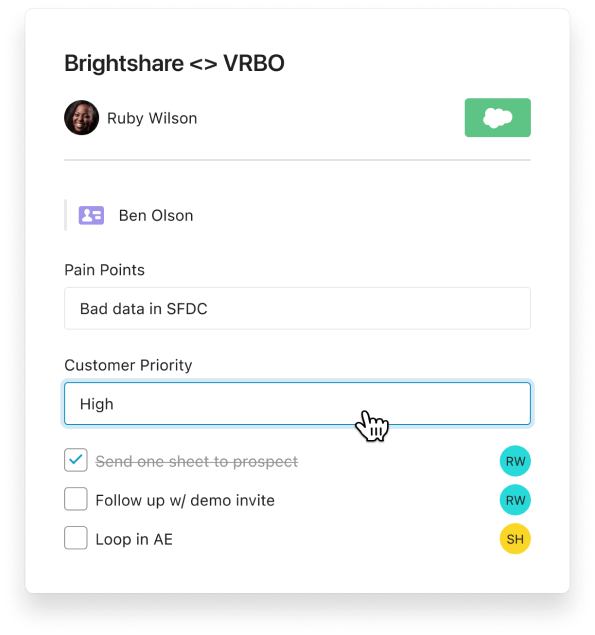 ---
Join the thousands of top-performing AEs who use Dooly every day to stay more organized, instantly update their pipeline, and spend more time selling instead of mindless admin work. Try Dooly free, no credit card required. Or, Request a demo to speak with a Dooly product expert right now.
Close deals on repeat with a guided sales process you'll actually use.
Get fresh sales tips in your inbox