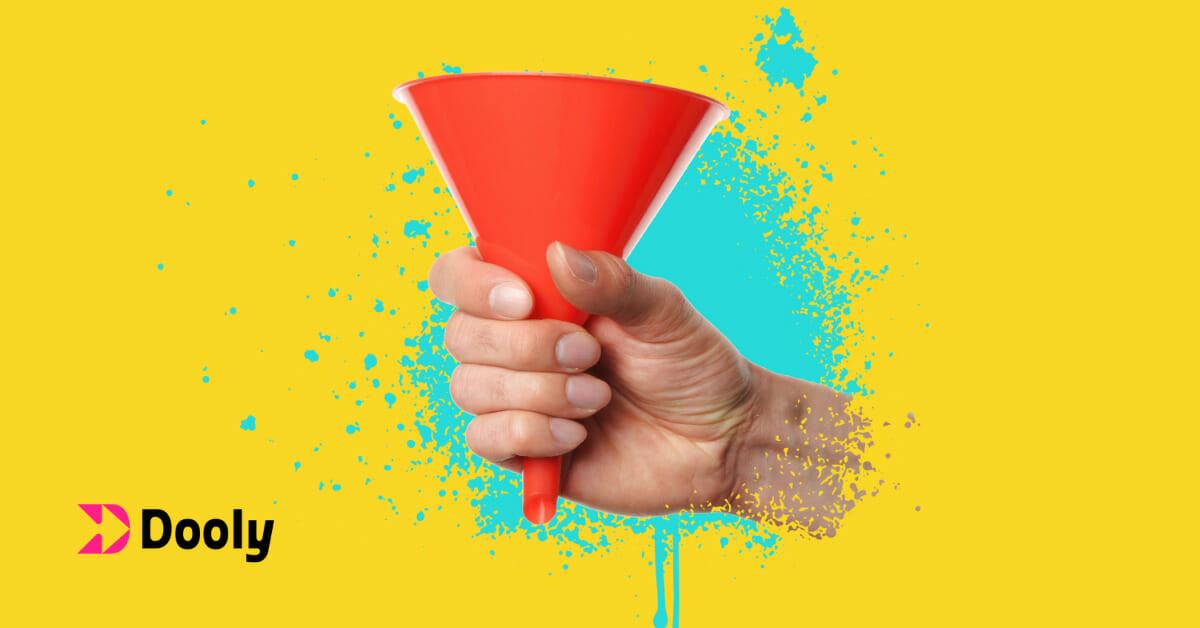 Sales funnels are a necessary part of any business. They can help you convert leads into paying customers and are an essential part of any marketing strategy. In this blog post, we'll share 14 sales funnel statistics that you need to know in 2022. By understanding these essential metrics, you and your sales team should be able to create a more effective sales funnel for your business.
What is a sales funnel?
A sales funnel is a marketing tool that represents the buying process, from the time potential customers learn about a brand to the moment they decide whether to make a purchase.
Why sales funnel stats and metrics matter
A vast majority of businesses were hit hard by the COVID-19 pandemic. As such, according to Forbes, data-driven decisions will "outweigh gut decision making" as businesses move forward and resume operations following the global pandemic.
The COVID-19 pandemic taught business owners that, in an atmosphere filled with uncertainty, strategic, data-driven planning is essential. This trickles down to sales funnel statistics and metrics, which can aid sales managers and reps in making smart decisions, improving their customer acquisition, and converting more leads.
14 must-know sales funnel statistics in 2022
1. 68% of companies have not measured a sales funnel.
With that being said, as much as 79% of marketing leads don't turn into sales. It goes to show just how important it is to keep track of one's sales funnel metrics.
[Source: Khris Digital]
2. 37% of marketers struggle most with prospecting.
The very first step in the sales funnel, prospecting is defined as the act of transforming a prospect (a potential customer) into an opportunity. This involves pinning down your ideal customer profile, creating a database of prospects, and contacting leads.
[Source: Autogrow.co]
3. About half of your prospects do not fit into your ideal customer profile.
Having only a 50% chance of closing your prospects might not sound encouraging. But when half of your prospects won't make a good fit for your product anyway, you don't have to beat yourself up over not closing. In fact, the closing rates for most industries are in the 20% range anyway.
The goal, instead, should be to focus your marketing efforts towards those who are a good fit.
[Source: Hubspot]
4. As few as 5% of salespeople believe that they gained quality leads from marketing.
[Source: Iron Paper]
5. Businesses lose 65% of customers due to indifference, not errors.
This is why sales and content marketing teams need to work hand in hand. A good product cannot sell itself. Instead, sales and marketing professionals need to work together to come up with content that speaks to leads and actually moves them down the funnel.
[Source: Iron Paper]

6. With social proof, landing page conversion rates improve by 1.1%.
Social proof – testimonials, expert product recommendations, celebrity endorsements – can be a real game-changer. In fact, 60% of consumers say they won't purchase a product with less than 4-star ratings.
[Source: Dooly]
7. 3.1% to 5% is a good sales funnel conversion rate range.
This applies to both product-based and service-based businesses.
[Source: Markinblog]
8. Top-of-funnel inefficacy can account for up to 37% of missed conversion expectations.
Marketers should aim to drive brand awareness and generate leads at the top of the funnel.
[Source: Outreach]
9. Despite being the least popular type of signup form, landing pages still have the highest conversion rate by 24%.
If you're looking to bring in higher conversions, use landing pages to gather customer information, says Hubspot.
[Source: Hubspot]
10. Nurtured leads result in 47% more purchases versus non-nurtured leads.
Lead nurturing is the process of fostering relationships with customers and guiding them through the buyer's journey.
[Source: Five Funnel]
11. A sense of urgency can boost sales by 6 to 9%.
Sense of urgency is a marketing tactic that involves implying a sense of scarcity of a product, service, or deal. For example, limiting the availability of a promo to a few days or featuring a product counter on a shop page. If you want to see an increase in revenue, consider this marketing strategy.
[Source: Online Biz Booster]
12. Nearly half (44%) of sales reps throw in the towel after one rejection.
However, the average number of attempts it takes to make a sale is five. In sales, persistence wins.
[Source: Autogrow]
13. Obtaining new customers costs five times more than maintaining current customers.
Customer retention doesn't just bring in more business, it saves you money too. As such, make sure to monitor your customer retention rate.
[Source: Khris Digital]
14. The average internet user spends only 37 seconds on an article.
Yes, you only have an average of 37 seconds to capture your reader's attention and get them to take action. As such, you have to up your headline game, come up with a strong hook, and hit your potential buyers with the essentials from the get-go.
[Source: Passive Secrets]
Conclusion
If you're looking for good sales funnel stats and metrics to help guide your marketing strategy and turn leads into customers, we've got 14 actionable insights right here.
And if you're looking for a powerful CRM that can improve your sales process, see the #1 trending sales software on G2 in action and demo Dooly today.
Want even more sales statistics?
Looking for more specific sales stats? Check out our other must-read articles on sales statistics, from sales funnel statistics to sales forecasting statistics in 2022.

FAQ
Do sales funnels still work?
Yes, sales funnels still work in 2022, but they've gotten a facelift. Today's sales funnels put less of an emphasis on hard sells and focus more on acknowledging that each buyer's journey is unique.
What are the 6 stages of the sales funnel?
The sales funnel can be divided into six stages: visit, lead, marketing-qualified lead (MQL), sales-qualified lead (SQL), opportunity, and customer loyalty.
What are good sales funnel conversion rates?
According to a Databox study, 30% of respondents believe that a good funnel conversion rate is in the range of 3.1% to 5%.
How do you measure the effectiveness of a sales funnel?
To measure the effectiveness of a sales funnel, you need to look at the following metrics: amount of entrance, average conversions, average sale, and duration of the sales process.
---
Join the thousands of top-performing AEs who use Dooly every day to stay more organized, instantly update their pipeline, and spend more time selling instead of mindless admin work. Try Dooly free, no credit card required. Or, Request a demo to speak with a Dooly product expert right now.
Close deals on repeat with a guided sales process you'll actually use.
Get fresh sales tips in your inbox
Download the 2022 Sales Happiness Index