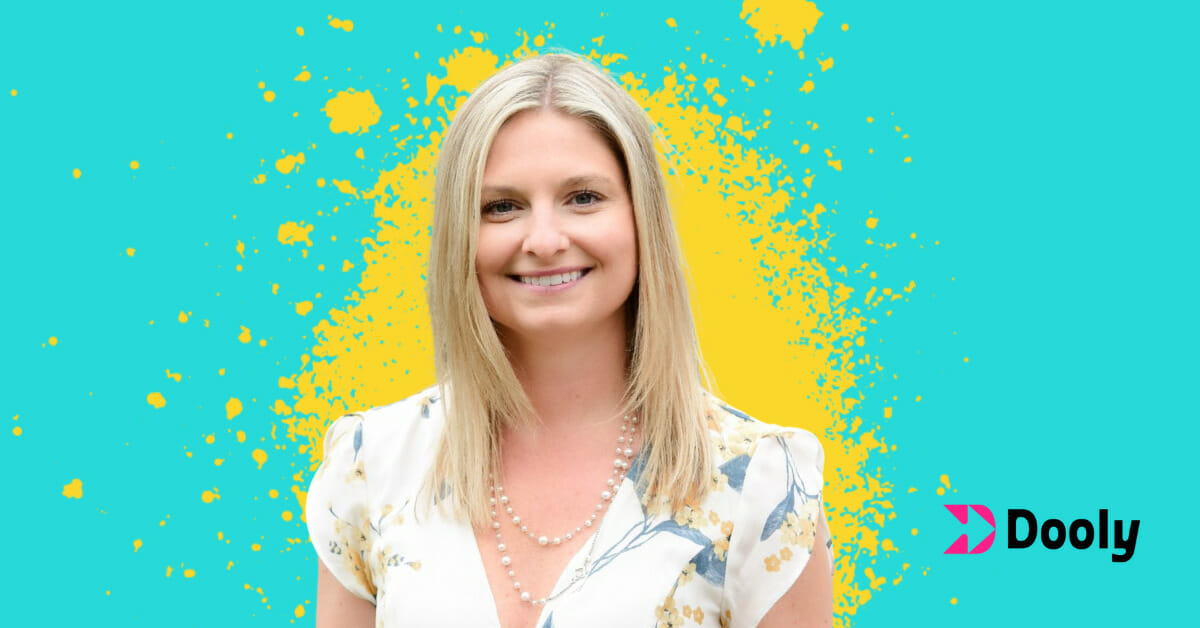 "Expect the best, prepare for the worst, and take what comes."
Not exactly sound advice for creating a sales forecast, but that's how many revenue leaders feel as they prepare presentations for senior leadership, investors, and the board.
Sales forecasting is one of the most consistent processes in revenue management, but that doesn't stop it from being one of the most inaccurate, too. If you've been wildly off-base with your forecasts lately, you're not alone: just 28% of deals are forecasted accurately.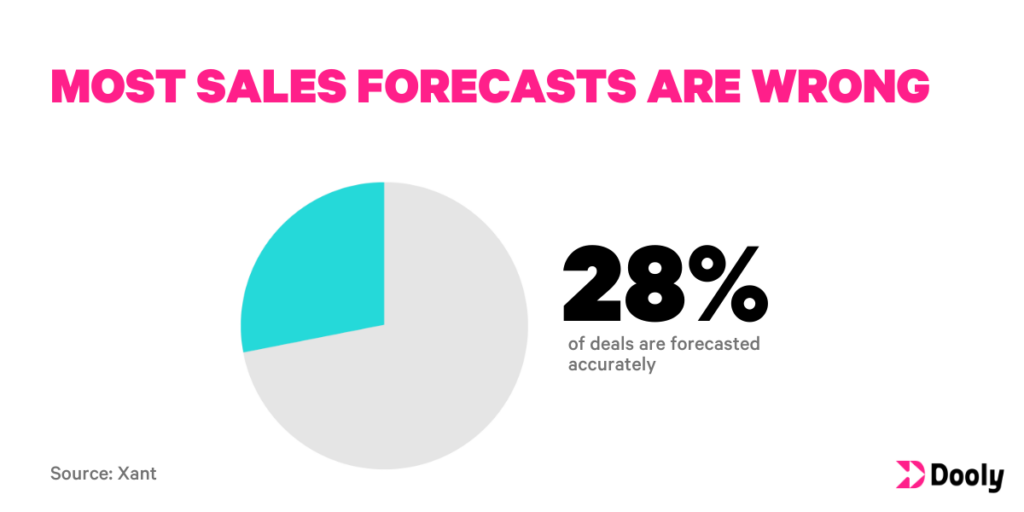 But why?
It's not because your sales forecasting tool isn't powerful enough to crunch the numbers (and it's probably not user error, either.)
Instead, inaccurate sales forecasts trace back to the data you're getting (or not getting) from your CRM.
Think about it: if half your 50-person sales team is only using Salesforce to update records 50% of the time, you're working with about one-quarter of the data you need for an accurate sales forecast. And, let's be honest, that's often a best-case scenario. Our customers capture 60%+ more deal data with Dooly. So at best, they were capturing 40% in Salesforce before.
Accurate sales forecasting is about laying the right foundation for accurate and up-to-date data in your CRM. That's why this article is less about the sales forecasting process and more about what you need for accurate sales forecasts in the first place.
To layout a solid sales forecasting foundation, we cover:
The metrics you need for sales forecasts
The two most common issues for gathering accurate inputs
The three best ways to achieve more accurate sales forecasts
What you need in place for an accurate sales forecast
Forecasting isn't simply taking your previous year's revenue, pulling a magically optimistic growth number out of a hat, and tacking it on for the year to come.
For accurate sales forecasts, you need a much more granular understanding of performance, revenue, and quarter-over-quarter growth — not to mention a concrete plan for hiring and onboarding reps in the upcoming year.
Our RevOps team takes the following into account when creating a sales forecast:
How we performed (revenue-wise) month over month and quarter over quarter
How individual reps performed (quota-wise) — how many underperformed and overperformed?
Spending on SaaS and other tech that will influence revenue
Hiring plans for the upcoming year
Salaries and total compensation for both the existing sales team and the sales team you'll have a year from now.
Pipeline metrics like time to close, average deal size, and closed/won vs closed/lost rates.
(Side note: Use averages, not your highest numbers. Forecasting isn't exactly the time to get super optimistic, so come up with two numbers: a conservative forecast and a stretch goal.)
Most of these insights come directly from Salesforce, along with some collaboration with People Ops and IT.
It's only with all of these inputs that you can get relatively accurate outputs for your sales forecast. But (this is the important bit) you need accurate and complete data for your inputs for your outputs to be accurate, too.
Why do sales leaders run into issues when creating sales forecasts?
You can play with the numbers within your sales forecasting tool all you want, but the issues we've seen consistently come down to one thing: bad inputs lead to bad outputs.
But where does the bad data come from?
New companies don't have historical data
For starters, new businesses might not have enough data to accurately forecast. You can't forecast a year's worth of sales based on just a quarter or two of consistent revenue, for example.
In this case, use industry averages instead. Reach out to your network via revenue-oriented communities like Modern Sales Pros, Pavilion, and Wizards of Ops to determine the averages that make the most sense.
(You can also turn to platforms like RepVue or Compgauge for data on compensation and the percentage of reps meeting quota.)
A lack of accurate data in your CRM
The biggest issue for sales leaders applies equally to sales teams of brand-new sales teams of 10 to established sales teams of 1,000+.
What gets in the way of accurate data? "Naughty reps," Sophia Francis says. "You always have those reps who hit their quota, so they think they don't have to do their job by updating Salesforce consistently."
It's not just the high performers, though: across the board, driving adoption of the tools in an organization's sales stack is problematic. For example, Dooly found that sales reps only use 62% of the sales tools available to them on a regular basis.
This is problematic, particularly since two of the top benefits sellers find in digital sales tools are:
a decrease in the amount of time they spend on administrative tasks, and
more accurate sales forecasting.
The issue is even worse for CRM adoption, specifically. In a survey of more than 1,000 sellers, Sales Hacker found that less than half of respondents reported full adoption of Salesforce across their organization.
That aligns with Cloudingo's Salesforce User's Benchmark Report findings — 42 percent of respondents admitted users consistently stored data outside of their CRM (in spreadsheets, email clients, etc.). In other words, about half of organizations who tried to make Salesforce their system of record couldn't due to poor adoption.
"Lack of seller adoption has caused significant information gaps and data inaccuracies in CRM systems," says Mary Shea, Global Innovation Evangelist at Outreach. This leads to "disjointed customer experiences, an inability to derive insights, and poor visibility into pipelines and forecasts."
In short: your sales forecast relies heavily on your CRM, and its accuracy will only be as accurate as your CRM data.
How to get better inputs for a more accurate sales forecast
The solution to getting a better sales forecast is disarmingly simple: you have to equip your sales team to update their Salesforce records.
Not when they feel like it, and not just for big deals. Every time. (For example, Dooly's leaders consistently speak to our top performers about the importance of using Dooly to push record updates to Salesforce.)
But sending out Slack reminders can only go so far before you start sounding (and feeling) like a broken record. Instead, we recommend taking a step back to address the root of the issue.
Identify blockers to adoption, and set up a plan to address them
Sophia says "naughty reps" — but she also knows you can't drop the CRM adoption problem entirely on your sales team. It's up to managers and enablement leaders to set their reps up for success.
Take time to understand what's getting in the way of your reps updating their Salesforce records, instead of using "laziness" as a catch-all cop out. Two of the blockers we consistently see crop up are:
Too high of an admin load on reps
Closing deals requires a lot of upfront work. Are you asking for too many cold calls and cold emails each day? Are you holding too many internal meetings? Are you allowing for research and prep time?
Most importantly: are you leaving any time at all for your reps to keep up with their records?
Like it or not, you can draw a straight line from how you set up your sales reps' workload to how accurate your forecasting process is.
Too many demos for bad-fit companies
If you're not careful with how you bring leads down the funnel, it's all too easy to skew the win rate of your AEs. In turn (you guessed it), your sales forecast may not map to what your AE performance could be if they connected with better opportunities.
The same goes for too-low or too-high conversion rates from your SDRs and BDRs. Either a low or high volume of Sales Accepted Leads may leave your reps spinning their wheels on deals that might not go anywhere or struggling to meet quota.
You want your reps to be able to optimize their time for the best opportunities, so walk this all the way back to your sales funnel. Where can you optimize so that your sales team has the right flow? Once you land there, document it so that the entire sales process gets better.
Set up a consistent sales process for your reps
Speaking of your sales process, pay attention to how you train your reps on keeping their records clean and up-to-date. (It's not all about cold calls and demo skills, in other words.)
"As a manager or RevOps leader, it's part of your responsibility to put the process in place that will make your sales team successful," Sophia shares. From a data accuracy standpoint, be sure to include:
Elements in call scripts that will help fill in the gaps on the shape and size of the opportunity, instead of solely focusing on getting to the next stage.
Provide an easy way to input CRM data. Document the process, include it in your onboarding flow and retrain your existing reps on it.
Limit context switching whenever possible. Streamline your rep's workflow so that they can focus on prospects and records at the right time, instead of constantly moving back and forth.
A consistent, documented sales process is a great way for younger companies to get accurate historical data faster, too. "The earlier you get the foundations in place for accurate data, the easier it's going to be," Sophia says. "The longer you wait to make sure your data is clean, the more expensive it will be to clean your data, update your process, and get reps onboard with the inputs."
Long story, short: narrowing in on your blockers to CRM adoption and setting up a documented process will save your reps a headache. Even better, you'll save yourself a migraine when sales forecasting comes around.
Ready to improve your sales forecast with 60%+ more (accurate) data in Salesforce? Demo Dooly today.
---
Join the thousands of top-performing salespeople who use Dooly every day to stay more organized, instantly update their pipeline, and spend more time selling instead of mindless admin work. Try Dooly free, no credit card required. Or, Request a demo to speak with a Dooly product expert right now.
Close deals on repeat with a guided sales process you'll actually use.
Get fresh sales tips in your inbox