Unless you're living under a rock, you've probably heard about the "Great Resignation."
Employees are quitting their jobs in droves, leading to employee shortages in hospitality, manufacturing, you guessed it — sales!
While sales jobs have always had an above-average turnover rate, the last year and a half led to more job openings than ever, and salespeople are being recruited left and right, with ever-increasing compensation packages and even large sign-on bonuses.
So why are salespeople leaving their jobs in such high numbers?
Dooly conducted the first-ever Sales Happiness Index to dig into the data and learn what salespeople like and don't like about their roles. Some of the answers were surprising, and others… not so much.
Finally, a sales process that gives you the freedom to sell.
Use Dooly to keep your deals on track, and your manager off your back.
Try Dooly for free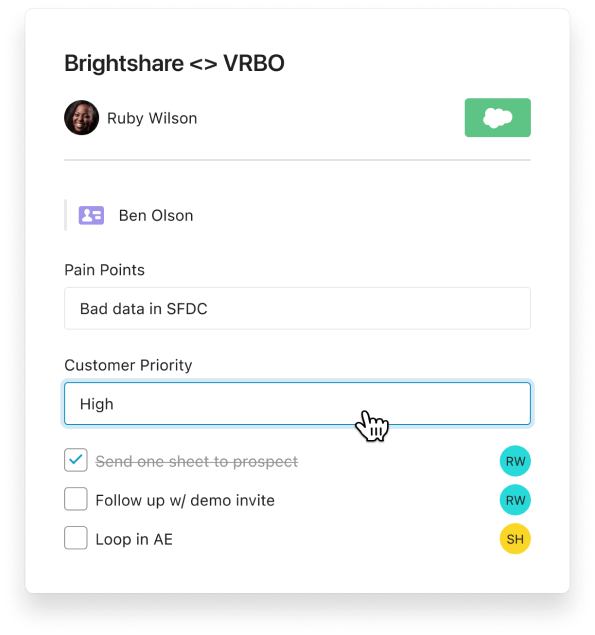 We used some of that data (along with outside resources) to put together the following list. Here are six reasons why so many salespeople are quitting their jobs right now:
1. Subpar comp and benefits
In a competitive job market, subpar compensation and benefits packages just won't cut it. Top sales reps know they can do better somewhere else.
According to the Sales Happiness Index, 43% of salespeople who want to leave their current job cited a lack of benefits and 31% cited a lack of bonuses. Additionally, 6 in 10 salespeople would be motivated to leave their company for better benefits, while 51% would be motivated to leave for higher pay.
The conclusion: salespeople who feel under-compensated know full well that they're in demand, and many aren't willing to wait around for things to change.
2. The employment landscape is shifting
While employment ebbs and flows, we're in uncharted waters when it comes to the speed of technological change.
The venture capitalist Marc Andreessen once famously said that "Software is eating the world," and with the unprecedented growth in the technology sector, there have been thousands of new sales jobs created.
Salespeople have followed that trend, leaving behind older industries for the promises of higher compensation and future job stability. While tech is not the only disruptor in today's fast-paced world, it's inarguably the most potent. Companies that haven't adapted to change have been disrupted out of business or left in an uncompetitive position. And naturally, salespeople have followed.
3. Lack of access to the latest tech
Not only has technology changed what we sell, but it's also changed how we sell.
Salespeople want to close deals, and many of them are frustrated with companies that have been slow to adopt game-changing technologies to help them sell more effectively.
According to our research, 33% of those who want to leave their roles cited a lack of access to the best tools and technology to be successful.
Sales tech is no longer something management forces onto their employees (though in some cases this is still true), it's something sales reps expect — and companies that don't meet their sales reps' expectations will have a hard time retaining top talent.
4. There are more opportunities than ever
The job market operates the same way as the economy: when demand exceeds supply, the supplier is in the driver's seat. In this case, the "supplier" is the sales rep, and the demand is coming from companies looking to hit their sales goals by hiring talented sellers.
Not only are there a record number of job openings out there, but companies are also going above and beyond to recruit, offering excellent compensation packages, equity, and benefits. If you're a salesperson, it's a great time to make a switch. But if you're an employer looking to hire salespeople, you're in for some stiff competition.
5. Not enough flexibility
When it comes to flexibility, the numbers don't lie. The Sales Happiness Index shows that half of salespeople would consider leaving for flexibility. Those below management level were 22% more likely to say this than average.
This might be because the pandemic has made the job more time-consuming, with 77% reporting that they're working more hours now than before the pandemic. 91% said they work after hours and weekends, and 93% agree that work-life balance is important to them.
Put all this together, along with the fact that 69% say they've experienced burnout, and you'll understand why salespeople are looking for more flexibility in their work lives.
6. Too much focus on non-revenue-generating activities
At the end of the day, salespeople want to sell. But not all employers are prioritizing revenue-generating activities.
In fact, 8 in 10 respondents said that management doesn't understand how time-consuming non-revenue-generating activities are. And 78% said that a lack of understanding from management on how much time is consumed by non-revenue-generating activities leads to misalignment between expectations and what sellers can reasonably achieve.
This is not only why salespeople are leaving their jobs in droves, but it is why Dooly was invented — to eliminate the tedious sales gruntwork no one really wants reps focusing on anyway.
Companies that help salespeople spend more time selling and less time doing administrative work will not only be able to retain their best employees, but they'll also also get an edge on their competition.
If you'd like your sales team to sell more, admin less, and stick around longer (because they actually like their jobs again), talk to a Dooly sales process expert.
Meet your personal Salesforce assistant.
Update your CRM and access deal data instantly without switching tabs.
Add to Chrome
---
Join the thousands of top-performing salespeople who use Dooly every day to stay more organized, instantly update their pipeline, and spend more time selling instead of mindless admin work. Try Dooly free, no credit card required. Or, Request a demo to speak with a Dooly product expert right now.
Close deals on repeat with a guided sales process you'll actually use.
Get fresh sales tips in your inbox