There's a good chance that you came to this article from LinkedIn, and for good reason. LinkedIn has proven to be a game-changer for sales reps, especially B2B sellers whose bread and butter lies in connecting with decision-makers from other businesses. When it comes to access, LinkedIn is arguably second to none.
That being said, not all sales reps use LinkedIn effectively. In fact, there's a significant percentage of reps who waste otherwise promising opportunities by being shortsighted, manipulative, or just plain lazy in their LinkedIn outreach. If you doubt this, just check your own inbox and review some of the messages you've received.
But this need not be the case. In fact, most reps are more than capable of using LinkedIn effectively, as long as they understand what not to do.
Here are the four most common mistakes sales reps are making on LinkedIn:
1. They don't carefully read a prospect's profile before pitching
Simply scanning someone's profile to check which company they work (or worked) for is not enough, and it leads to messages that make no sense and lack context. Top sellers take the time to carefully go through a prospect's profile and to understand their existing role and where it fits within an organization.
This means that a sales rep must understand what the prospect is responsible for, how much decision-making power they (might) have, and (this one is critical) whether or not they're the person they should be contacted about the product or service being sold.
Too many reps blindly message people after a cursory glance at their profile, and it ends up going nowhere, or worse, angering the intended customer.
2. Using inauthentic "ice breakers" in an attempt to build rapport
There's nothing worse than having someone reach out to you in a forced, non-authentic way. For example, messages that start with, "I noticed that you liked so-and-so's post, let's connect," before launching directly into a pitch for their game-changing software.
Like most of us, prospects can see through this in an instant, and like most of us, these types of messages make us want to avoid the conversation altogether.
Instead of being overly forced, try being honest. If a point of similarity (for instance: a mutual acquaintance) doesn't feel like an organic conversation point, then don't use it. Instead, do some digging on the prospect and find some work they've done that you might admire. And if you can't find an opening that is honest and authentic, then open with something that is, like who you are and why you're reaching out.
3. Being overly vague and jargony
On LinkedIn, we're constantly being bombarded by corporate-speak, unintelligible acronyms, and whatever flavor-of-the-week term happens to be in vogue.
This constant stream of jargon wears us down and makes us weary of vague promises and jargony language that people use because they either don't know any better, or because they're not confident enough to be direct.
Instead of messaging somebody with overly flowery language and complicated-but-unclear promises, try being direct about the problem you solve, or about what exactly your product is and does. Not only will the prospect appreciate somebody who chooses to be direct and who gets right to the point, but you'll save yourself lots of time on the back-and-forth that will eventually get you to the same place: clearly explaining the truth.
4. Thinking about what they want, rather than what will help others
Sales reps aren't just guilty of this on LinkedIn, they're guilty of this everywhere. And to be fair, this is an incredibly difficult mindset shift to make, since we as humans are wired for self-interest. And even if you're able to do this with one prospect or multiple prospects in a row, there's still a good chance that you'll end up defaulting back to thinking about what you want, so it's a constant struggle.
When it comes to LinkedIn, the key is to frame your messaging so that it resonates with the prospect. Keep the following mantra in mind at all times: "How can I help?" When you're cold-messaging, keep it in mind. When you're making a pitch, keep it in mind. And when you're following up, keep it in mind. If you're able to put the prospect's needs at the forefront of every conversation, then you'll start to see your response rates tick up, your meetings happen more frequently, and your closing percentage goes up.
Finally, a sales process that gives you the freedom to sell.
Use Dooly to keep your deals on track, and your manager off your back.
Try Dooly for free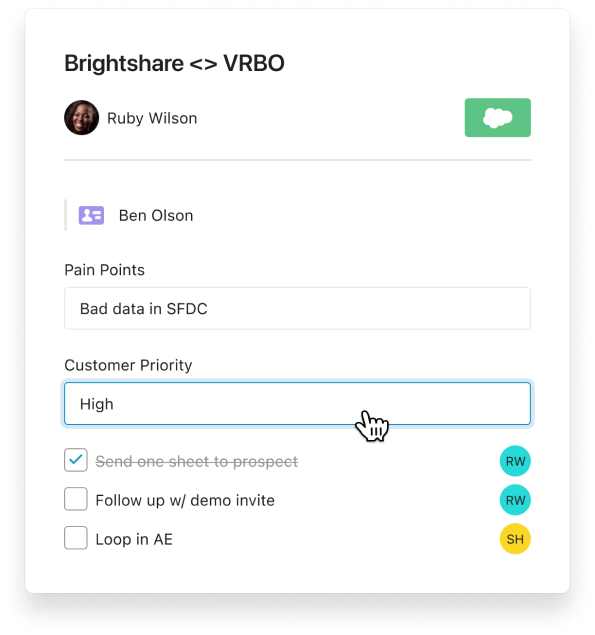 ---
Join the thousands of top-performing AEs who use Dooly every day to stay more organized, instantly update their pipeline, and spend more time selling instead of mindless admin work. Try Dooly free, no credit card required. Or, Request a demo to speak with a Dooly product expert right now.
Close deals on repeat with a guided sales process you'll actually use.
Get fresh sales tips in your inbox