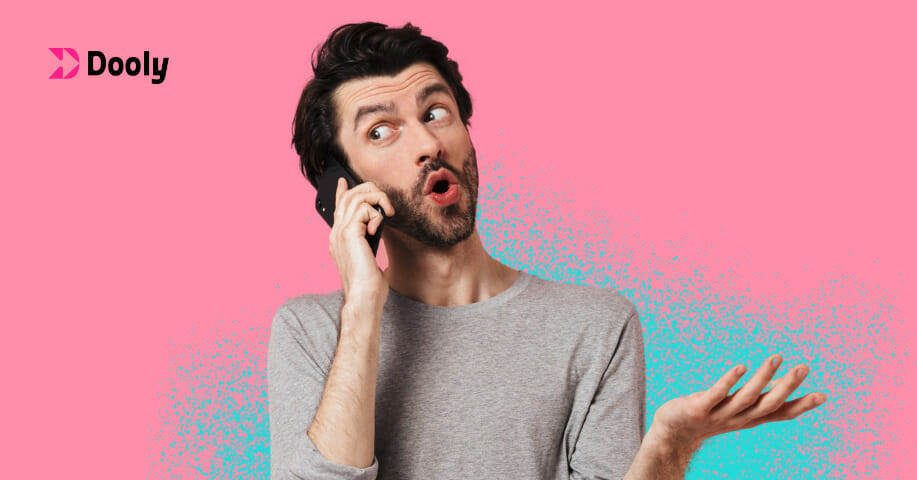 If you're having each sales call just once, your days as a successful salesperson might be numbered.
Reviewing each sales call for insights is the roadmap to being one of 30 sales teams each year that hit quota.
According to Gartner, the reasons most teams fail are:
Ineffective training or leadership
Insufficient sales data for strategizing
No focus on sales development
Luckily, logging sales call addresses all of these sticky issues. When you track calls—whether in your CRM, manual worksheets, or through call trackers—you get insight into your customers' concerns. You can then use this data to improve your products, upgrade your skills, and repeatedly hit sales goals.
The downside of not logging sales calls is tremendous.
One, you don't have visibility into the sales process.
Are you asking the right questions?
Do you have the sales enablement content needed to build rapport with prospects?
Are you learning from their mistakes?
These are not questions you can put aside for your quarterly review and hope you have answers. These are topics that need to be addressed right away to improve your win rate.
Two, you don't know what skill gaps you need to fill for you to hit that quota.
Are you struggling with the sales software?
Are you having trouble sorting data in the CRM?
Are you unsupported by complementary teams like Customer Success?
Call logging gives you a sales forecast, visibility into the sales process, and a roadmap to effective coaching. Research shows that companies that accurately forecast sales are 10% more likely to grow their revenue year by year.
Let's look at how you can log phone calls (or other sales calls) through Salesforce and Dooly. We will also dig deep into organizational, strategic, and holistic benefits that come with logging sales calls.
How to Automatically Log a Call in Salesforce using Dooly
Dooly allows you to log a call easily with log templates inside Dooly, without having to take the extra step through the Salesforce app or browser.
Here's how to do it:
Step 1
As you prepare for your call, just open your meeting record in Dooly and make sure that in the 'Log as' dropdown, you have selected 'Call.'
Step 2
Then take sales notes and update your Salesforce fields within Dooly. Dooly automatically syncs important customer data points to the right fields in Salesforce.
Step 3
When finished, click Sync. That's it!
How to Manually Log a Call in Salesforce
There are two ways to log a call on Salesforce—via a browser or via the Salesforce App. Let's look into each.
Logging sales calls via browser
Step 1: Log into Salesforce.com.
Step 2: Select the client contact information that you want to log a call for.
Step 3: Once you are in the contact record, scroll down to the activity history list and select Log a Call.
Step 4: You can then enter the subject as a reminder of what the phone call conversation is about.
Step 5: Finally, log the date of the call by setting the Due Date to the date you made the call.

Logging sales calls with the salesforce app
Here's how to log calls on your mobile device with the Salesforce app:
Step 1: Open a lead or contact record.
Step 2: Click on the "Plus Sign" icon at the bottom left of the lead or contact page.
Step 3: Scroll over to the 'Log a Call' icon.
Step 4: Enter the subject, call type, call disposition, comments or any other data points you would like to log.Step 5: Click "Submit" to append the call data to their lead or contact record.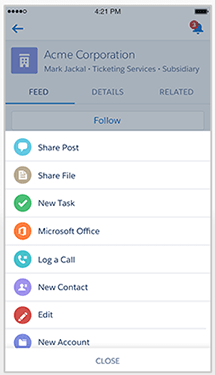 How Logging Calls Help Sales Leaders
Leaders can maximize efficiency, optimize their overall calling strategies, and get a data-based grasp on what it takes to improve their win rate.
Let's go through the benefits one by one with sample scenarios.
Total visibility
Sales calls logs give leaders visibility into how reps are selling and what they're doing right. When leaders monitor sales calls, they can identify which reps are progressively improving and which ones might need some hand-holding. Call logs also inform performance reviews. Managers can use high-performers' tactics to educate low-performers and keep teams accountable.
Call logs help managers understand the stage and scope of each opportunity. They can evaluate how quickly opportunities go through the pipeline and which ones get delayed.
Complete visibility into the sales process elevates the sales team, processes, and strategy.
Effective team coaching
Winning sales teams are to a company as wheels are to a vehicle—you cannot move forward without them. But creating a winning sales team is no easy feat. There are a lot of moving parts—creating a collaborative culture, encouraging feedback, and emphasizing upskilling.
Luckily, sales logs help with each of these aspects.
Say a sales leader goes over the logs from the last 2 months and notices that new hires are struggling with opening up conversations. This might indicate a lack of product knowledge or an ineffective preparation strategy. They can use this information to start a sales coaching program. 
Coaching individuals
A disappointing sales call can push ready buyers to a "maybe later" state. Conversely, an effective sales call can make even a reluctant prospect buy. By analyzing sales call logs, leaders can identify what makes a sales call effective and optimize call strategy accordingly.
Say a company sells contract signing software. From the sales call logs, the team leader learns that a common question potential customers ask is "how can I add existing contracts to the software?" And this is where sales reps fumble.
Leaders can use sales call logs to identify knowledge gaps and provide reps with sales enablement content to tide them over.
In a similar scenario, say a sales manager notices that calls run 10 minutes over the designated time. Upon further inquiry, they realize the lapse is because sales reps are new to the video calling tool and need help understanding some of its advanced features.
They can now train reps on specific features. In addition, sales logs help managers uncover skill gaps and strategize ways to overcome them.
Monitoring the quality of the call
An effective sales call answers the prospect's concerns upfront—with examples, anecdotes, and data. An ineffective sales call meanders. It gives prospects half-baked answers and analogies. To know which sales reps are conducting which kinds of calls, leaders need to monitor the call quality.
A sales call log does that.
Say the company sells construction software. The sales manager monitors a bunch of cold outreach calls and notices that the reps fumble while answering industry-specific questions. When prospects ask how the software performs on large-scale residential or hospitality projects, etc., they don't have answers.
Sales call logs give a detailed insight into the answers reps need to sell better. Leaders can then create sales enablement content for coaching.
Optimizing the sales call strategy
Sales calls are not just for closing deals. They are also for building relationships that turn customers into advertisers. But this does not happen by default. You need to nurture your customers even after they've converted.
Isolated sales calls are not enough to accomplish that—leaders need an iterative sales call strategy.
Sales call logs capture which parts of the call bring up questions and objections, and which parts reassure and win approval. Leaders can use this information to segment sales reps, create sales playbooks for each segment, and follow up effectively.
Let's consider a sales-led organization that sells a project management tool. From the sales logs, the sales manager notices that most discussions with prospects start off strong—insightful questions and proactive problem-solving. But the call conversation halts when prospects ask feature-specific questions—like how they can migrate to the company's tool from their current ones, or how the company's software handles in-browser notifications.
Managers can use this information to optimize the sales call strategy. Sharing feature-specific information can now be a proactive part of the sales call, rather than a Q&A session.
Similarly, leaders can optimize several moving parts of their sales call strategy until the reps achieve maximum results in minimum time.
Improve product or service
Prospects frequently bring up why they might be considering a competitor product—price, a specific feature, or a shorter onboarding period. This gives leaders insight into what their competitors are doing well. When reps document these pointers, leaders can use them to improve the product or service.
Secondly, a documented call log—accessible company-wide—is first-party customer data. This is invaluable information that can support product development directly.
Customers the sales team is trying to upsell might reveal flaws in the product.
Let's consider a company that sells email marketing software. A customer currently only uses the newsletter automation feature but the sales team also wants to sell them on the design template feature. A sales call might reveal their hesitation because the design tool doesn't integrate well with their in-house tool.
The company's product team can use this information to work on integrating the software seamlessly with other tools.
In a similar manner, sales call logs can identify other areas for upgrades and product enhancement.
Create great customer stories
Prospects often have interesting back stories that lead them to a company. If a sales team thoroughly documents sales calls, they can track their journey through the sales funnel and create relatable, topical, and winning customer stories.
Consider a company that makes a social media management tool. The sales reps talk to an e-commerce customer and try to understand how they found the brand. The sales log reveals that the customer was looking for a solution catering to new parents and the brands seemed well-positioned in the space. Features such as auto-scheduling, comment suggestions and VIP followers in the app helped them strategically manage their online store—while catering to a newborn.
This is a first-hand case study that the sales team has pieced together through a combination of sales calls logs. The brand can use it on their website, on social media (with permissions, of course), or as internal sales enablement content. Also, leaders can use it to figure out what makes parents (a targeted ICP) buy.
Faster onboarding
When there's a record documenting the entire journey of a prospect, it's easier to figure out what's most important to them. Whether it's quick communication, smooth contract signing, or a short-training period—sales calls reveal priorities.
Leaders can use this information to set processes in place to quicken onboarding.
Let's say a prospect reveals that she values an efficient training session. When the onboarding begins, reps can email instruction materials to the customer's team a week in advance. When the training begins, reps can have a Q&A to clear doubts and fast-track the process.
Call logs highlight what's important to each customer and allow sales teams to customize without having to personalize each step of the onboarding journey.
Enhance the sales strategy
In a survey (by HBR) analyzing what top 5 sales teams have in common, 50% of participants from high-performing sales organizations said they had sales processes that were closely monitored, strictly enforced, or automated.
If teams want to excel at sales and continually hit a moving target, they need to have a sales strategy that evolves with new information. And building this strategy begins with analyzing sales calls.
Logged sales calls give a record of new information that the ICP is accessing.
Say there's a new competitor of a company's product in the market. In recent sales calls, the team learns that the competitor has recently lowered their price point to almost half of theirs. And prospects are noticing. Now, to continue selling successfully, the brand will need to develop a sales strategy that justifies the higher price point or sells with discounted offers.
Intelligent sales logs for a higher win rate
Whether you're looking to upskill or provide intel on product development—logging and reviewing sales calls is the first step. The insights gathered from these are invaluable first-hand data points.
To see how you can optimize your sales processes—calls, logs, prep sheets, and tasks—from one dashboard, book a demo with Dooly.
---
Join the thousands of top-performing AEs who use Dooly every day to stay more organized, instantly update their pipeline, and spend more time selling instead of mindless admin work. Try Dooly free, no credit card required. Or, Request a demo to speak with a Dooly product expert right now.
Close deals on repeat with a guided sales process you'll actually use.
Get fresh sales tips in your inbox