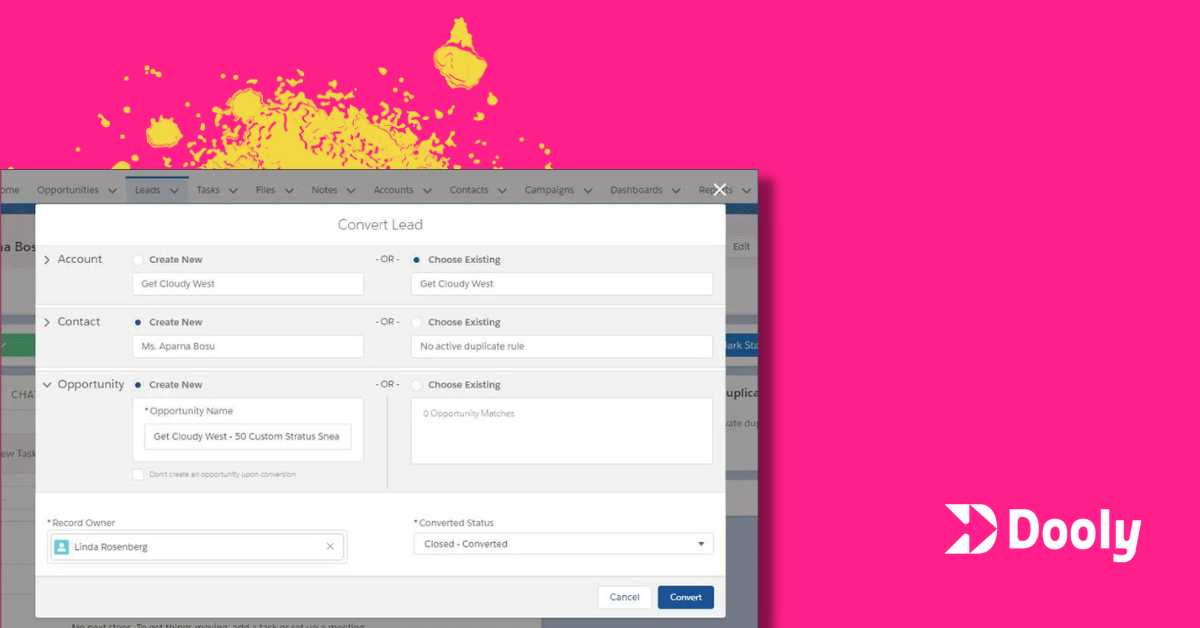 Lead conversion in Salesforce is the set of steps a sales rep takes to convert a lead record into Accounts, Contacts, and Opportunities.
Sellers will do this every time a lead or prospect they've been reaching out to, becomes a Sales Qualified Lead (SQL). The SQL is someone who has entered the buying cycle. Unfortunately, not many leads make it this far.
In this article, we'll cover some basics about lead conversion and show you two ways of converting leads in Salesforce.
Lead Conversion in Salesforce
Remember that a lead is someone in the first stage of the purchasing process, a potential buyer who is interested in your product or service.
You probably have a large list of leads in Salesforce, either sourced by Marketing or through a lead database such as Zoominfo or Apollo.io.
Of your list of prospects, a small percentage are ready to buy and eagerly seeking the solution you offer — those are the prospects you're after. Cherish them.
Others need what you have but are not in a rush or have other options — those you need to convince.
Yet others stumbled upon you by accident or mistake and don't really need or want what you sell — those you need to identify ASAPand send them on their way.
There are three steps in your relationship with your leads:
Attract them
Qualify them
Convert them to customers
And all that process should be reflected in your CRM. Yet, most of the time, it's not.

How to Convert Leads in Salesforce (Slow Way)
In Salesforce, click the Leads tab in the navigation and open the Lead record you want to convert.
Click the Convert button in the upper right and a box will come up that allows you to associate the Opportunity to an existing Account and Contact, or automatically create one upon conversion.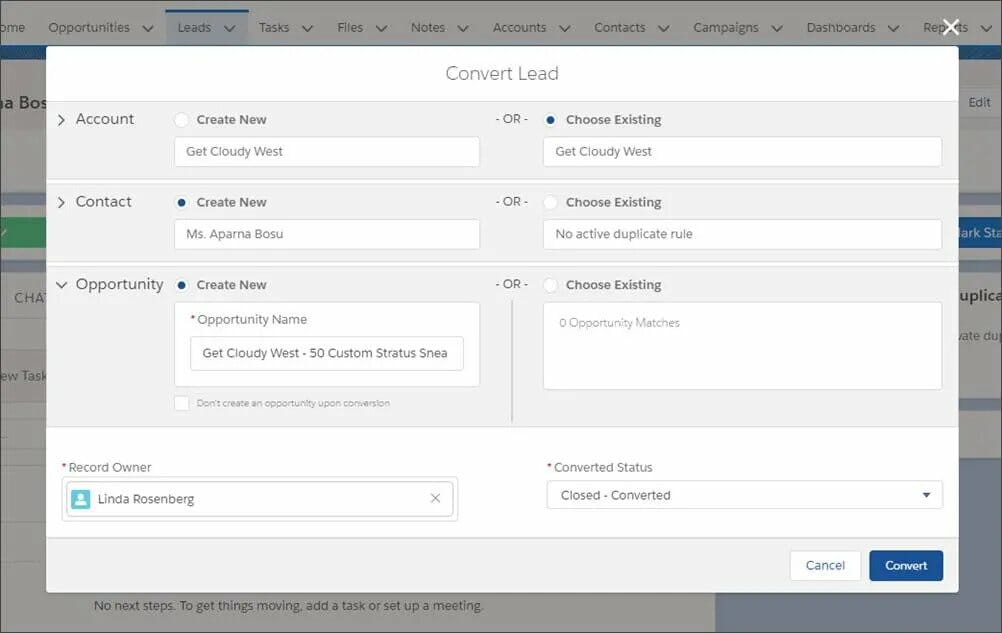 Sounds easy, right? Well, if you only have one lead to convert, yes. But if you have to convert 50, you're going from tab to tab, record to record, repeating this process.
Streamlined Lead Conversion in Salesforce with Dooly
How many times have you gone into Salesforce after a qualification call and converted that lead you sourced into a new opp?
With lead conversion in Dooly, you eliminate the need to enter data twice.
You can stay in your connected workspace and use Dooly to convert your ready-to-move-forward leads into accounts, contacts, and opportunities. Just with the click of a button.
We call it a connected workspace for a reason: you can update Salesforce, push notes to Slack, and research on LinkedIn, from wherever you are, so there's no need to switch between apps and tasks and waste precious selling time.
Here's how to convert a lead in Salesforce using Dooly:
1. Convert a lead from your lead pipeline view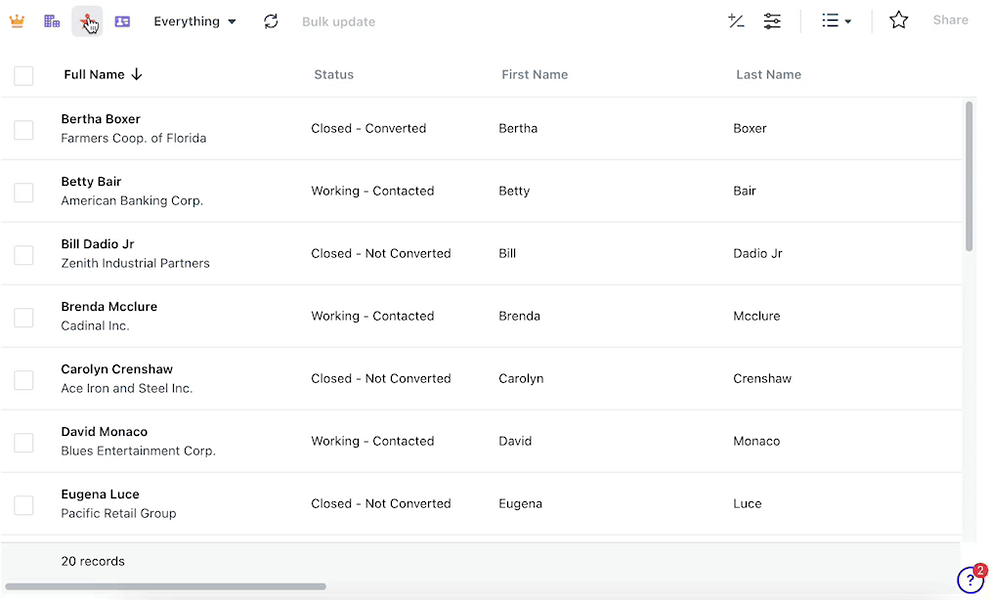 2. Convert a lead from a record overview for your lead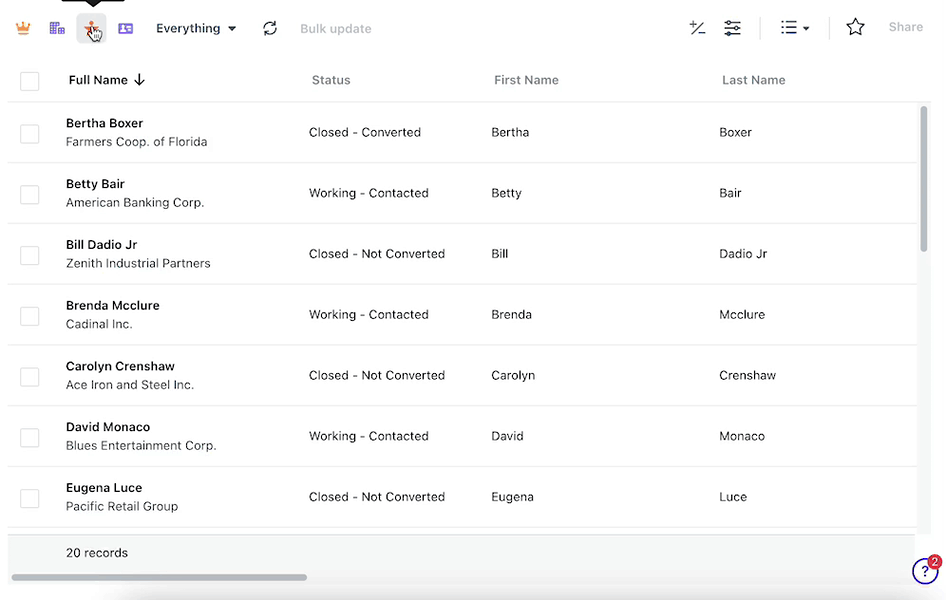 3. From a note linked to a lead, click on the dropdown next to the name of the lead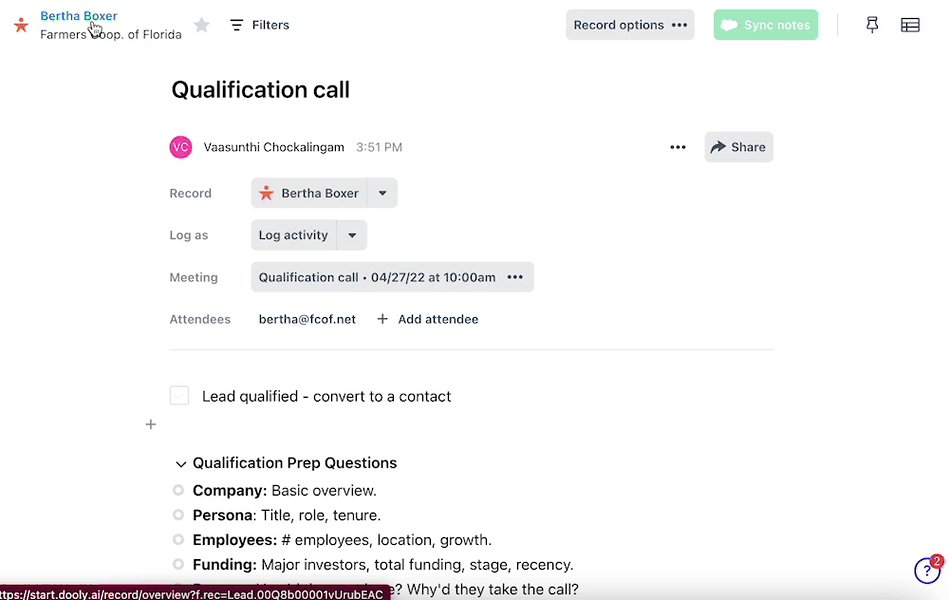 Now, here are the steps to lead conversion:
Select Convert Lead
In the popup:

Create a new account or choose an existing one
Create a new contact or choose an existing one
Create a new opportunity, choose an existing one, or opt to not create an opp on conversion
Select a record owner, and if left blank, it will default to yourself
Opt to send an email notification from Salesforce to the new record owner
Set the converted status of the lead
Select the record to migrate your lead notes to (the contact, account, or opportunity)

Click Convert and watch the magic happen!
Pro Tip: If you have custom lead fields, don't forget to set up lead conversion field mapping in Salesforce. Salesforce admins can find that in Salesforce by going to Setup > Object Manager > Leads > Fields & Relationships > click on the Map Lead Fields button.
Meet your personal Salesforce assistant.
Update your CRM and access deal data instantly without switching tabs.
Add to Chrome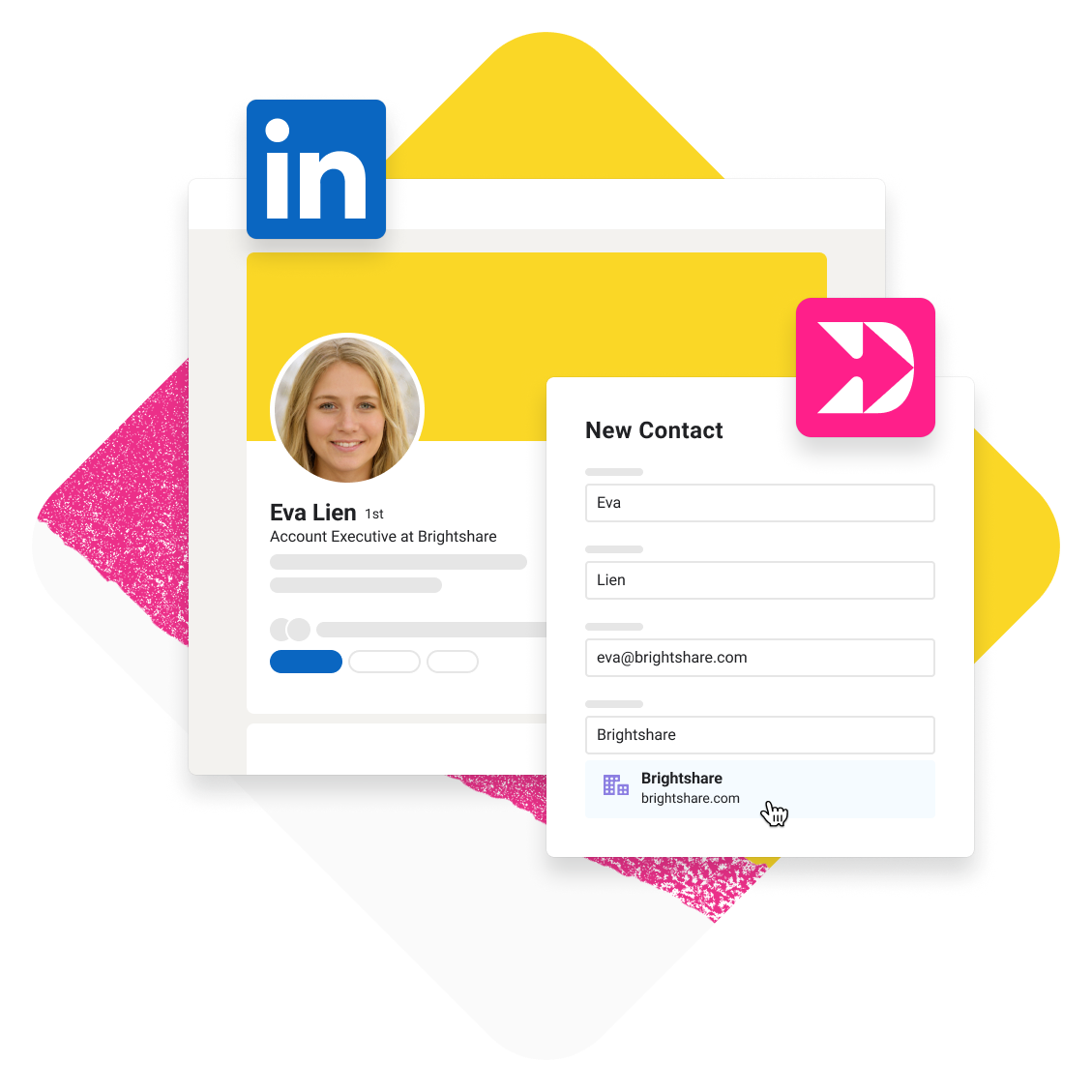 " width="150%" bg="var( –e-global-color-primary )" color="var( –color-white )" ]
Salesforce Lead Conversion Best Practices
Use the right fields, like lead source (to track which channels are working and which are not) and lead status (to know where you are in the process).
Have a clear handoff process from sales development representative (SDR) to account executive (AE), from AE to Customer Success Manager (CSM), mapped to the stages in the buyer's journey.
Determine the conversion criteria (a list of questions that must be answered positively) or set up a lead scoring system (if your marketing team is using Pardot, they can set this up).
Set up KPIs and analytics to evaluate your conversion rates and effectiveness.
Use the best productivity tools to eliminate unnecessary administrative tasks and have better CRM hygiene.
If you use Salesforce, you need Dooly. Sellers waste 5+ hours a week on SFDC admin work. Dooly gives reps their selling time back so you can crush your revenue number. Try Dooly for free.
---
Join the thousands of top-performing AEs who use Dooly every day to stay more organized, instantly update their pipeline, and spend more time selling instead of mindless admin work. Try Dooly free, no credit card required. Or, Request a demo to speak with a Dooly product expert right now.
Close deals on repeat with a guided sales process you'll actually use.
Get fresh sales tips in your inbox