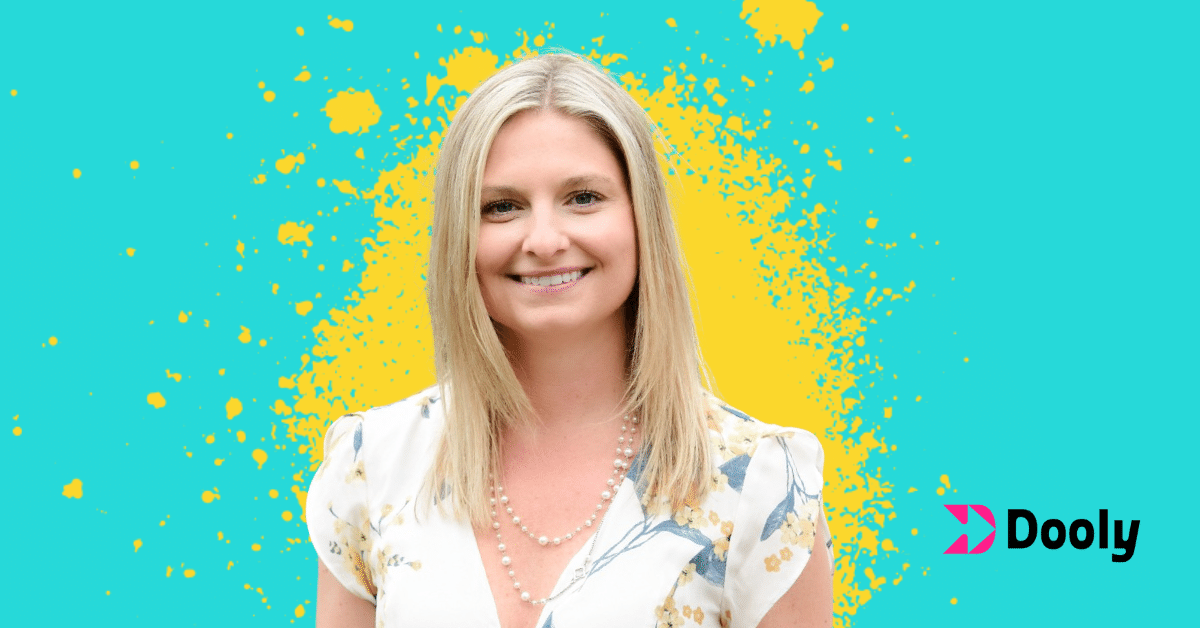 Do you have dreams of becoming a sales leader one day? Making the move from sales rep to sales leader can be a big leap (bigger than you might think!)
What you love about selling doesn't always translate at the leadership level. A sales leadership role is an entirely different beast, but it might just be the best career move you make.
Michelle Pietsch, VP of Revenue at Dooly, joins The Daily Sales LinkedIn Live session to discuss how account executives can make the transition to sales leader (and whether they should).
Keep reading to hear her insights or tune in to the full podcast episode:
Or watch the video here:
Do top performers make good sales managers?
In Michelle's view, it depends on the individual. Generally, a top performer will raise their hand and seek out the path to becoming a sales manager, but what traits do they need to make that leap?
Michelle first looks at their coaching capabilities. She says this is more important to concentrate on rather than the sales rep's ability to meet quotas.
When assessing potential leadership candidates, she likes to ask:
How are they going to coach their teammates?
How are they going to have those difficult conversations that come up?
How do they look at and manage their own pipeline day-to-day?
The traits of top-performing salespeople
So, what makes a top performer? Michelle believes these three traits and behaviors are key:
An understanding of sales math. Top performers should know what their week and month ahead will look like. And they'll be able to break it down into how much pipeline they need to close deals.
How they provide demos to customers. Top performers think about each deal and customer interaction in a strategic way and ask the right pain point questions to close the deal.
They ask for help when they need it. Not only are they good at coaching, they're coachable as well. If they're coachable and like to collaborate, they have the potential to become great leaders.
What stops top performers from becoming great leaders?
One of the ways account executives block themselves from moving up the ladder is they don't like to give up control. They try to handle all the sales calls themselves. They would rather run the entire deal themselves than let their rep figure things out for themselves.
If the AE is preventing sales reps from having any autonomy, they end up relying too much on the AE. Instead, a good leader should work on coaching reps so they can handle the calls themselves.
This ability to delegate is crucial if you ever want to become a sales leader.
The realities (and downsides) to being a sales leader
Many sales reps will smash target after target and look at the next step in their career. For many, the natural next step is a sales leader.
The problem is, Michelle says, there's a huge difference between crushing your sales targets and managing an entire team of reps.
Michelle likes to ask people in this situation, why do you want to be in a leadership role?
It's important to be fully aware of all the downsides and realities to leadership:
By becoming a leader, you arguably have less control over the deals themselves. You have to take a step back, let others manage those deals, and coach them.
You need to have performance discussions and difficult conversations with reps.
It's a lot more responsibility and pressure. Your decisions and leadership have a much larger effect on the overall business. If one of your reps hasn't followed up on a lead in five days, that's suddenly your problem, and you need to dig in and solve the issue.
Michelle's not trying to put anyone off sales leadership, but she says it's vital to know what you're getting into.
A lot of sales reps don't have to think about these things, but that's why it's so important to discuss your career path with your managers. The simple truth is that being a leader just isn't for everyone, and that's okay!
What makes a great sales leader?
What makes a top performer versus a great leader is slightly different.
For Michelle, the most important thing is the ability to listen. Sales leaders need to listen carefully to their team and to sales calls to identify what's working and not working.
You need to be willing to roll up your sleeves and jump on a sales call to see where you can improve the process and move the deal forward.
While coaching your team, you also need to be able to make suggestions that don't just apply to the whole team but also to the individual sales reps. Offering support for the team and individuals can feel a bit like balancing plates, but that's why empathy and understanding are also really important.
Going the extra mile to build a case for yourself
If you're currently a sales rep or account executive, what can you do to become a leader?
Michelle's advice is to make an effort to develop your knowledge. Spend time reading books, listening to podcasts, and educating yourself on the best sales and management practices. That way, you can come to the table with fresh ideas.
Sometimes you need to rock the status quo to inspire growth in your team, so it pays to take the initiative and suggest solutions based on your research.
This will all help to build the case for yourself over time. She highlights some successful ways sales reps have done this on her own team:
One sales rep took it upon himself to create sequences for the team to try A/B testing.
Another took the initiative to start film reviews with the team because he wanted to get involved in discovery training.
Neither was asked to do these things, but it opened up opportunities for both of them. Taking on projects your manager hasn't asked you to do is a clear sign you're ready to start moving into a sales leadership role.
So, if you see an issue in your team, jumping in to suggest leading a workshop or some other solution is a great sign of leadership.
Is it right for you?
Leading a team might seem like the natural next step, but it doesn't have to be. Not everyone needs or wants to be a leader.
Michelle's tip is to ask yourself what really motivates you?
She also suggests looking at your peers who have been promoted and assessing what traits they have and what they did to get there.
Are you willing to do the same? If you don't have the skills today, are you willing to put the work in to get there in a year's time? That answer will help you figure out whether sales leadership is for you.
See Dooly in action and learn how to win more deals by trying out a demo today.
---
Join the thousands of top-performing AEs who use Dooly every day to stay more organized, instantly update their pipeline, and spend more time selling instead of mindless admin work. Try Dooly free, no credit card required. Or, Request a demo to speak with a Dooly product expert right now.
Close deals on repeat with a guided sales process you'll actually use.
Get fresh sales tips in your inbox