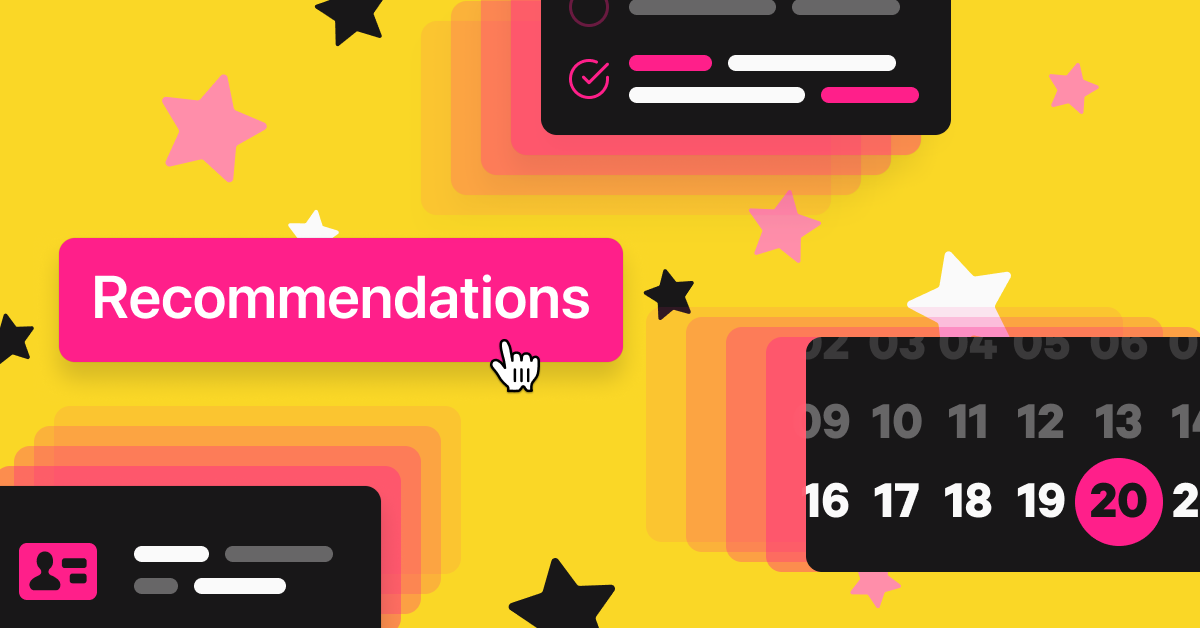 No, an AI robot is not taking your sales job (at least not yet!). But AI is here to suggest actionable next steps based on your sales notes.
AI in sales is not that new. In fact, according to Salesforce, top-performing reps are 2.8X more likely to use AI than low performers.
Why? Because AI can help reps automate repetitive tasks so they can focus on what really matters: jump on sales calls and close deals.
Logging sales data and customer notes is the number one activity top reps say they automate, followed by admin tasks.
Well, now you have a AI assistant at your disposal. Dooly's new Recommendations use AI to suggest actionable next steps on your deals based on your sales notes.
Keep reading to see how Dooly magically recommends updates after your meeting. Or, if you want to try it yourself now, click here to get started.
Next Steps
Using context from your sales note history, our AI recommends next steps for the deal. Adjust as needed and give feedback so Dooly can learn and improve the accuracy of your future recommendations.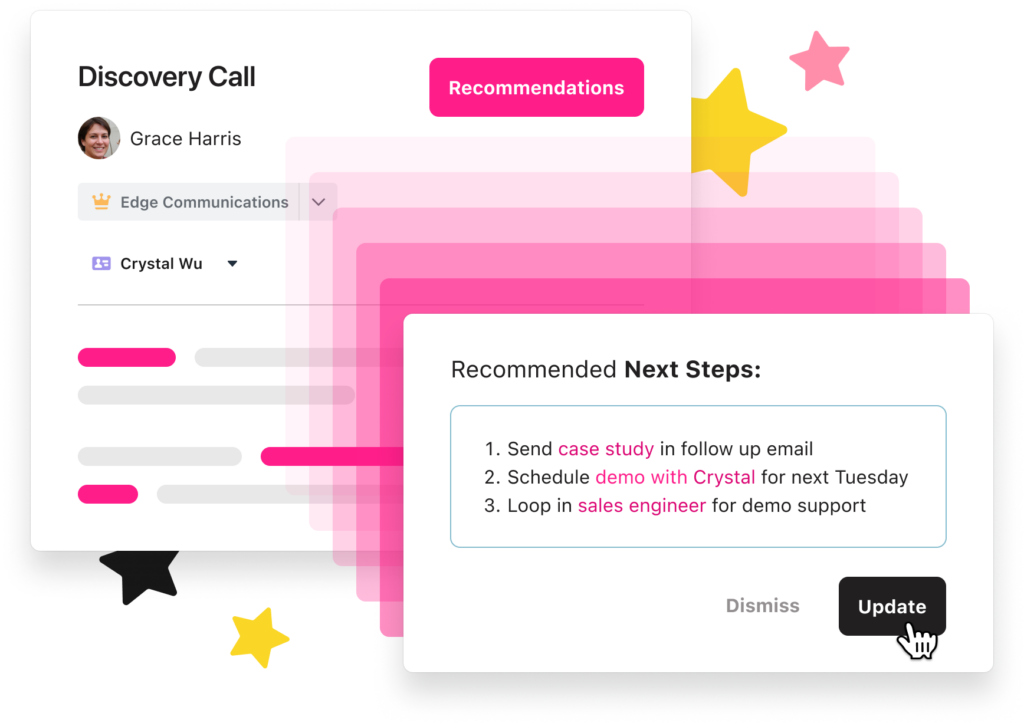 Next Steps Date
AI-generated Next Steps Date appears in your deal overview panel based on your note content.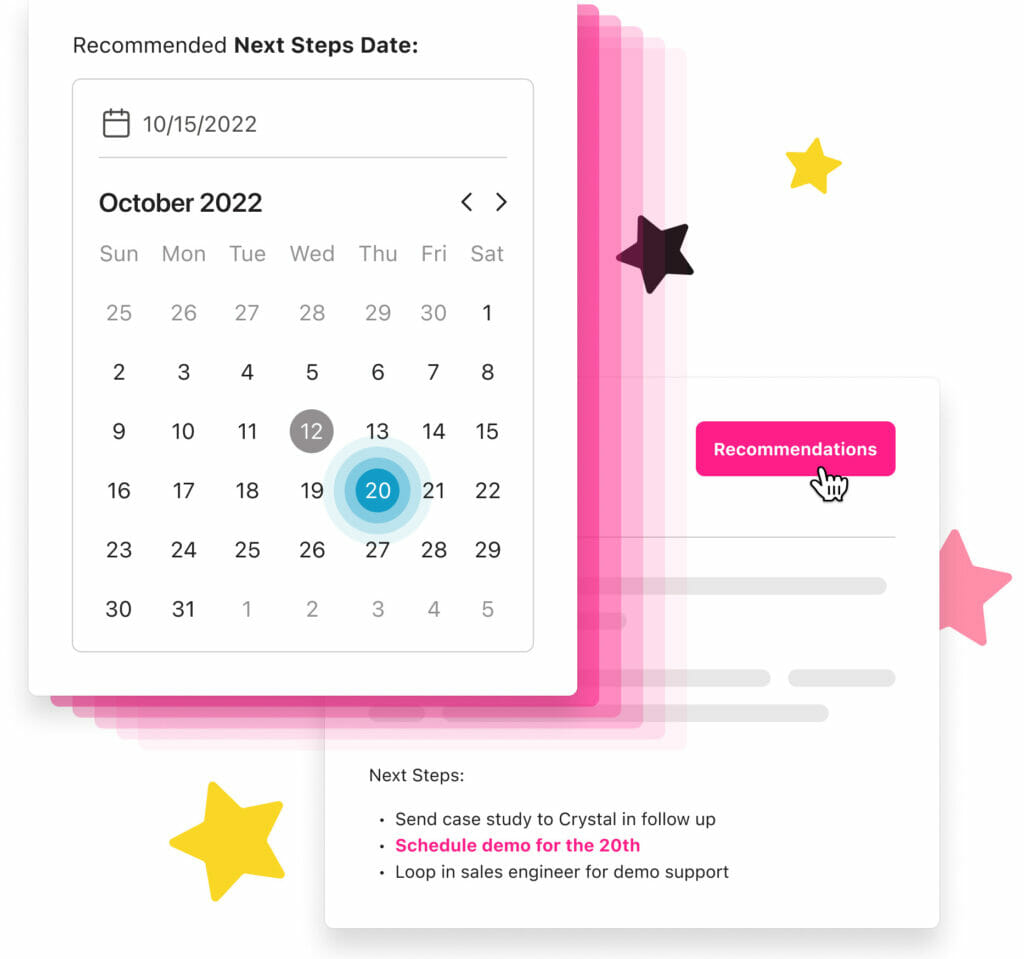 Adding Contacts
When you mention someone in your sales notes, Dooly's AI checks if that person is a Salesforce contact. If it isn't, we recommend you to create it to keep track of key players on deals.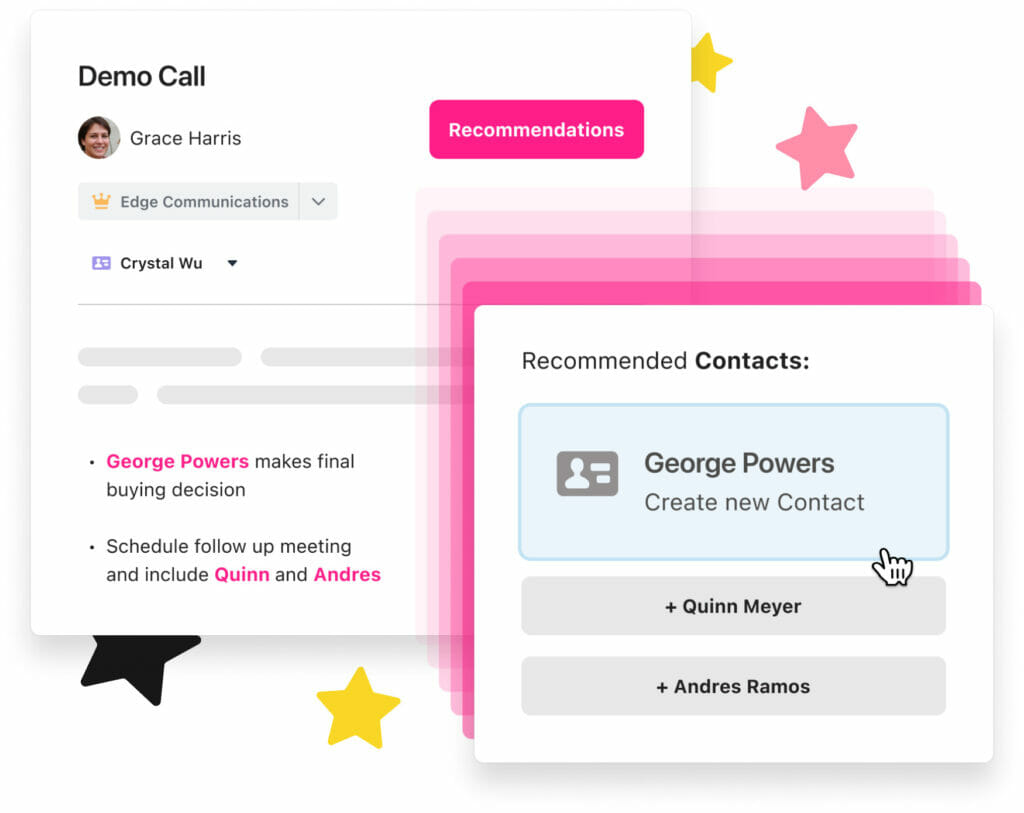 I was so impressed by the Next Steps Recommendations when I saw them show up in Dooly. I couldn't believe how accurate they were. What I like most is how the Dooly AI scans my opportunity notes and draws insight from them. MAGIC! By automating my admin with Dooly Recommendations, I can spend more time with customers and focus on the deal.
Let's see it in action. Click on "I'm interested" to start:
Now it's your turn to try it for yourself. Here's how to get started:
Sign up for a Dooly account (it's free, no credit card required)
Connect to your Salesforce (completely safe, we don't store your data)
Save hours in post-meeting admin clean-up.
Dooly Recommendations are here to save you time, because you were hired to sell, not do admin tasks.
---
Join the thousands of top-performing AEs who use Dooly every day to stay more organized, instantly update their pipeline, and spend more time selling instead of mindless admin work. Try Dooly free, no credit card required. Or, Request a demo to speak with a Dooly product expert right now.
Close deals on repeat with a guided sales process you'll actually use.
Get fresh sales tips in your inbox