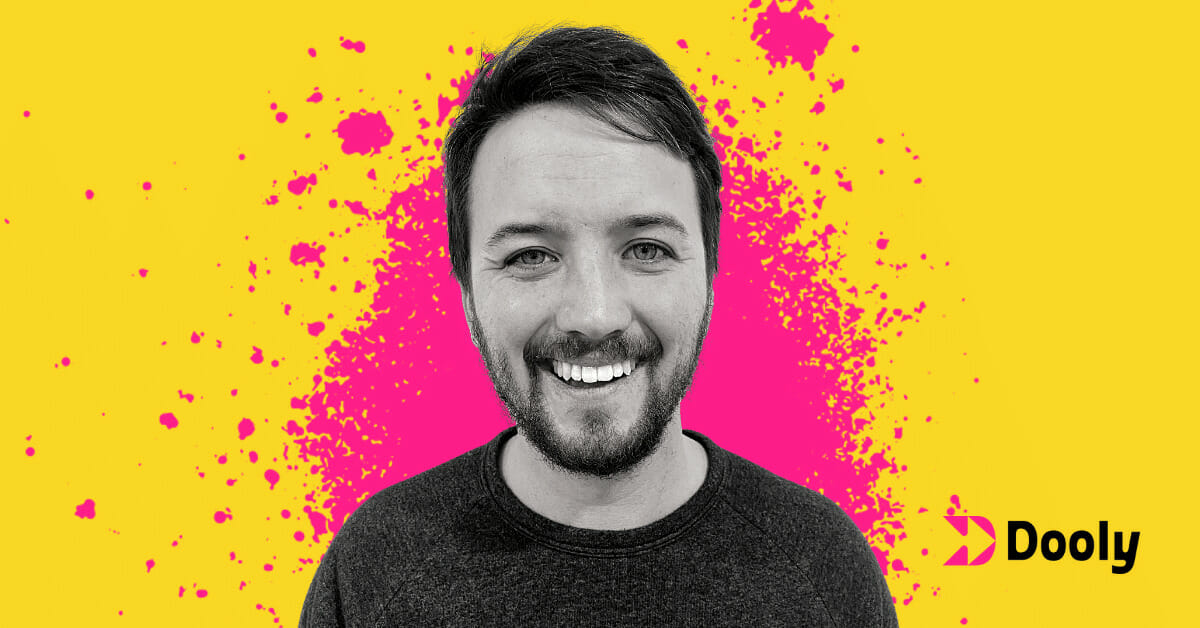 How do you get prospects to actually open your cold emails?
Sending cold emails is one of the toughest jobs for a sales rep because let's face it, we're all used to deleting countless random emails a day.
But as a sales rep, it's your job to not only save your email from the trash bin, but also get the prospect to open it, read it, and then follow through with whatever you're asking.
In this live episode of The Revenue Playbook, Daniel Disney, founder of The Daily Sales, speaks with Daniel Ryan, an Account Executive at Dooly, to get his take on the best cold outreach tactics. Daniel explains why he focuses on sender names over subject lines, the best ways to get people to open an email, how to end an email without coming across as a needy sales rep, and much more.
Keep reading to learn how Daniel sees success with cold outreach or tune in to the full episode below:
Or watch the video here:
The common cold email mistakes people make
The average cold email response rate is about 1%. That means you'll have to send 100 emails to get just one person interested.
That's why for many reps, cold outreach is a numbers game. But that's exactly where sales reps go wrong, says Daniel.
To send that many emails out, most of them are going to be automated, canned emails that aren't personalized or relevant because who has time to send out 100 personalized emails?
The good news is that if they are personalized and relevant, you won't need to send out 100 emails to get one measly response. Putting a bit more effort into your emails can make all the difference.
Another common mistake Daniel sees reps make is making their emails all about them.
Lines like, "we're the number one platform for X," are not going to resonate because, let's face it, who cares? Your prospects don't really care about what your solution can do. They care what it can do for them. How does your product solve their problems?
Daniel's advice? Make your cold outreach about the prospect first and foremost.
So, how do you craft a cold email that goes against every prospects' nature to hit 'delete' as soon as they get it? Daniel breaks it down into a few key steps…
1. Make your sender name recognizable
If you think the first step of creating an email is to spend hours on writing the perfect subject line, think again, says Daniel.
Ask yourself, what's the first thing you look at when an email arrives in your inbox?
In most cases, it's the sender's name. Who sent the email will usually tell a recipient whether the email is worth opening. If you have an unrecognizable name and a suspiciously salesy-looking email, there's a good chance it'll end up in the trash.
Daniel's tactic is to make the sender name recognizable. This involves building a personal brand, mostly on LinkedIn, and reacting to and engaging with people in your industry.
Daniel starts working on a prospect far in advance. He starts by adding leaders and decision-makers in a company on LinkedIn but is careful to lay off on any sales pitches at this stage.
This process can take months, so it's not a quick fix, but it is an effective one.
What you want is for someone to recognize you and your content on LinkedIn when they see your email. Establishing familiarity is crucial if you want people to open your emails.
2. Write your opening
Automated emails have a bad reputation, and in most cases, that's for a good reason. But it may surprise you to learn that Daniel does use automated emails – he just uses them well.
His tactic is to clone his sequences and personalize an email for the entire company, which he sends out to multiple people. That way, he can save time but also ensure the emails are targeted and relevant to the recipient.
Here's an example of Daniel's cold outreach workflow:
Use LinkedIn Sales Insights to look for companies that have grown very quickly or those who are hiring for Salesforce admin (this suggests their Salesforce is in a bit of a mess, which Dooly could help with).
Write an email with personalization. For example, "I noticed [company name] has grown from X to Y or by 400% in the last 12 months. Huge congrats on the growth."
Add an observation and a hook. In this case, Daniel would point out that huge growth usually means that things can fall through the cracks process-wise or data-wise. He'd follow this with a line like, "if this is true for you, would you like to never have to say, "update Salesforce?" If so, you may be interested in X."
3. Close your emails the right way
Daniel is a big fan of open-ended, casual closes rather than big red "BUY NOW" buttons. He likes to make it super positive with zero pressure because this point could make or break your email.
Daniels' approach is to ask, "Are you interested? If not, cool, no worries. All the best success to you."
There are no pushy calendar links or attempts to set a date for a demo. It's more about starting a conversation.
Being pushy means that most prospects will go on autopilot and just delete your email. We've become too accustomed to old sales tactics so instead of trying to trick or pressure people into responding, go easy on the CTA.
4. Following up
Following up on sales emails is a crucial part of the game. Just because you want your emails to be low-pressure doesn't mean you should just email once and hope they remember you.
A lot of the time, if your email is good, the problem is just a matter of timing.
Following up in the future means you're more likely to catch the prospect at the right time. Daniel likes to aim for 10 "touches" over 25 days and then throws in a nurture sequence, for example, a link to a webinar that they can check out if they're interested. In six months, he'll give it another shot and send another follow-up.
Put yourself in your prospects' shoes
Throughout the cold outreach process, Daniel's rule of thumb is to put himself in his prospects' shoes. He suggests asking yourself: "Would I be annoyed by this email?" If yes, then it's time to get back to the drawing board. If not, hit send.
Another thing to remember about cold emails is to not get caught up in the idea of making a sale with each email. The real aim of each cold call or email is to simply start a conversation.
In a lot of cases, the prospect isn't ready to buy. They may need the timing to be better or to have more information, or trust you. It's important to learn to be okay with the fact that you "might not win them today." Sometimes you'll get lucky and get an instant response to book a demo or a meeting. But that isn't the standard.
Your job here is to start a conversation and work out how you can help the prospect with their problems. That's what will give your cold emails and calls much more value.
Level up your follow-up game with Dooly Notes, the first revenue workspace to bring the entire deal narrative into one space (and instantly syncs back to Salesforce), so you have everything you need to close. See Dooly in action.
"With Dooly, I actually do know if [prospects] use Hubspot or Salesforce. I actually do know if they're in contract with Seamless of Lusha, because I actually do know where the notes are supposed to go. It's also made my follow-up game a lot stronger because I can address specific things we talked about."

Byron Sierra-Mattos, Team Lead & Senior Account Manager at Apollo
---
Join the thousands of top-performing AEs who use Dooly every day to stay more organized, instantly update their pipeline, and spend more time selling instead of mindless admin work. Try Dooly free, no credit card required. Or, Request a demo to speak with a Dooly product expert right now.
Close deals on repeat with a guided sales process you'll actually use.
Get fresh sales tips in your inbox