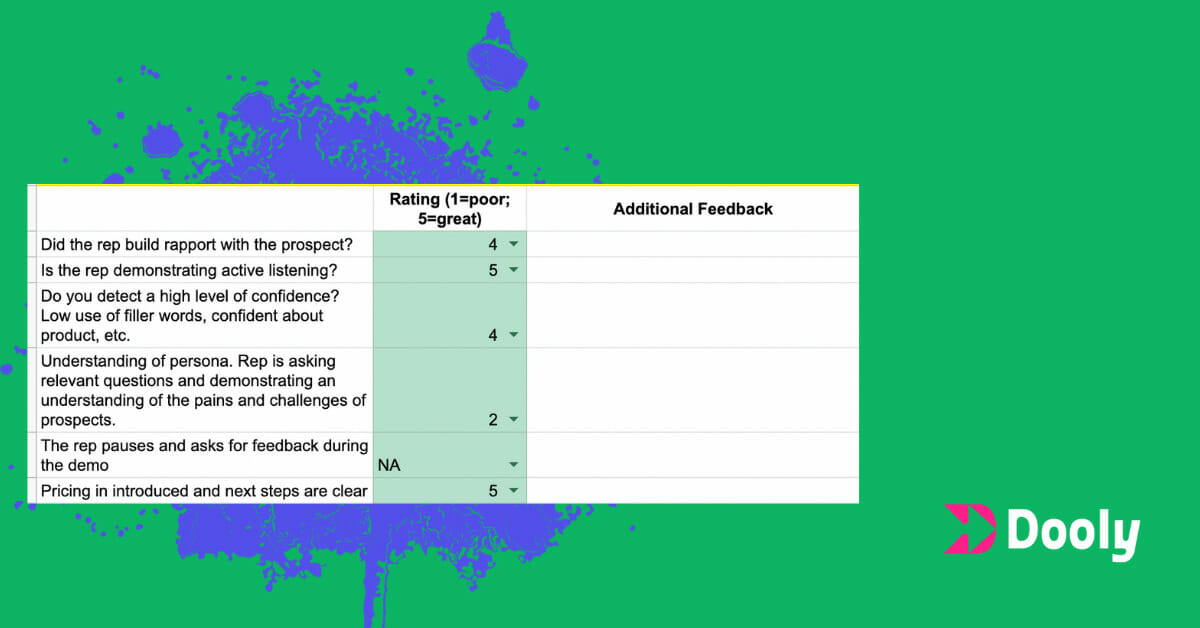 The general consensus is that selling is more art than science, right? Some people got it, some didn't. By it, we mean the charm, of course. So why sales coaching? You've got your star players hitting their quotas year in, year out. Well, how about getting the entire team to reach at least 100% quota?
Sales coaching is different from telling your sales team what to do. It involves equipping your team with everything they need to reach their potential. Just as a sports coach trains their team on winning plays, you're giving your salespeople the knowledge and tools they need to make better decisions in the sales process.
Here's what Dooly does to help you have better coaching sessions
View your team's pipeline in one place. With Dooly, your sellers can share customized views of their pipeline to optimize your 1:1s for coaching and deal reviews. You can review the information before meeting with your reps so your time together will be about actual coaching and not reviewing deals.
Here's another example of how you can use Dooly's pipeline view to follow up with your team on high-value opportunities:
With Dooly, you get access to the full deal narrative with a history of all the notes taken, deal vitals, deal highlights, upcoming meetings, and key fields all in one place.
You can also leverage real-time playbook battle cards that trigger based on what a rep types in their notes – it's like whispering in your rep's ear on the call so they can deposition the composition, handle objections, and answer pricing and process questions with ease.
Free Sales Coaching Templates
Dooly sales performance and coaching scorecards
These useful scorecards will help you set success criteria for reps and evaluate each call according to that criteria. The spreadsheet includes a tab for evaluating discovery calls and a tab for evaluating demos. You can add your own questions or criteria to expand this template.
Ambition curated templates
Ambition hand-selected top coaching templates from reps at G2, Outreach.io, Dealpath, and more
Hubspot sales coaching templates
Here are generic sales coaching templates to help your reps get started. This is helpful if you use Hubspot, otherwise you may want something more tailored to your needs.
Why Sales Coaching?
Sales coaching is the intentional, mapped-out, individualized process of developing a salesperson on a one-on-one basis. Sales coaching is different from sales training. Sales training is more large-scale, a process that typically involves the whole team.
Sales coaching is very individualized. The process is designed so that every sales rep gets the support and tools they need to reach their quota, which ultimately helps to attain the team quota. It is all about reinforcing positive behavior and correcting negative behavior. It is an in-depth look at each rep's skills and techniques to help them up their game.
What Does a Sales Coach Do?
A sales coach's job is not to sit on a high horse and point out the reps' mistakes. Effective sales coaching calls for leadership skills. A sales coach uses data to monitor every rep's performance, pinpoint areas that need improvement, and reinforce positive behavior.
Does Joe get a bonus for exemplary customer service?
Does Doe need to work on his team spirit?
The sales coach tactfully handles both situations, developing initiatives that will help boost the reps' confidence. More than equipping the sales team with skills, the sales coach creates an enabling environment. Your reps need to feel that they are in a nurturing environment and their work contributes to team success.
What makes a great sales coach?
Think of a great sales coach as being a parent. You have to be firm enough to correct negative behavior while remaining approachable enough, so reps feel comfortable sharing their weaknesses with you.
This is a fine line to walk, which is why a great sales manager is not necessarily an amazing sales coach. Sales management is about numbers and quotas, and rules. Sales coaching, on the other hand, is a journey of self-discovery that grows the sales rep from within.
Investing in a training and certification program for your sales coaches helps them gain the skills and knowledge they need to engage meaningfully with the reps.
How Do You Effectively Coach a Sales Team?
Having a structured program in place ensures all members of your sales team benefit from the coaching program.
Ideally, the coach should have a list of activities that they facilitate daily, weekly, and monthly. Regulating the cadence and quality of the action items allows for the gathering and analyzing quantifiable metrics.
While the coaching plan itself is structured, a great sales leader and coach tailors the engagements therein to support each rep's individual needs based on their circumstances. Empowering the coaches with sales playbooks on generic topics empowers them to respond to any specific questions that may arise.
3 Worthwhile Benefits of Sales Coaching
Sales coaching has been proven to significantly impact a company's bottom line. Statistics show that companies with effective coaching programs achieve 28% higher win rates. While this is arguably the most important benefit, it is not the only one.
1. Greater employee retention rates
Employee turnover in the sales org is a significant challenge for most companies, especially when it comes to sales. Organizations are working round the clock to boost retention rates because turnover is costly and inconvenient.
Providing professional development opportunities is one of the best employee incentives. Your employees should be in an environment of growth and career advancement. According to research, employees who are offered professional development opportunities in-house have 34% higher retention.
2. Enables you to leverage in-house talent
Salespeople are traditionally innovative, and they often come up with killer strategies. If one of your reps comes up with a strategy that guarantees success, think how beneficial it would be to teach the rest of the team.
Sometimes what you're looking for is right in front of you. Rather than paying to have external input, you can maximize the strengths of your own team.
3. Guaranteed ROI
Effective sales coaching equips your sales team with the skills they need to reach their potential and maximize profits. Consistent, long-term reinforcement helps build your team into a killer sales machine that churns out closed deals. Companies with a formal coaching process realize 91.2% of overall quota attainment.
Once your team begins coaching sessions, those lead to more feedback loops, better sales productivity, and then a coaching culture that your company can depend on, no matter who comes in and out of the door.
4 Important Sales Coaching Techniques
There are several different approaches you can take to sales coaching. The bottom line is the process needs to be tailored to the needs of your team. That said, here are some top techniques employed by top sales coaches:
1. Encourage self-diagnosis
Sales coaching involves regularly reviewing sales rep data and observing activities objectively, meaning the coach will discover issues before the rep. At this stage, guiding the rep to self-diagnose through discovery is vital.
You can do this by asking them targeted questions about their experience and what they can do differently. The aim is to focus on behavioral changes you hope to see in the rep.
2. Chart the way forward
After identifying the areas that need improvement, it's time to plan for the future. This involves guiding the rep on a discussion about what they can do to change and how you can support them. The questions in this stage help the rep take accountability for their behavior without fear of punishment.
Once the rep knows where to go, work with them to create an action plan. The plan contains active steps the rep should take to achieve the desired end goals. It should be in a shared location so you can monitor progress.
3. Offer support
Sales coaching has a lot to do with listening. What are your reps saying? What do they need from you to succeed? Providing the tools and skills they need is not enough. Offering encouragement and positive feedback is one of the best ways to increase motivation.
4. Conduct regular check-ins
With a documented action plan, it's easy to have a follow-up coaching conversation. The plan acts as a guide to assess progress and make necessary changes. If any obstacles arise, this is the time to address them. This is also the stage to reward them for progress made.
3 Sales Coaching Best Practices
1. Use data and observation to tailor engagements
Data-driven sales coaching is about providing targeted solutions to improve your sales team at the individual level. Each coaching session should be designed to address the issues discovered by the coach during data analysis and observation. Every rep has strengths and weaknesses, and data observation helps paint a clearer picture of who needs help.
2. Leverage technology to enhance coaching
Technology can help make a sales coach's work a lot easier. For instance, using conversational intelligence platforms to analyze calls and generate meaningful data is way more effective than listening in on sales calls one by one. Technology provides data-driven insights that can be used to encourage top sales behavior that you'd like the reps to adopt.
3. Coach the reps in their environment
If most sales calls are handled virtually, then that is how sales coaching should be done. Coaches should observe and coach in the same environment as the sellers. If your sales team sells virtually, the coach should listen in on the calls and help them perform better. If the reps sell in person, the coach should tag along occasionally to make observations and coach on the spot.
Key Takeaways on Effectively Coaching a Sales Team
Sales coaching is the ace you need to revolutionize sales management. It's an efficient way to equip your sales team with all they need to succeed, ultimately boosting your sales. If you're going to invest in a sales coaching program, go all in and wait to see the results. Incorporate the tips and techniques shared above to grow your team and your business
Dooly can help you move deals forward faster. We provide a simple workspace designed to free up your sales team's time so they can spend their time on selling. Dooly automatically syncs meeting notes and comments, eliminating manual data entry that can be time-consuming. Curious? See Dooly in action.
---
Join the thousands of top-performing AEs who use Dooly every day to stay more organized, instantly update their pipeline, and spend more time selling instead of mindless admin work. Try Dooly free, no credit card required. Or, Request a demo to speak with a Dooly product expert right now.
Close deals on repeat with a guided sales process you'll actually use.
Get fresh sales tips in your inbox